Our Brand and Identity

Yokogawa's Identity
We want to help make our customers' dreams come true and do everything we can to contribute to society. This is our unchanging identity, and it is who we are. This shapes the actions of all Yokogawa Group employees and ensures outstanding teamwork across all regions and business fields.
The Yokogawa Philosophy
Formulated in 1988, and based on our founding principles, the Yokogawa Philosophy articulates Yokogawa's social mission and sets out the values that guide the actions of Yokogawa's people. Governing our corporate activities, it aims to ensure that we all continue to live up to the ideals of our founders.
Founding principles
Yokogawa was founded on September 1, 1915, and started out with just four people. They were eager young minds, and ready to blaze a trail on a totally new frontier ─ the establishment of Japan's measurement industry.
Our founder, Tamisuke Yokogawa, exhorted his young colleagues, saying, "You don't need to worry about profits. Just learn and improve our technology. You must make products that earn us the respect of our customers."
At Yokogawa, this is still who we are.
Core values
The core values that shape our corporate culture are exemplified by the priorities and commitments made by our employees.
When we live these values, we become a driving force for business excellence and achieve a competitive advantage by engaging in co-innovation with our clients.
We aspire to be a globally dynamic and enterprising organization that works toward a brighter future through the co-creation of value with our clients.
Yokogawa's Brand
The Yokogawa brand emphasizes our responsibility to our clients. It reflects the trust that we have earned and the satisfaction that we deliver to our clients and partners. The key to building an even stronger Yokogawa is for all of us in the Yokogawa Group to stand for the same things that the Yokogawa brand represents, and realize that our actions each day have an influence on the strength of the bond that we share with our clients and partners.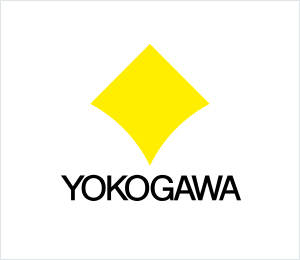 Corporate brand (trademark)
The corporate symbol reflects our values and ideals, and is the emblem for all Yokogawa employees. It symbolizes that we are a dynamic, yet balanced corporation that provides real value. The image is inspired by the sun, which is the main source of energy for all life on earth, and is an affirmation of Yokogawa's commitment to benefit humankind through the development of the industrial sector.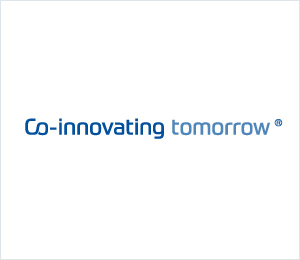 Corporate brand slogan
Co-innovating conveys our determination to continually engage in the co-creation of value with our clients by working with them in long-term partnerships to develop solutions.
tomorrow expresses our resolve to move steadily into the future, one step at a time.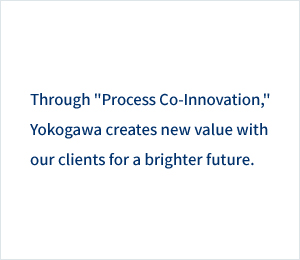 Vision statement
The vision statement charts our course to the future. It is a promise to our clients, markets, and society ─ and also to ourselves.
By engaging in process co-innovation with its clients and society as a whole, Yokogawa creates value for a brighter tomorrow.