What Is a Hygienic Pressure Transmitter?
Hygienic and sanitary pressure transmitters ensure compliance with Food & Beverage and Pharmaceutical industry regulations. They are used for pressure and level applications.
The food & beverage and pharmaceutical industries must maintain a high degree of flexibility to meet shifting market demands, while at the same time retaining the highest level of product quality and regulatory compliance.
Yokogawa's line of hygienic & sanitary pressure transmitters have been engineered to provide the performance and certifications for these growing and dynamic industries.
Discover the ideal transmitters for pressure and level.
See the specifications to compare Yokogawa hygienic pressure gauges with the Anderson digital pressure gauge.
Benefits of a Sanitary Level Transmitter
The EJA565E and the EJA564E sanitary level transmitters carry third-party certifications to meet hygienic and sanitary process regulatory standards. They also offer flush diaphragm technology, easy push-button display, and active temperature compensation.
What Are Hygienic and Sanitary Pressure Transmitters Used for?
Hygienic and sanitary pressure transducers for Food and Beverage, Pharmaceutical, and Life Sciences applications ensure products can be produced free from biological and chemical contamination. This requires a highly polished and flush fit design that prevents the build-up of material and allows for easy cleaning.
How Do Hygienic and Sanitary Pressure Transmitters Work?
Performance
| Level Applications | Pressure Applications |
| --- | --- |
| Receiving tanks | Pasteurization heat exchangers |
| Balance tanks | Clean-in-place (CIP) |
| Clean-in-place (CIP) | Separation and sterilization systems |
| Batch reactors | Pump performance monitoring |
By providing up to 0.075% accuracy and 10:1 turndown the EJA565E transmitter allows organizations to standardize on fewer models instances, simplifying ERP systems and reducing overall material inventory.
Active Temperature Compensation
Whether due to process upsets, ambient conditions, or dosing, temperature changes can have profound impacts on traditional instrumentation. With a unique, active temperature compensation design, the EJA565E and EJA564E provide the most robust and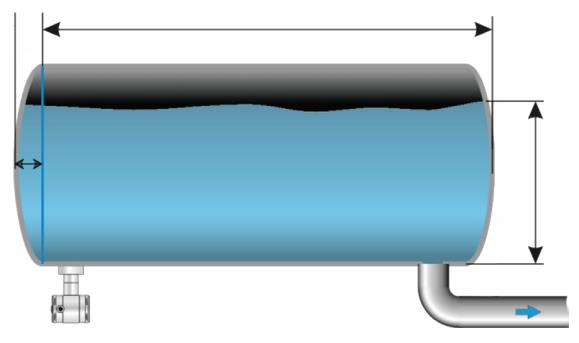 stable measurements to ensure improved process control, product quality, and safety.
Tank Volume Linearization
Digital configuration to linearize the volume with the transmitter output in the EJA565E simplifies configuration and reduces start-up time.

Easy Pushbutton Display
Expedite the commissioning and startup process with easy pushbutton displays. Make zero, span, and other configuration adjustments to the hygienic & sanitary pressure switch even without a local pressure reference source.
Flush Diaphragm Technology

Flush diaphragm technology reduces the build-up of contaminants that could impact food and drug safety and minimizes downtime need for cleaning pipes and vessels.
3-A Sanitary Standards, Inc. Certified
Trust that the EJA565E and the EJA564E will meet regulatory requirements with 3rd party certifications for hygienic and sanitary processes.
Eliminate O-Ring Replacements
Unlike conventional hygienic and sanitary pressure transmitters, the EJA565E and the EJA564E do not require regular replacements of O-rings. Reducing maintenance time and costs.
What Are Sanitary Level Transmitter Applications?
Pasteurization heat exchangers
Clean-in-place (CIP)
Separation and sterilization systems
Pump performance monitoring
Overview:
Tank level measurements must be simple and accurate in order to maintain the milk quality, reduce waste and clean-up costs, and enable facility profitability.
Overview:
Difficulties in measurement and monitoring can arise, however, when the recycled milk from the pasteurization process is introduced to the balance tank.
Overview:
Yokogawa's EJA565E Hygienic and Sanitary pressure and level transmitter presents an ideal solution to improve production throughput in a convenient and easy-to-use package. Breweries can expect an excellent return on investment. With less fluctuation in the level measurement, brewers can confidently increase their setpoints without fear of overfilling their vessels.
Overview:
Is it true that 4-20 mA HART will be phased out in the near future? Is a transducer equal to a transmitter? Tune in to hear the debunking of these myths.
Looking for more information on our people, technology and solutions?
Contact Us