Controlling processes with hazardous chemicals
Industrial accidents can cause thousands of workplace injuries. For instance, an explosion at a pesticide plant in eastern China has killed at least 47 people and injured over 600, the latest in a series of industrial accidents that have sparked widespread public anger. Each year uncountable accidents occur at chemical plants, leading to the loss of numerous lives. Industrial accidents can have severe consequences on human health and the environment, including in other affected nations. Only a stronger process safety culture will help prevent major accidents.
On Wednesday, May 15, 2019, the Process Safety congress took place at Van der Valk Hotel Dordrecht for the 5th time. The aim was to strengthen the process safety culture by sharing knowledge and networking. More than 500 visitors attended, including technical safety specialists and managers of companies that deal with hazardous chemical processes. The day included seminars provided by international speakers, including the winner of the EPSC award Dr. Hans-Peter Schildberg and former astronaut André Kuipers. During breaks, visitors could visit our stand at the network forum where Yokogawa presented all our safety and alarm management trainings to visitors and update them about our latest technologies around safety and security.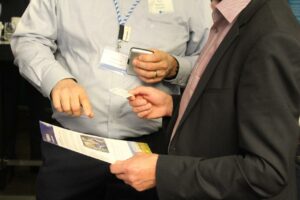 Process Safety concerns not only Technology
At 14:30 Yokogawa gave a seminar on the topic "One small step for you, one giant leap for process safety" presented by Hans Hennekam (Functional Director Services Europe), Niels Huttenhuis (Account Manager Systems), and Ton Beems (Safety Assurance Specialist). The seminar highlighted three very important aspects of automation projects – People, Process and Technology.
These three aspects are often handled as three individual silo's. Automation projects will not be as effective if People, Process and Technology are not in balance. In the presentation, we provided some examples of disbalance and pitfalls.  We also presented a way to disconnect these silo's and make it one holistic system by using a real-time process safety dashboard. Many users don't know that there is already a lot of information available in their current systems. Many times there is even no need for new technology. The dashboard connects data from all different sources like your safety system, DCS system, asset management application.
How important is Process Safety for Astronauts?
Before the closing of the event, Yokogawa could take a picture together with the well-known astronaut André Kuipers. He has an impressive career as an astronaut including a 6-month trip to ISS. During his presentation, he shared interesting stories that are full of Safety Critical Equipment and Systems.