The Challenge of Clearing the Path to Renewable Energy
Clean Energy
Corporate Purpose
Sustainability
Every day, the world's population increases by about 220,000*1. At this rate, a 50% increase in energy demand is forecast by the year 2050*2. Even now, though, there are billions of people who do not have access to electricity. Efficiency in energy use has to improve, and electricity has to be produced less expensively and more sustainably. This means that renewable energy must be accepted not as a fad but as the key to a sound, sustainable energy future.
Rewriting the Earth's legacy using renewable resources
― A movement is underway worldwide to bring renewable energy into the spotlight and reduce our reliance on traditional energy sources
Coal, oil, and natural gas still supply around four-fifths of the world's energy. While sources such as wind, biomass, and solar are transitioning rapidly from curiosity to viability, they only account for about 26.2% of the electricity generated worldwide*3. And development of renewable energy sources has not been rapid enough to wean the world off fossil fuels as the increasing population and economic advancement drive global energy demand
Progress has, however, indeed been made in the development and marketability of renewable energy. From 2019 through 2024, capacity is forecast to expand by 1,200GW, essentially equal to the current installed power generation capacity of the US *4. And a report from the International Renewable Energy Agency (IRENA) in May 2019 notes that concentrated solar, bioenergy, onshore wind, hydropower, and solar photovoltaic achieved double-digit year-on-year reductions in global average-weighted cost.
While progress in Europe has been particularly noteworthy, the world is dotted with forward-thinking, forward-looking initiatives. Technological advances, aggressive policymaking, and heightened public awareness have created momentum to power the evolution of renewable energy. And communities and corporations—such as major IT firms operating massive data centers—are under increasing pressure from investors and the public to shift to renewable electricity.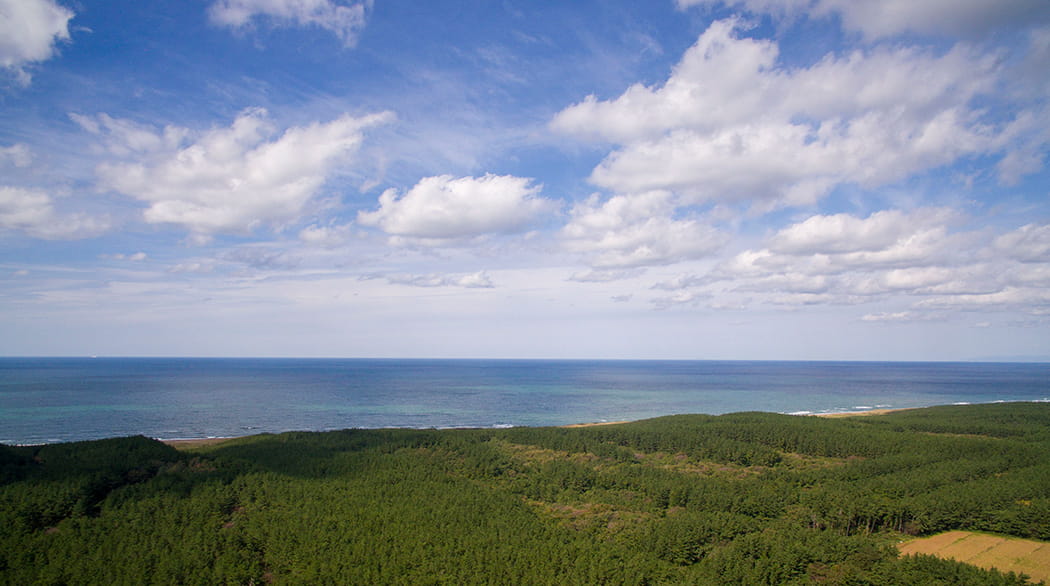 "As yet, the wind is an untamed and unharnessed force, and quite possibly one of the greatest discoveries hereafter to be made will be the taming and harnessing of it."
-Abraham Lincoln, 16th President of the United States*5
Situated on the Tsugaru Plain in Aomori Prefecture adjacent to the Sea of Japan is Wind Farm Tsugaru, one of Japan's largest on-shore wind power generation facilities. Commercial operation officially started on April 1, 2020. The site has 38 wind turbines turning to provide a capacity of 121.6MW, enough to power about 90,000 households. But the project, led by Green Power Investment Corporation Group, has been anything but a breeze, as the area is rich in nature and environmental considerations have proven extremely challenging.
While protecting the region's nature, it was necessary to co-exist with agriculture, the region's top industry. Negotiations were conducted with landowners and related parties, approval acquired from municipalities and the national government, and specialists recruited to conduct environmental assessments. These tireless efforts led to the achievement of an understanding with the people of the region. Furthermore, a law in support of collaborative-type, environmentally friendly renewable energy development was enacted for areas where farms are operated. This helped pave the way to the establishment of a decentralized energy business that capitalizes on the characteristics of the region.
Wind Farm Tsugaru represents the collection of a host of cutting-edge technologies employed in all aspects of the project – from civil engineering efforts and wind turbine transport and installation, to underground transmission and distribution lines and the construction of electrical substations. Collaboration with Green Power Investment Corporation has also been, and will continue to be, crucial to the project's success. It is also the product of lengthy discussion between stakeholders concerning the proper method for operation, which led to the devising of a system. And expectations abound that the project will contribute significantly not only to revitalizing local industry; the formidable volume of knowledge—from design to production, introduction, testing, and live operation—will serve to benefit the wind power industry as a whole going forward.
Shifting the balance of power
― Yokogawa applies its vast experience in measurement and control technologies in support of progressive, dynamic, efficient operational support
Wind power generation endeavors require the balancing of advantages like 24/7 operation and relatively high efficiency against drawbacks such as intermittent wind availability and directional changes. And the remote setting of most wind power facilities brings challenges including weather, terrain, and an inability to station people there. A monitoring control framework that integrates IoT technology and infrastructure then becomes a necessity.
Wind power generation plants combine products from multiple manufacturers, resulting in the existence of numerous measurement devices. This presents quite a test in terms of effectively managing electric power and substation information as well as operational status and time, alerts, and other information from wind power equipment. But Yokogawa is up to the task. Its real-time OS-based controller performs measurement and control functions in parallel. Based on information ranging from control signals to communications data collected from interfaces, it enables the monitoring of dispersed power generation equipment. And its Supervisory Control and Data Acquisition (SCADA) operator interface integrates the various pieces, regardless of manufacturer. This enables remote monitoring, which leads to earlier detection of abnormalities, enhanced operational efficiency, and reduced operating costs.
Yokogawa is now looking at applying hints gleaned from big data analysis to the optimization of maintenance. It is also investigating the use of climate-related data in heightening power generation efficiency and formulating regional forecasts for energy demand as well as supply plans. And it is collaborating with information and communication companies and electrical device manufacturers to leverage advanced energy management technologies, remote control of energy resources, and integrated management in the construction of a new decentralized framework that functions as an integrated power plant (virtual power plant). To support the expansion of its use as a disaster-resistant, regional stand-alone energy system, Yokogawa is also pursuing storage battery and related technologies—all with the aim of driving the continued evolution of renewable energy.
"…there are clear indicators we are in the early stages of a global 'Sustainability Revolution' that has the magnitude of the Industrial Revolution and the speed of the Digital Revolution."
-Al Gore, Former Vice President of the United States, and David Blood, Investor*6
"Quality first. Pioneering spirit. Contribution to society." These principles reflect the philosophy of company founder Dr. Tamisuke Yokogawa, and they permeate its activities even today. And while efforts to tackle challenges in a new business domain do not easily bear fruit, Yokogawa's constant driving force—its purpose—is in its desire to make the world a better place. The company's pioneering, aggressive co-innovation with its partners has facilitated the honing of its existing technologies and know-how. And the information technologies it has carefully crafted have helped take big data from simple information to valuable intelligence. Yokogawa's unwavering desire to better society will likely contribute to a historic, global-scale transformation.
Over its 100 year-plus history in the innovation of measurement, control, and information technologies—recognized as the mother tools of manufacturing—Yokogawa has worked closely with customers in a wide range of fields, providing vital support to R&D and manufacturing. And it is determined to redouble efforts to contribute through its business activities to the resolution of societal and environmental challenges such as global warming to protect and preserve the one world we all share for tomorrow.
---
References
*1 : World Population Balance – Frequently Asked Questions
*2 : U.S. Energy Information Administration, International Energy Outlook 2019
*3 : C2ES (Center for Climate and Energy Solutions), Renewable Energy
*4 : International Energy Agency, Renewables 2019
*5 : Abraham Lincoln, 16th President of the United States, Discoveries and Inventions, 1860
*6 : Al Gore, Former Vice President of the United States, and David Blood, Investor, Joint Article, WIRED UK April 2018