Energy intensive manufacturers around the world are highly interested in, and have a strong need for, EMS (energy management systems) that will help them consume less energy and reduce their operational costs. Additionally, there is an increasing trend to optimize the mix of conventional and alternative energy sources used by facilities, which can help to protect the environment by reducing the emissions of gases such as CO2 and NOX.
Tradeoffs between the electrical, steam, and chilled water systems are determined by complex relationships that present an overwhelming 24/7/365 challenge to operators in their effort to provide stable and reliable service while at the same time trying to minimize cost and greenhouse gas emissions.
VisualMesa Energy Performance Real-Time Optimization (EP-RTO), using best in class technology, determines how to manage your steam, chilled water, electrical and fuel efficiently and reliably, and provides significant cost savings through the economic optimization.
EP-RTO is an online and real-time implementation with an engineering model, which considers plant control strategies and system reaction to changes in the utilities. EP-RTO gives operators actionable advice on how best to operate complex, interactive utility systems to minimize utility cost. For example, operators receive directives on how to set cogeneration and boiler steam production, swapping steam/electric drives, chilled water supply, the export of steam, and how to manage real-time power purchase and sale.
An online system for utilities management.
Allows operators and engineers to have detailed coverage in four distinct areas:
1.Monitoring: Monitoring the steam, electric, water and fuel systems. Assists in steam system management by monitoring all variables and provides warnings of important changes.
2.Optimization: Optimizes the production and use of steam, fuel and power to reduce costs. Recommends how to operate the utility system at minimun cost solving the mixed-integer and discrete non-linear optimization problem with an SQP-based method.
3."What If?" Planning: Predicts how the steam system will respond to proposed changes such as a new plant, plant expansions, change of process, shutdowns, etc. using current, historical, or user-defined data.
4.Auditing, Accounting and Data Validation: Auditing the system with continuously validated data. Mass Balance closure is determined at every location where enough instrumentation is available.
Bridges the gap between utility and process operators.
User friendly, implicit, intuitive.
Excellent ROI (usually less than 6 months).
Proven and validated software with over 20 years of successful applications.
Current users include major refiners and petrochemical producers.
VISUAL MESA Technical and IT Characteristics
Built-in and customizable MS Excel based reports.
Non-linear models.
Field proven SQP optimization routine.
Energy contract modeling capabilities.
Closed loop optimization capabilities.
Multi-period planning and demand forecasting capabilities.
Runs continuously connected to on-line data. Operates with any data historian via OPC.
GUI for simulation, optimization and steam accounting. Drag and drop model building tools.
Easily accessed and solutions shared by any PC on the plant network via MS Visio drawings, MS Excel reports and HTML web pages.
Multiple users can open and develop different models (both offline and online) other than the one that is being hosted.
Visual MESA Optimization
Visual MESA has mathematical models and discrete, non-linear, optimization routines (SQP) built in to predict how to run the steam and electrical systems at the minimum cost while meeting required plant steam demands and other critical plant constraints.
Visual MESA also determines where to make incremental steam and electricity as well as identifying which turbines or valves will most efficiently let down the steam between process levels.
Visual MESA decision variables are grouped into four levels that can be executed progressively to solve the optimization:

An online hosted Visual MESA model usually runs at Level 3 Optimization, with Level 4 runs executed from time to time.
The bottom line of Visual MESA: Optimize the total operating cost of the system, where:
TOTAL OPERATING COST= TOTAL FUEL COST + TOTAL ELECTRIC COST + OTHER COSTS (water,etc)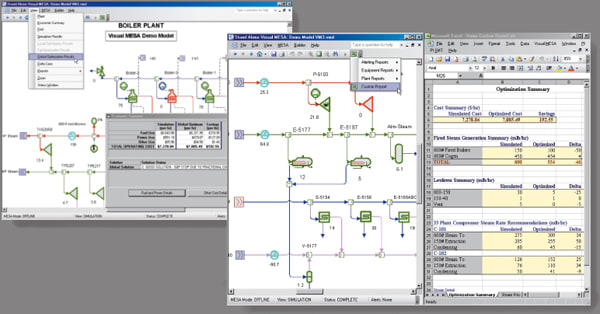 Fuel System
Visual MESA optimization chooses the most economic fuel to burn in the boilers and/or process heaters. The fuel system can be modeled in great depth to include contractual issues (e.g. fuel oil grades, natural gas suppliers, quotas and penalties if the former are exceeded), emissions limits, CO2 trading. When co-generation options are available the fuel/steam tradeoff can yield economic benefits.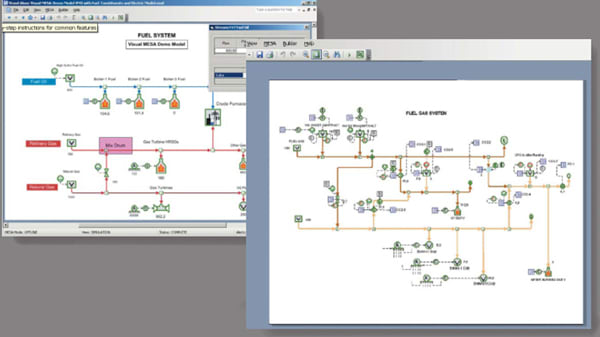 Economics.
Visual MESA users have documented annual energy cost reductions on the order of 5-6% from optimization.
Plus, additional savings can be obtained by:
Identification of wasted steam and various operating problems, such as:
a) Using steam to strip hydrocarbons from a distillation column for maintenance and then not closing the valve after a few hours.
b) Sending steam to an air condenser in order to be condensed and disposed of, seeking to avoid the direct vent to the atmosphere that would result in a noisy and visible plume.
Tracking performance.
Auditing and accounting of the steam and boiler feed water to help reduce wasted steam and identify imbalances.
Continuous monitoring to prevent plant upsets resulting in steam wastage.
Alerting for changes by periodic scan of all the flowmeters
Inside the model and warning of any change that occurs which exeeds a pre-defined threshold.
Reduce Energy Costs
Example: This chart shows the reduction in lost opportunity costs at a medium-complexity Refinery plus Olefins Unit.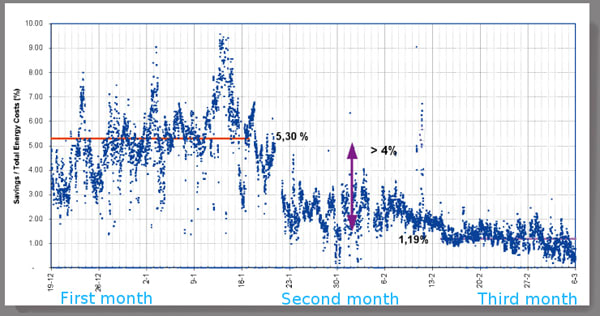 First month: "Base line", Visual MESA being executed on-line but no optimization actions are taken.
Second month: Visual MESA Optimization suggestions are obeyed progressively.
Third month: Visual MESA Optimization suggestions are followed on a daily basis.
What is Energy Optimization?
In industrial processes, optimizing the costs between steam, fuel, and electrical power reduces total operational costs while meeting emissions constraints.
Industrial Applications of Energy Optimization:
Electrical, steam, and chilled water systems
Manufacturing
Chemical and refining industries
Benefits of Energy Optimization:
Optimal energy to reduce energy costs
Fuel system models including contractual issues and emissions limits
Performance tracking
Ongoing monitoring
Flowmeter scans and change alerts
Overview:
Rohm and Haas Company is one of the world's largest manufacturers of specialty materials, including adhesives, sealants, coatings, monomers, electronic materials, inorganic and specialty solutions, and ion exchange resins. Founded in 1909 by two German entrepreneurs, Rohm and Haas has grown to approximately $6 billion in annual revenues.
Overview:
It is Kuwait Petroleum Company's (KPC) and its subsidiaries' policy to ensure that all energy should be managed in accordance with best engineering environmental practices and within regulatory compliance at all times.1 All operations must be committed to institute an energy efficiency programme and minimise emissions of pollutants including global warming gases. As part of the activities to follow those premises, energy management cells (EMC) have been formed at each of the Kuwait National Petroleum Company (KNPC) refineries: Mina Al-Ahmadi (MAA), Shuaiba (SHU) and Mina Abdulla (MAB).
Overview:
After a feasibility study, TOTAL decided to test an on-line model for site wide energy system management. TOTAL operates a large and complex energy system at Feyzin refinery. A detailed model of the energy system has been built and it is continuously fed with validated (not reconciled), real-time data. It includes all the actual constraints of the site and decision variables for their operation.
Overview:
On-site digital champions can drive your operation towards data integration and a more aligned way of working.
Industries:
Looking for more information on our people, technology and solutions?
Contact Us