Outdated processes lead to information loss, project delays, and other operation costs. Even today, in many factories, liquid analyzers are directly connected to chart recorders, with engineers using paper logbooks to maintain registration, reporting, and traceability.
SENSTATION is a proven concept that provides a scalable integrated liquid measurement solution by combining SENCOM™ SMART sensors with a SMART data logger and SMARTDAC+ modular data-acquisition system.
With SENSTATION, the unique capabilities of Yokogawa's SMART datalogger, SMARTDAC+, and the SMART digital SENCOM™ sensors are combined to create one unique solution to improve factory efficiency and profitability by improving the traceability and reporting functionality and by simplifying maintenance and calibration. Depending on the selected HMI, two to sixteen units can be monitored and connected.
Combining the powerful SMARTDAC+ Data Acquisition & Control system with the SENCOM™ SMART sensor technology
Remote access from Tablet, PC, Phone

Customized display can show actual process layout

Sensor "HOT SWAP" on-site preventing long process interruptions

Fewer spares necessary for emergency stock

Full traceability of all measurements connected

Remote access from Tablet, PC, Phone

Environmental Legal traceability through trending

ISA100, Modbus and 4-20 mA inputs available

Connecting multiple Third party products

All measurement and control products can be connected

iCloud connectivity options available

SMART Sensor technology for accurate analysis

OPC UA communication with DCS/SCADA possible

Features & Benefits
Intuitive display for improved operability
The SMARTDAC+'s customized display with touchscreen and swipe provides a detailed, real-time overview of all connected sensors. All data can be reviewed remotely from a PC, laptop, or tablet, and notifications are sent via email from individual measurements if an error occurs or maintenance is needed.
Reliable design compliant with safety standards
The GX10 has a front panel mounting to comply with IEC529-IP65, and all SENCOM™ sensors are CE compliant with IECEx, ATEX, FM, CSA, TIIS compliant (pending). In addition, the K8S connector (IP67) can be used for installations in heavy industrial environments, and digital signals are reliably transferred without disturbance from external sources.
Secure data storage
SENSTATION features a large internal memory of 400MB (on FX1000) or 500MB (on GX10/GX20) with a CF card up to 2GB (option on FX1000) or SD card up to 32GB (option on GX10/GX20). Other data features include binary data storage, a network that enables data redundancy, and an optional USB interface.
Simplified reporting and calibration
SENSTATION has automatic reporting capabilities with reports exportable to Excel, PDF, or CSV files. In addition, SENCOM™ digital pH sensors can be calibrated in the laboratory, simplifying maintenance.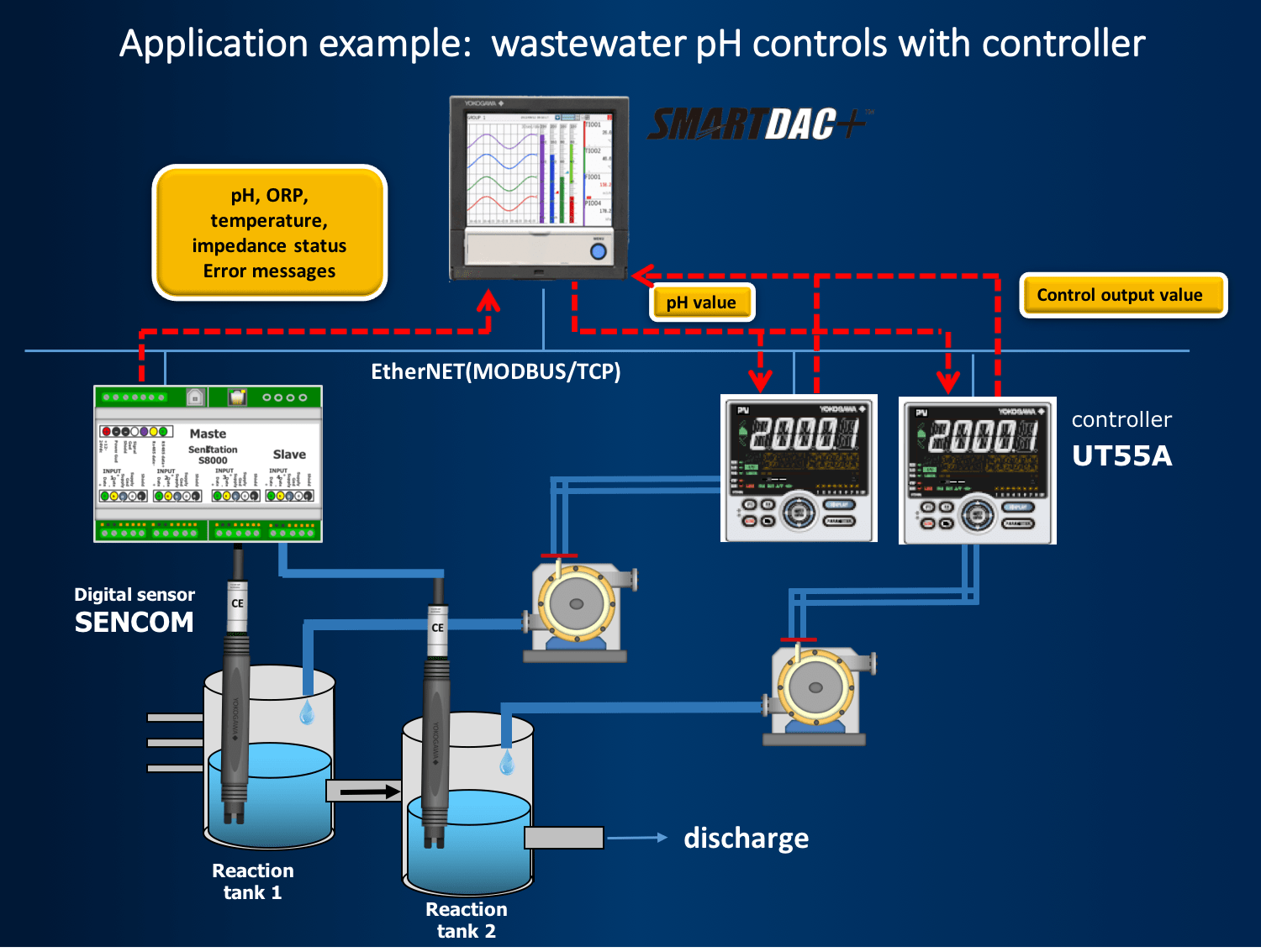 This is a small example of a water treatment plant. We can install digital SMART sensors in different installation locations throughout the process, and link all of the sensors information to be gathered into one the SmartDac+ at one convenient location. This allows for reduction in installation costs and there are not analyzers at each measurement location. Other examples of potential industries and applications that could benefit from SENSTATION are:
Food and Beverage
Metal Treatment
Industrial laundry
Effluent Treatment
Scrubber monitoring
Overview:
How to connect digital sensors.
Overview:
Find out what the future process analysis holds and how SENSTATION can benefit you.

Music Credit: http://www.bensound.com/royalty-free-music
Press Release

May 29, 2015

- A scalable, integrated system to improve maintenance efficiency -
Looking for more information on our people, technology and solutions?
Contact Us