Manage and Track Your Risk
By using the Yokogawa safety controls, tools, and technology you can effectively mitigate risk, identify hazards, and create the foundation for safe and secure plant operations. You can provide the reliability you need while simultaneously meeting your compliance targets.
Safety and Security in One
Yokogawa's safety instrumented systems (SIS) deliver high availability without compromising world-class safety performance. We offer safety solutions to meet multiple SIL(safety integrity level) requirements for a wide range of process safety applications.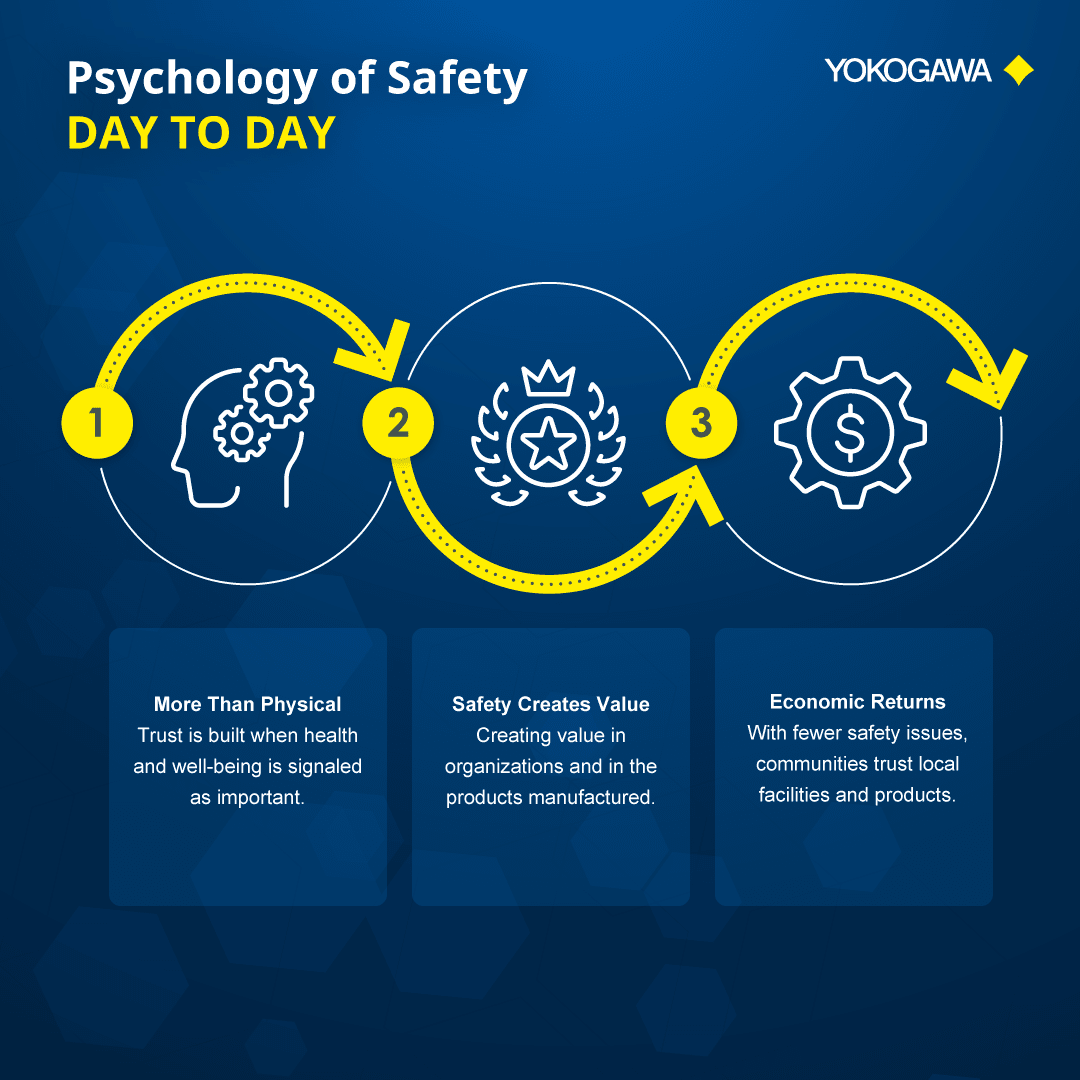 Systems You Can Count On
Safety Function Monitoring: Ability to continuously monitor SIS performance and identify deviations from design targets
Override Safety Advisor: Manage, track and provide dynamic risk assessment for bypasses in the SIS
Seamless: Can be integrated with any distributed control system - an industry first - for improved plant safety and operator effectiveness
Provides high reliability for low probability of a plant shut down
Are compliant with the new safety regulations, such as the ANSI/ISA 84 and NFPA standards
Explore how Yokogawa's safety instrumented systems have improved plant safety for a spectrum of applications in multiple industries.
Yes, I Want a Consultation
Safety Instrumented Systems Applications
Yokogawa's ProSafe systems offer superior solutions for a range of applications in oil and gas, petrochemical and chemical, and conventional and nuclear power industries.
Certified to comply with the IEC 61508/JIS C 0508 (up to SIL3) international functional safety standards and fully integrated with a distributed control system (DCS), our ProSafe solutions improve plant safety by assuring a plant is securely shut down when critical conditions occur.
Integrating a fire and gas safety system ensures the safety of personnel and plant equipment by detecting unsafe conditions before causing potentially serious harm.
Yokogawa's ProSafe-RS can be employed as the BMS burner shut-off system for incinerators, furnaces, and boilers, including a safety shut-off mechanism to prevent explosion and ensure plant safety.
Used in subsea and onshore pipeline protection systems as well as chemical process plants, our safety instrumented systems offer reliable solutions for high integrity safety requirements.
Safety Consultant
Safety Consultancy Service
Yokogawa is committed to supplying industrial safety systems that meet the IEC 61508 and IEC 61511 standards. Safety management plays an increasingly crucial role in many process plants today, and widely recognized safety standards such as IEC 61508, IEC 61511 and ISA 84.00.01 have been instrumental in fostering more stringent safety requirements in process plants worldwide.
At Yokogawa, a department of specialists guarantees adherence to safety standards and issues Safety Assessment Certificates for individual applications. For more information, please visit Yokogawa Europe's Safety Services.
TÜV Rheinland Functional Safety Training Program

Yokogawa has become a course provider for the TÜV Rheinland Functional Safety Program of TÜV Rheinland Industrie Service GmbH.
For more information about TÜV's Functional Safety Training, visit TÜV Rheinland's website.
Overview:
In maintaining and managing industrial plants, monitoring waste water pH/ORP is both a legal obligation and an unavoidable necessity for protecting the environment. Monitoring without an attentive eye can lead to severe consequences.
Industries:
Overview:
In this eBook we explain how to improve fired heaters safety & efficiency by controlling combustion using TDLS technology. Download it now and learn:
The 4 top industry challenges related to fired heaters
How to efficiently and safely manage combustion
How TDLS technology can improve operational excellence in fired heaters
Industries:
Overview:
Recently, several ARC Advisory Group analysts and management team members had a chance to sit down with the new Yokogawa President and COO, Mr. Takashi Nishijima, and several other top Yokogawa executives to discuss the company's burgeoning presence in the worldwide upstream and midstream oil & gas industry.
Overview:
Yokogawa has come a long way in making its message clear to the world of process automation. Last year, the company embarked on a full-scale global marketing campaign to make customers aware of the company's focus on system reliability, security, dependability, and robustness. Dubbed "Vigilance", the campaign created a unified message for the company and greatly helped expand awareness of the Yokogawa brand and corporate philosophy.
Overview:
Process automation end users are under more pressure than ever to do more with less. The current economic climate means that many automation capital projects are on hold. With capital budgets tighter than ever, users instead focus on operational budgets (where cost cutting is also a key concern), or on automation investments with a very rapid return on investment.
Overview:
Learn how VMR allows an SIS to continue operating long after safety systems using other architectures would have failed.
Overview:
August 2006
Many published papers discuss the benefits of subsea HIPPS and many studies show the potential cost-benefit analysis of this technology in deepwater applications. An internet search for subsea HIPPS is informative; however, little appears that discusses the systems already delivered and operating successfully.
Industries:
Overview:
September 2006
Launched in February 2005, Yokogawa's ProSafe-RS safety instrumented system (SIS) quickly gained a significant share of the market. Just 18 months later, 100 units had been sold-quite a feat considering the generally conservative nature of the SIS market. So what is behind this rapid success?
Overview:
April/May 2007
A Yokogawa ProSafe-RS safety instrumented system (SIS) will be the nucleus of a new fire and gas safety system at Shell's Clyde (NSW) refinery. The contract includes the control system, system engineering and installation and supervision.
Industries:
Overview:
The main feature of the ProSafe-RS R3.01 release is direct input temperature modules and support for Windows 7.
Overview:
Yokogawa South Africa was appointed to design, supply and commission the Integrated Control and Safety System (ICSS) as well as the overall Terminal Management System at Sunrise Energy's liquid petroleum gas (LPG) Import Terminal, the largest on- and offshore open-access LPG import terminal facility in Africa. Yokogawa's Terminal Management System, Terminal Logistic Suite VP (TLSVP), was designed and developed to meet the exacting operational demands and logistic needs in terminals. Yokogawa's experienced engineering resources ensured the project was successfully delivered, enabling Sunrise Energy to provide accurate mass balances and efficient terminal operations to its customers.
Overview:
Discovered more than a decade ago, the Jack and St. Malo fields are expected to deliver more than 500 million barrels of oil. The Jack St. Malo floating production unit is the fourth deepwater facility Chevron operates and is the largest Chevron has in the Gulf of Mexico. Hear what it takes to deploy the technology and deliver first oil from this very challenging megaproject
Overview:
Safety systems are often regarded as a mandatory item to have installed in your process plant. Selecting a safety system is mainly focused on implementation in the most efficient and cost effective way. Decision makers do not always realize that a safety system needs to be implemented by expert staff and it needs to be maintained over decades of its life span. Furthermore, implementing your safety system the right way, will not only be cost-effective, but can also add to the efficiency of your process. During this webinar, Jan de Breet will discuss the extra benefits Yokogawa offers you with its ProSafe-RS Safety Instrumented System.
Press Release

Nov 1, 2019

- Use of Yokogawa-developed microprocessor unit for long-term product lifecycle support -

Press Release

Jul 25, 2017

- Offering of a total system solution, including consulting and engineering -

Press Release

Jun 26, 2017

Press Release

Apr 11, 2017

- Easy adoption and use as a fire and gas system -
Looking for more information on our people, technology and solutions?
Contact Us