Reduce Cycle Time. Increase Results.
Under continual pressure to increase profitability, maintain government compliance, and meet emerging market opportunities, the pharmaceutical manufacturing industry faces unique challenges that require unique solutions. As one of the world's leading industrial automation suppliers, Yokogawa is poised and prepared to deliver those solutions, creating individualized lean manufacturing techniques that deliver consistent, measurable results.

Yokogawa's Pharma 4.0 Solutions
Developed by the ISPE as a roadmap to introduce Industry 4.0 (also known as Smart Factory), Pharma 4.0 creates digital strategies for pharmaceutical manufacturing's unique needs. In other words, it future-proofs productivity by increasing connectivity, simplifying compliance, and consolidating production information, allowing users to respond to problems in real-time.



Data Analysis
An early identification of Critical Process Parameters (CPP) and Design Space (DS) through data analysis.




Monitoring
Monitoring of Critical Quality Attributes (CQA)




Rapid Response
Rapid response time to abnormalities and deviations based on data-driven risk assessment by improving accessibility to data




Process Improvement
Continued process improvement through feedback and reduction of time and costs involved in developing new drugs and manufacturing processes.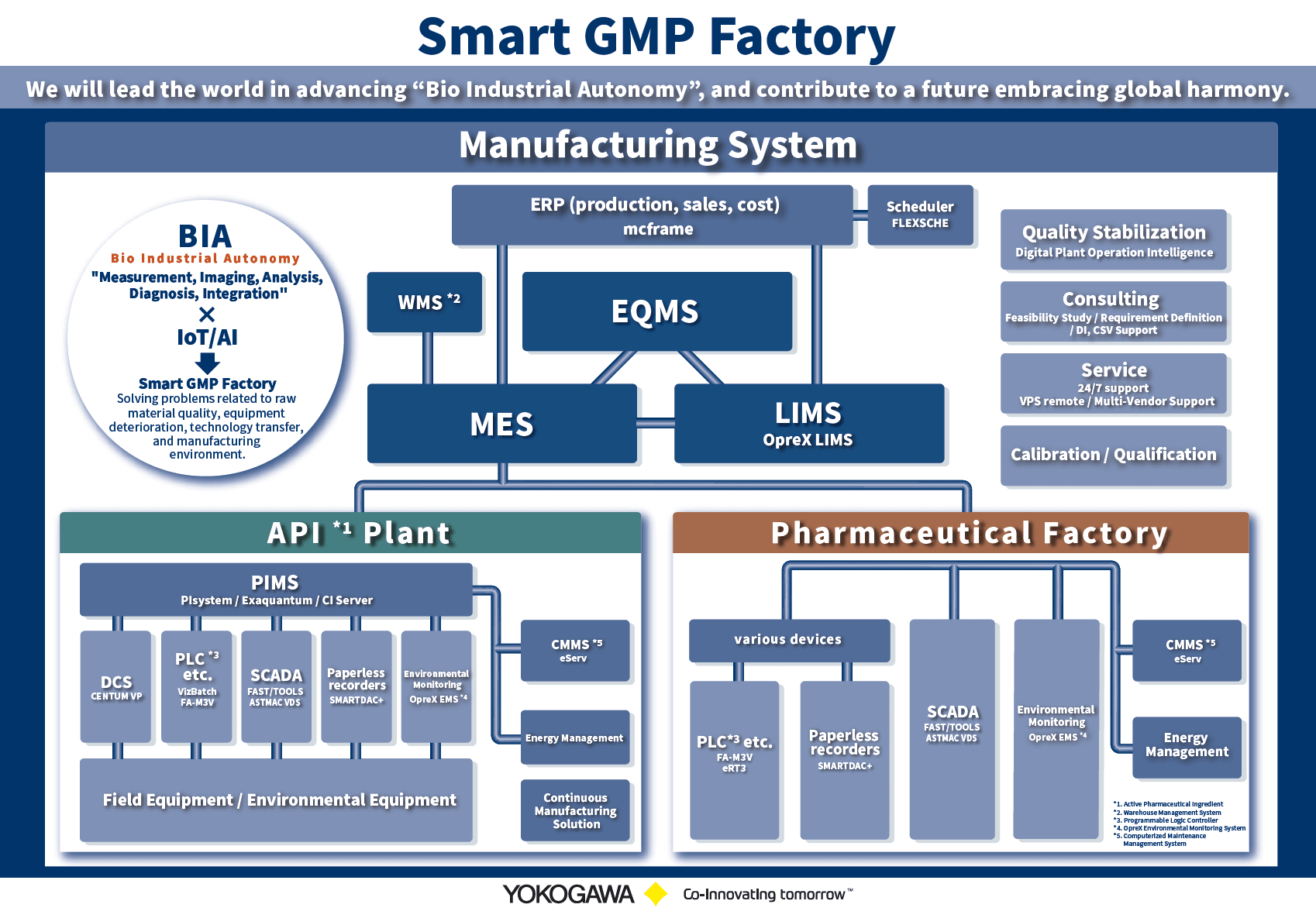 Yokogawa Solution List
What Is Environmental Data Monitoring?
The Oprex Environmental Monitoring System collects, measures, and stores management data from pharmaceutical manufacturing, quality control, and storage areas, giving users the flexibility of multiple applications with the convenience of a single system.
• Data Integrity meets ALCOA+ requirements
• Long-term storage of collected data in recorders that are FDA 21 CFR Part 11 compliant
• Data monitoring in real-time
• Centralized management of usernames and passwords

Benefits Of Environmental Data Monitoring
Designed to monitor environmental data in real time, the Oprex Environmental Monitoring System alerts users to problems before they can affect product quality or turnaround. The collected data is stored in recorders that are FDA 21 CFR Part 11 compliant and the data integrity meets ALCOA+ requirements. In addition, the centralized user management system makes it convenient to control logins, passwords, and user access, creating audit trails and supporting up to 7 languages.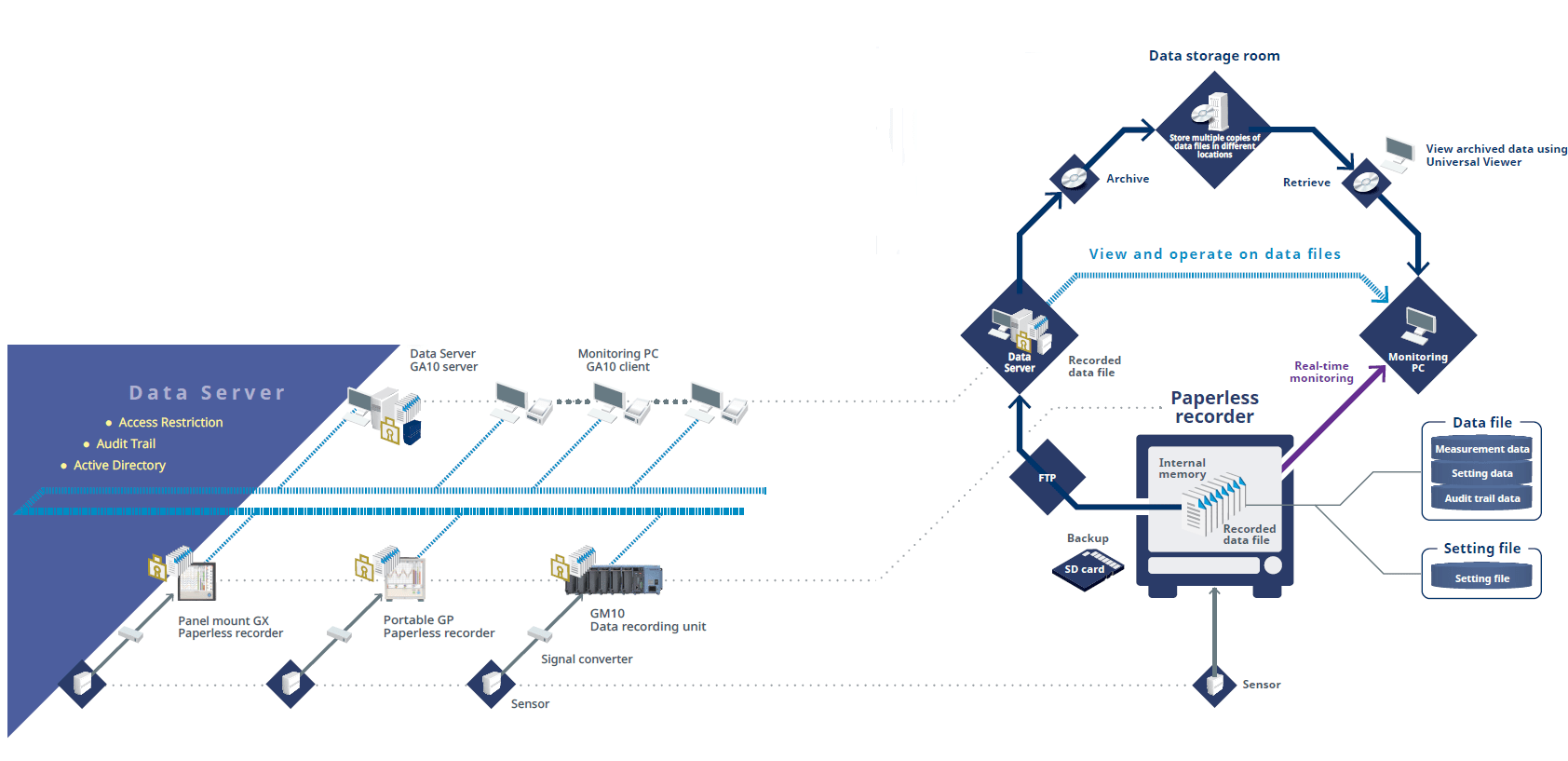 The Oprex Environmental Monitoring System Features
Access Control
Users are assigned to groups and are given access privileges based on the group they belong to.
Only authorized users can login to the system and search and browse through data.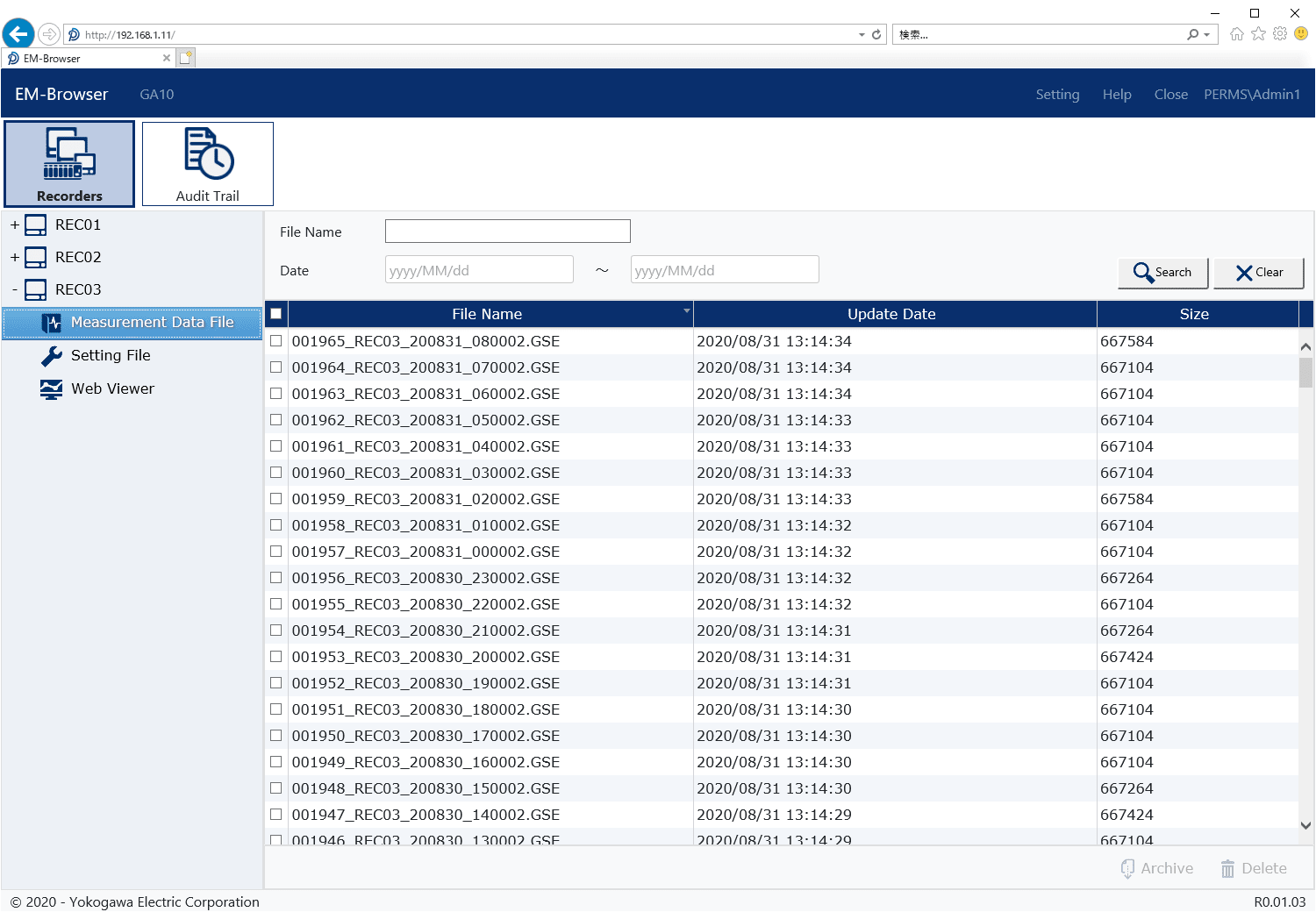 Audit Trails
All file operations by an authorized user are recorded in the audit trail.
File operations (Archive, Delete)
Backup and Restore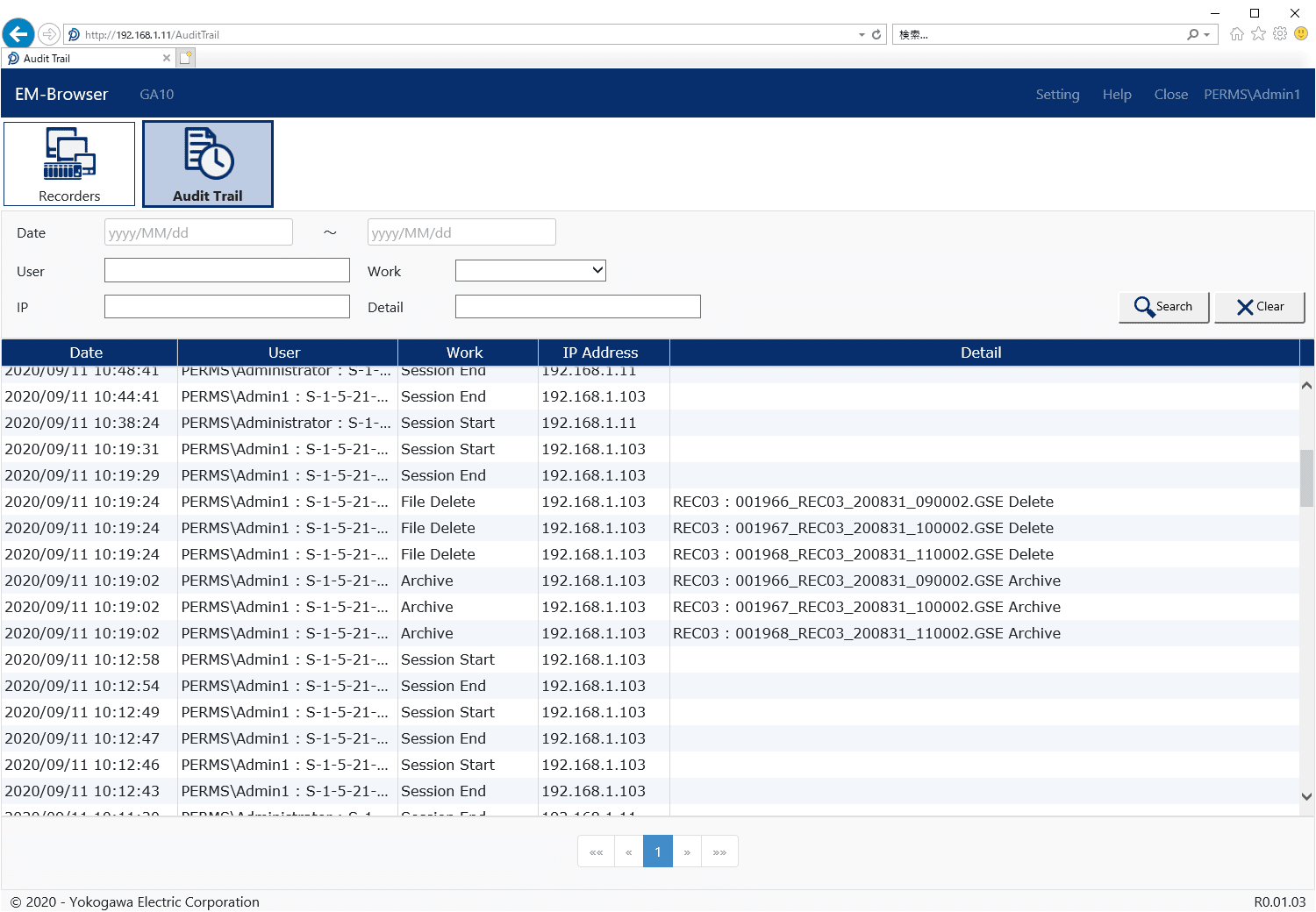 Configuration Tool
Adminstrator configures the Data Management Package using this tool.
Register new recorders
Register new users
License management
Monitor measured data in real time
Measured value display (Trend display / Digital display)
Alarm notification on the screen
Monitor data for each measurement group
Dedicated viewer software for browsing recorded data
Display recorded data
Supports latest OS and offers best viewing quality
Supports 7 languages
Paperless Recorder
SMARTDAC+ Series
Measure and record a variety of data
Add I/O modules as needed
Wide variety of powerful display functions
A full range of network functions
Advanced Security Function
Electronic recording of data is compliant with pharmaceutical regulations
Logical security
Audit trail function
Secure data storage in binary format (fraud proof)
Dedicated viewer software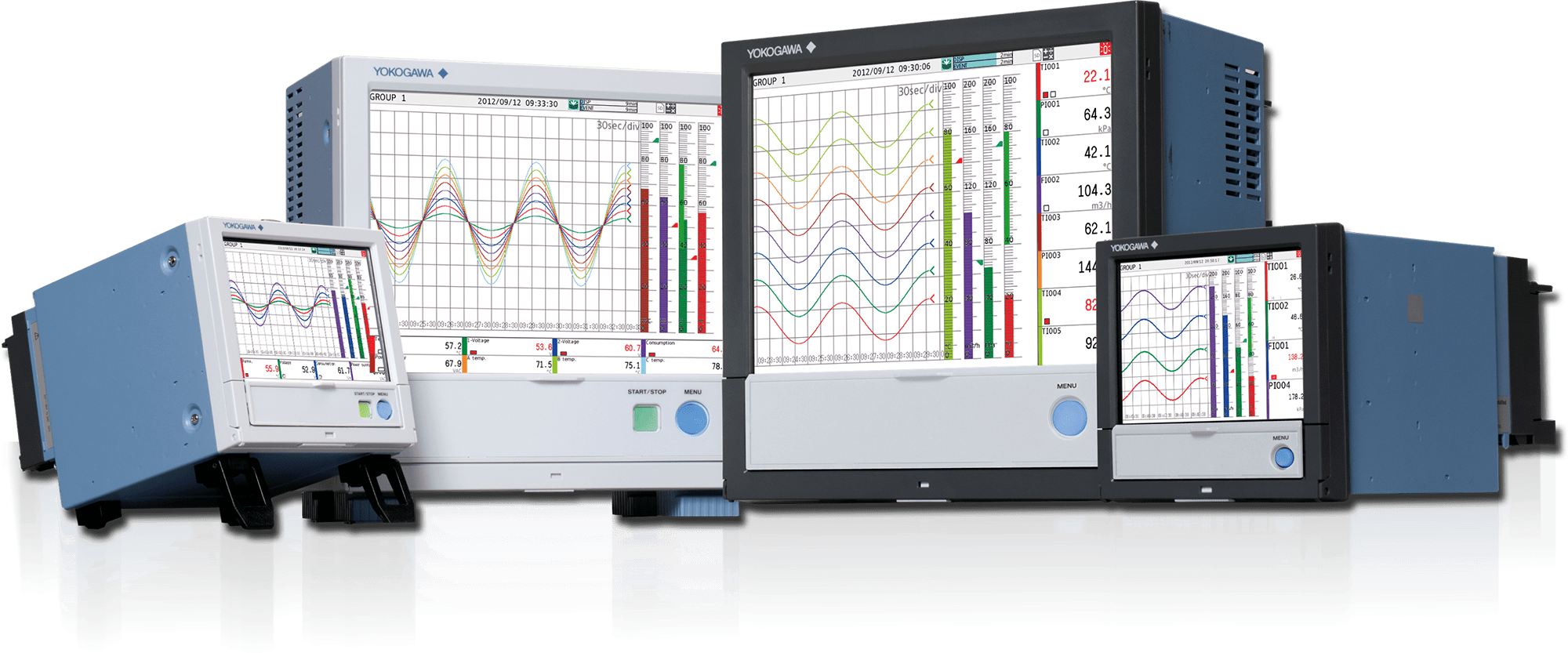 Why Lean Manufacturing?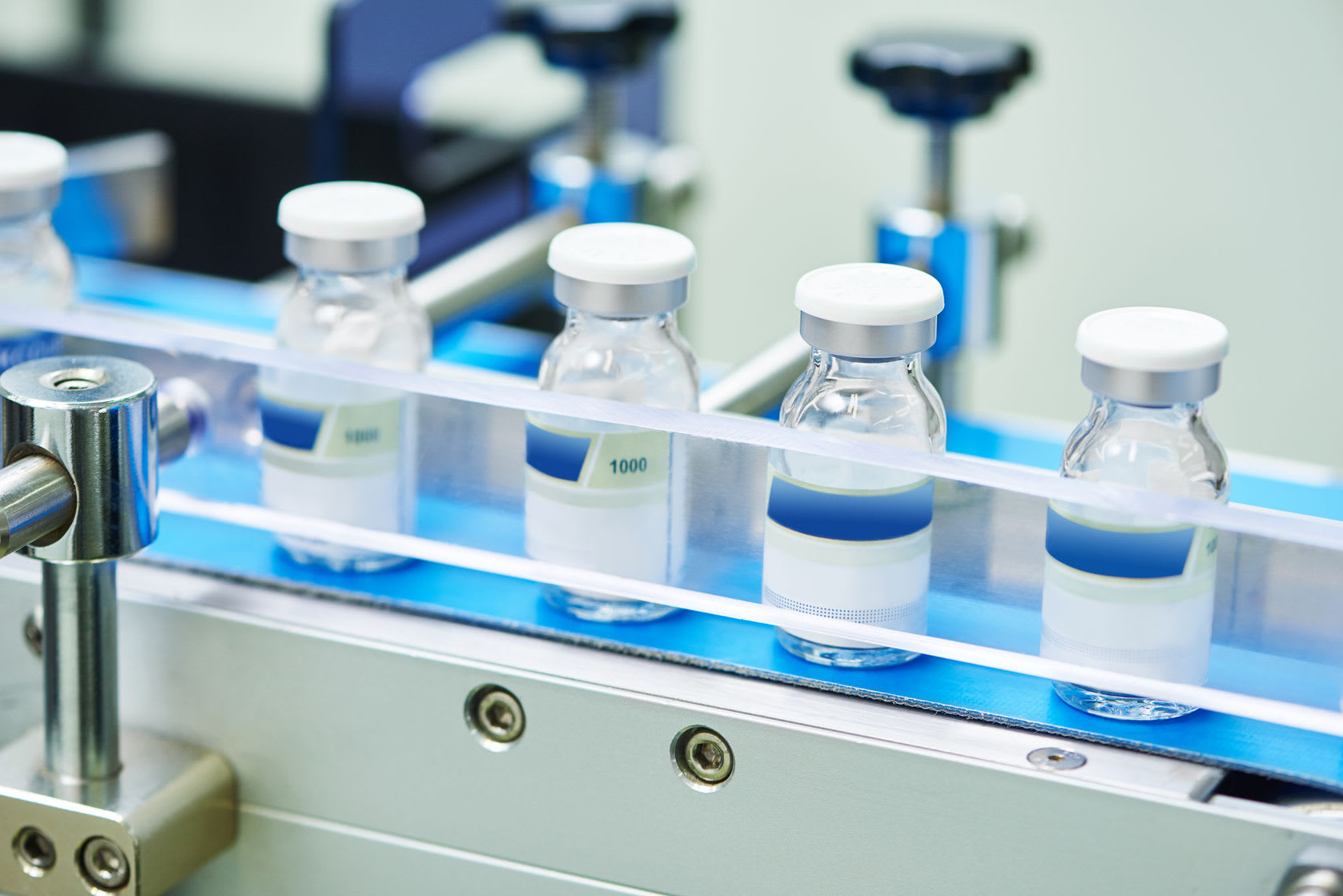 Today's pharmaceutical manufacturers face ever-increasing challenges. Caught between the demand for low cost drugs and the rising costs of production, they must improve efficiency and productivity without sacrificing quality or turnaround. At Yokogawa, we understand these challenges, and more importantly, we understand that Lean Manufacturing is the answer. Through the strategic use of our automation solutions, innovative process controls, and global network of experts, customers have optimized their production lifecycles, anticipating and correcting issues before they become problems.
Lean Manufacturing Solutions
Yokogawa's portfolio of Lean Manufacturing solutions enable plantwide integration and product lifecycle optimization, increasing efficiency and productivity.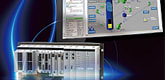 The CENTUM VP, Integrated Production Control System
FDA 21 CFR Part 11 compliant and capable of supplying batch functions based on the ISA-88 batch process control standard, the CENTUM VP, Integrated Production Control System tracks production trends in real-time, connecting a plant's various interacting units and automatically addressing problems as they arise.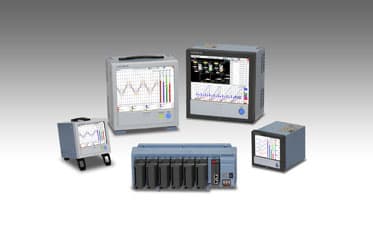 The SMARTDAC+® GX/GP Series Paperless Recorders
Meeting the requirements of FDA 21 CFR Part 11, the SMARTDAC+® GX/GP Series Paperless Recorders are capable of all essential validation documents, including stored data electronic signatures.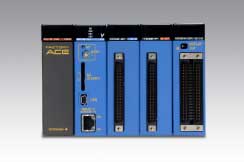 The FA-M3V, IT Machine Controller
A high-performance, programmable logic controller (PLC), the FA-M3V, IT Machine Controller combines rapid processing speeds with stable control features, ensuring consistent product quality.
Customer Challenge
Compliance with globalized regulations and guidelines
Pharmaceutical companies operate in a global marketplace and the industry is encouraged to comply with international initiatives such as the PIC/S GMP Guide and the ICH Guidelines. GMP facilities need to follow established best practices and automated production equipment and computer systems are expected to adopt current computerized system validation (CSV) practices such as GAMP.
Our Solutions
Assuring the Production of Quality Pharmaceutical Products
Over the years, Yokogawa has successfully realized numerous projects in compliance with Good Automated Manufacturing Practice (GAMP). Under a project validation plan (PVP) that follows the V model described in the GAMP guide, experienced Yokogawa engineers deliver outcomes for the functional specification, design specification, implementation, factory testing, and site acceptance testing phases. The verification and test results, including the installation and operational qualifications (IQ /OQ), serve as objective indicators for determining if project requirements have been met.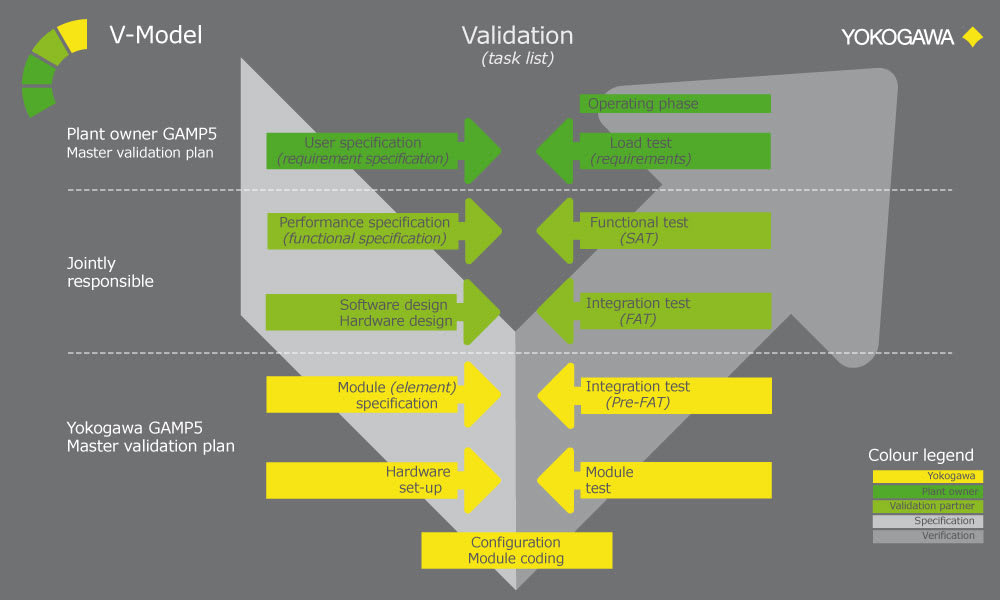 Customer Challenge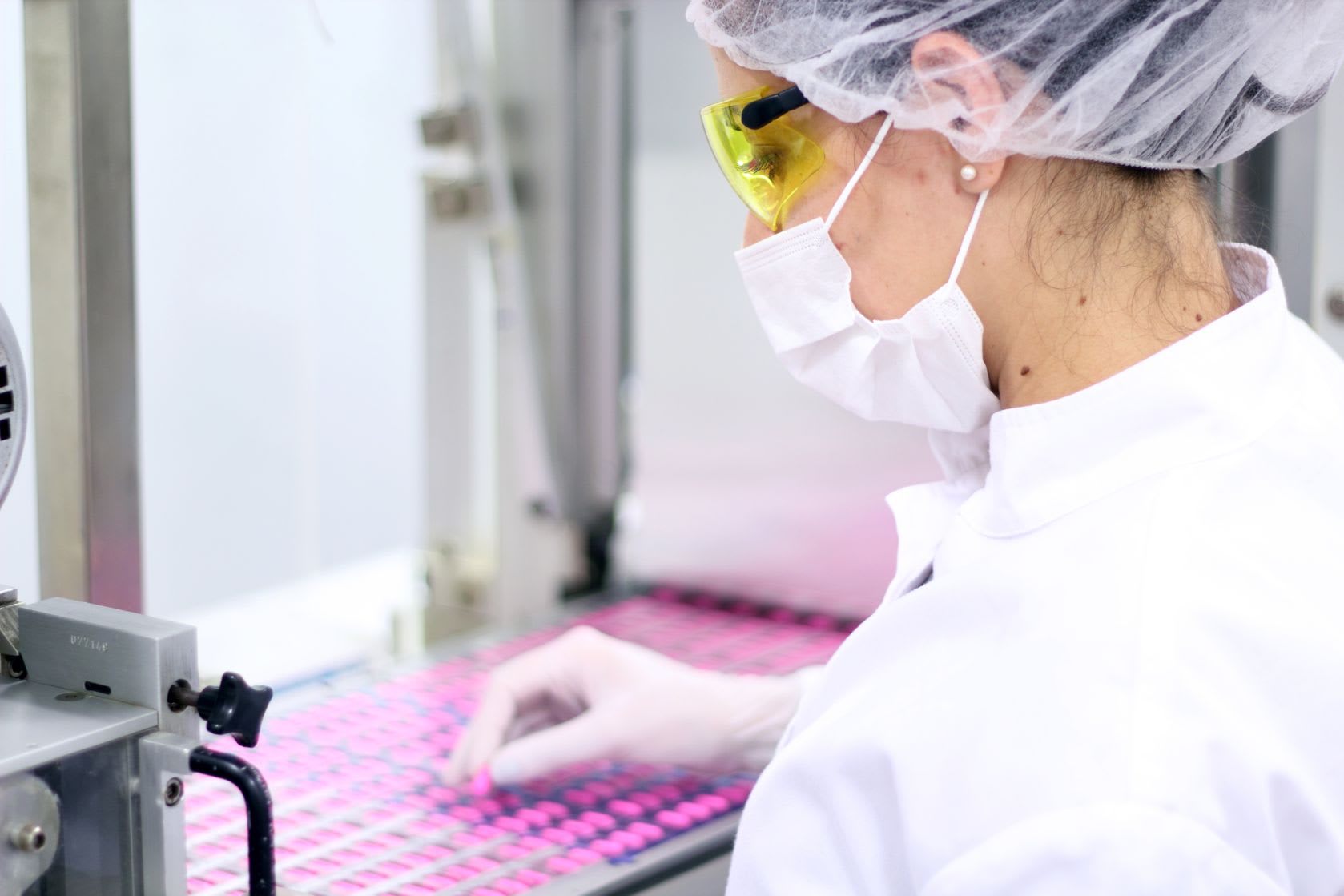 Need for a more rigorous approach to ensure product quality
With pharmaceuticals, a rigorous scientific approach is needed to ensure product quality. The ICH quality guidelines call for a quality-by-design (QbD) approach in pharmaceutical development and manufacturing. Manufacturing facilities face the challenge of implementing innovative technologies such as process analytical technology (PAT) and are expected to introduce real-time release (RTR) testing.
Our Solutions
Yokogawa PAT Solution to Real-Time Release Testing (RTRT)
Yokogawa's approach to the development of process analytical technology (PAT) solutions relies on real-time monitoring of critical quality attributes (CQA) to achieve lean manufacturing. Online quality attributes can be directly monitored by means of near infrared (NIR) analysis. Another approach is the use of process modeling technology to monitor process health.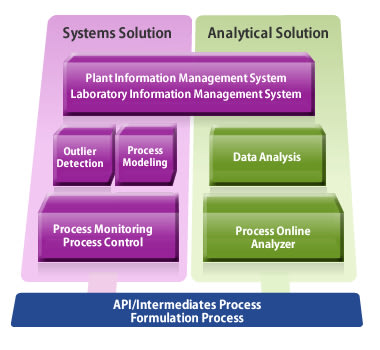 Overview:
Highlyadvanced biopharmaceutical plant uses CENTUM, VP Batch, Exaquantum and PRM.
Total system integration for large-scale biotech production facility.
Overview:
Yokogawa provides CENTUM VP with Batch Recipe Management Package for new fine chemical plant.
Yokogawa's CENTUM VP complies with the requirement of Good Automation Manufacturing Practices(GAMP).
Overview:
Uninterrupted Medical Oxygen Production with FAST/TOOLS Monitoring.
Audits are performed periodically, requiring traceability and the keeping of historical records for all batch production activities.
Overview:
RotaMASS was chosen to work with weight measurements and/or differential pressure transmitters for extremely accurate measurements.
The customer recognized the product's advantages: reliability, accuracy, guaranteed draining system, easily cleaned system, no moving parts, directly built into the pipelines, low pressure losses.
Overview:
Kyowa Hakko Bio monitors vibration trends with Yokogawa's Sushi Sensors to prevent unexpected equipment failures.
By using eServ, sensor data and maintenance information are shared with everyone involved in manufacturing.
Overview:
When used to measure the dissolved oxygen in an aeration tank, sensors tend to quickly become contaminated and need frequent cleaning. A cost-effective solution to this problem has finally been found with the development of the Yokogawa DO402 Dissolved Oxygen Converter system.
Overview:
For remote monitoring (of temperature, pressure, and flow volume), installing the SMARTDAC+ GM in the plant and the SMARTDAC+ GX in the office provides for a scalable, pc-free on-site data monitoring solution.
You can centralize management of large quantities of data by automatically transferring acquired data to a FTP server.
Overview:
High-capacity memory, network, and part 11 compliant paperless data recorders greatly increase work efficiency while eliminating data recording errors.
Overview:
Prevent costly downtime and process equipment failures with real-time pressure monitoring. Yokogawa's Sushi Sensor is the optimal choice for industries depending on bottled gas in essential procedures.
Overview:
Cell stage categorized using FucciTime lapse imaging of Fucci-added Hela cells was conducted over 48 hrs at 1 hr intervals. Gating was performed based on the mean intensities of 488 nm and 561 nm for each cell. They were categorized into four stages, and the cell count for each was calculated.
Overview:
Avoid flashing issues while loading cryogenic liquids with safe, reliable, and accurate density fluid measurements utilizing Yokogawa's industry-leading Coriolis flowmeter to eliminate measurement issues and increase the accuracy of inventory.
Overview:
Eliminating the wire using wireless transmitter is the perfect solution for rotating equipment. It establishes data collection between the transmitter and the gateway by reliable communication even though the dryer was rotating.
Overview:
SMARTDAC+ GX series records the clean room temperature, humidity, atmospheric pressure, door openings and closings, etc.
Overview:
A critical requirement in biopharmaceutical development is the integration and automation of process equipment and analytical instruments used in the laboratory. Bioprocess labs with multiple lab-scale bioreactors often execute cultivation experiments in parallel for research or process development purposes.
As part of a collaboration between Securecell (Zurich, SW) and Yokogawa Life Science (Tokyo, Japan), this application note demonstrates the effective use of the Lucullus® Process Information Management System (Lucullus®) to assist in the control of three Advanced Control Bioreactor Systems (BR1000) to study glucose utilization of CHO cells for optimal monoclonal antibody productivity.
Overview:
In semiconductor manufacturing processes, a deficient clean room environment can lead to defects and wasted resources, making a strictly controlled clean room indispensable. Maintaining the environment in the clean room requires control of air filters, HVAC systems, room temperature, humidity, airborne particles, and other factors.
Overview:
In the plants of food and beverage manufacturers, there are times when monitoring and recording of production equipment is necessary inside clean rooms. This is an introduction to monitoring and recording in clean rooms using paperless recorders.
Overview:
Performing control while changing the set point temperature moment by moment is called running a program pattern (or simply running a program). Sterilization and pasteurization require maintaining specific temperatures for specific durations.
Overview:
The paperless recorder DX series automatically calculate the Fo value from the heating temperature and are useful in managing the sterilization process by displaying and recording the value together with the heating temperature.
Overview:
By using the Multibatch function (an option added with SMARTDAC+), you can efficiently record data from multiple devices onto a single SMARTDAC+.
Overview:
Using the custom display function that comes standard with DXAdvanced means that you can combine the recorders, displays, and switches used in various kinds of equipment.
Overview:
Using the batch name + lot number system, past measured data can be recalled for reference by batch name.
Overview:
Universal inputs provide support for thermocouple, RTD, voltage, and a variety of other input signals.
Lineup of models for up to 450 inputs.
Allows multipoint monitoring and recording on a single unit.
Easily enables network-based data management.
file transfers, Web monitoring, and alarm e-mail
Overview:
By using the computation function of the SMARTDAC+ series Paperless recorder GX/GP, computation option computes the "F-value," or sterilizing value for the sterilization process, so that the computation results can be recorded in the form of data.
Overview:
The sterilization temperature prior to the filling process is monitored in the field or office. The temperature data is recorded in an external storage medium.
Overview:
Blending plays a key role in industries such as food, healthcare and chemicals etc. Temperature and vacuum measurements are very important in minimizing the moisture content to ensure the quality of the final product. Strictly maintaining them throughout the process ensures the final product yield.
Overview:
With industrial and economic development comes increasingly large and advanced power plants and factories. Nevertheless, we find many cases where the original cables, cable tunnels, and other components of the power infrastructure have languished under continuous operation.
Overview:
In this Yokogawa RAP Best Practices eBook, you'll discover how our wealth of knowledge about Integrated Safe Systems and Control of Work is available to help you and your teams design and implement a system that best suits your needs.
Overview:
This technical white paper will discuss Yokogawa's CENTUM VP DCS (Distributed Control System) product, hereafter referred to as "CENTUM VP", and the extent of its compliance with Part 11 of Title 21 of the Code of Federal Regulations, (21 CFR Part 11), the Electronic Records / Electronic Signatures Rule.
Overview:
The worlds of process automation and production management have been converging for some time. What once used to be islands of automation and production management functionality connected through highly proprietary integration schemes that were costly to maintain have developed into integrated platforms that provide seamless data exchange between the world of automation and the plant floor, the functions of production and operations management, and integration with business level systems.
Overview:
The world of process automation is governed by procedures. While we like to refer to the process industries as being largely "continuous", this could not be further from the truth. Process manufacturing is constantly in flux.
Overview:
From engineering to installation, commissioning, operations, and maintenance, FOUNDATION fieldbus offer significant cost reductions of 30 percent or more versus conventional analog systems. Many of these cost reductions come from the advanced functions that fieldbus offers versus analog technology.
Overview:
The whitepaper discusses the importance of safety culture in achieving a smarter and safer working environment. It highlights statistics on work-related accidents and diseases, the cost of poor safety culture, and the need for a true safety culture achieved through company leadership.
Overview:
On-site digital champions can drive your operation towards data integration and a more aligned way of working.
Overview:
This document describes the operation and data flow of the Yokogawa Print Wave software using the DX-P Reporter. It will provide a detailed explanation of the Advanced Alarm Reporter functions. The functions described in this paper were first released in Print Wave version 5.5.
Overview:
Discovering your Baseline with OT Security Risk Assessment
Overview:
Discovering your Baseline with OT Security Risk Assessment
Overview:
The first stage in creating next-generation production control system that achieves innovative plant operation is providing "Visualized operation". "Visualized operation" for the customer means that he can reliably access and visualize plant data regardless of plant location and time.
Overview:
Manufacturers that are digitalizing lab information management can improve quality and streamline operations. Read the complete article inside.
Overview:
Lonza's Riverside plant manufactures bulk active ingredients for the pharmaceutical industry. A new, fully automated multipurpose reactor train was installed in early 1996. The train includes ten 500 to 1500 gallon vessels used for reaction, distillation, phase separation, and crystallization; two centrifuges for isolating finished products; and two dryers.
Overview:
The critical steps in achieving advanced process control include building an accurate digital twin of a bioreactor, validating it, and establishing communication between the bioreactor and its digital twin. Several of these steps are already mature and Yokogawa is making rapid progress toward realizing 'smart' bioreactors for smart manufacturing.
Overview:
Unlocking the Keys to a Sustainable Pharma Supply Chain
Overview:
Yokogawa Insilico Biotechnology released its Insilico Digital Twin Factory, which can help drugmakers increase productivity and bring down manufacturing costs and time to market by potentially replacing up to 50% of the experiments needed during the process development, characterization and scale-up of biopharmaceuticals.
Overview:
In this video you will learn about flow imaging microscopy, and how the FlowCam works to deliver digital images of subvisible particles.
Overview:
A demonstration of the FlowCam 8000 and how it works for marine and freshwater research and monitoring
Overview:
A demonstration of the FlowCam 8000 for pharma and biopharma applications
Overview:
A demonstration of the FlowCam 8000 for industrial applications
Overview:
Yokogawa leverages our extensive knowledge and experience in IT, operation and control technology to build an advanced improvement cycle that is useful to all management levels, and eventually aims to achieve Pharma 4.0 together with our customers.
Overview:
Discover how to achieve industrial autonomy step by step through one of the 75+ inspiring presentations.
Overview:
Sample systems are a crucial component of and have a significant impact on the performance of a process gas chromatograph analyzer. When working on sample systems, you must have a constant awareness of time delays. This fundamentals webinar will take the mystery out of lag times.
Overview:
This workshop provided by industry partners Yokogawa and ThreatConnect will show you a way to strategically manage cyber risk within an industrial environment. Learn how to transition from the "break/fix" model of industrial cybersecurity to a business risk management strategy through cyber risk quantification, return on investment (ROI) for industrial cybersecurity solutions calculations, and cyber risk identification.
Press Release

Feb 20, 2023

- Giving customers a single view of all their technical data -

Press Release

Nov 2, 2021

- Enabling solutions for biopharmaceutical development and production -

Press Release

Feb 12, 2018

- Optimizes the supply chain and operations by enabling plant personnel to work more efficiently -
Looking for more information on our people, technology and solutions?
Contact Us