Yokogawa CENTUM DCS/CS
With the actual implementations in many plants and absolutely high reliability, CENTUM CS has been the best seller of the large scale DCS since its first sale in 1993.
Since it was released in 1993, CENTUM CS is widely applied in the plants of oil refinery, petrochemical, chemistry, iron and steel, non-ferrous metal, metal, cement, paper pulp, food and pharmaceutical industries, and power, gas and water supply as well as many other public utilities.
The excellent operability and engineering technique, and the high reliability proved by the abundant actual application results, guaranteed that the CENTUM CS will continue to play an important role in the 21st century.
More documentation is available from Customer Portal Members Only Page

(requires registration)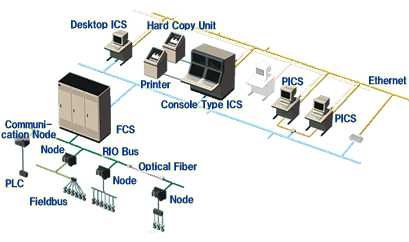 System Configuration Drawing
Information Command Station (ICS)
CENTUM's station for operating and monitoring the plant process control.
Console Type ICS
A standard type of ICS with extensive capability and high reliability.
Desktop ICS
The ICS on the desktop, the main body, CRT and keyboard are separated.
PICS
A general-purpose PC used as ICS.
Field Control Station (FCS)
The control unit for plant process control
Node
A remote input and output unit that passes the field signals to FCS control unit via remote buses.
System Configuration Drawing
Engineering Work Station (EWS)
A workstation with engineering capabilities used for system configuration and system maintenance.
Bus Converter (ABC)
Bus converters are required if a system contains multiple domains or contains the legacy CENTUM project.
Communication Gateway (ACG)
A communication gateway unit is for linking a supervisory computer to control bus.
V Net Real time control bus for linking FCS, ICS and ABC.
E Net The information LAN of the system for linking ICSs and EWS.
Field Control Station (FCS)

FCS
High reliable hardware that guarantee the plant control in stabilized status, the most important goal for plant control.
The FCS inherits the renowned reliability of the entire CENTUM series. Truly the most reliable FCS in the industry.
Since the processor cards perform control calculations, duplexes dual-redundant configuration of these cards is essential to prevent loss of control upon a hardware failure.In addition, two CPUs are paired in each processor card, thus the transient calculation errors can be detected. (This type of duplexes dual-redundant configuration is referred to as "Pair & Spare" configuration.)
In order to meet various requirements, in the FCS lineup, standard type, compact type and migration type FCSs are available for space saving installation, and high-distributed type FCS is also available for decentralized control structure.
Information Command Station (ICS)

Console Type ICS
Yokogawa provides three types of ICS to match your needs.
Console Type ICS
The Console type ICS is an operator console designed based on the human engineering with extensive capability and high reliability. It has one CRT or two stacked CRTs which support touch-panel function and eight-loop simultaneous manipulation.
Desktop ICS
A space-saving type of ICS with extensive capability and high reliability.
PICS
The ICS is a general-purpose personal computer with UNIX operating system. It also has space-saving advantage.
Dedicated Operator keyboard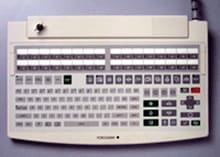 Dedicated Operator keyboard
The dedicated operator keyboard for PHIS is assembled with the dustproof and drip-proof flat keys, and the keyboard maintains the same functionality as the operator keypad fixed atop the console type ICS
Overview:
Exapilot contributes to safety, reduces cost, and retains operational know-how.
Industries:
Overview:
Exapilot smoothly starts up and shuts down the world's biggest experimental distillation unit.
Data visualization is the key, giving operators a complete understanding of what is is going on in the process, in real time.
Industries:
Overview:
Smooth upgrade for fully redundant system and advanced information technology
Stable and high-quality sulfonate production around the clock
Overview:
An international corporation based in Duisburg, Germany that was able to secure a US$ 780 million contract to construct a project marketly known as "Musi Pulp Mill". Construction started Sept. 1997 after financial agreements between the plant's owner, PT TEL and 32 foreign banks has been sealed-off.
Press Release

Dec 18, 2017

- For improved agility in implementing control system projects -
Looking for more information on our people, technology and solutions?
Contact Us