Requirements

Remote leak detection for pipe line was needed to meet new environmental statute. However cabling earthwork is strictly restricted to protect land environment.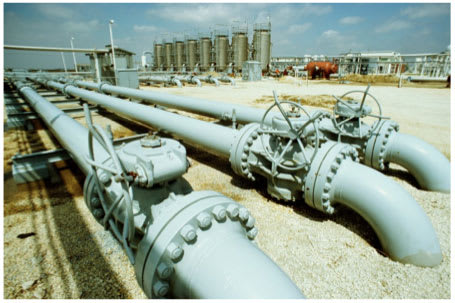 Benefits
Improved safety by monitoring oil leak.
Reduced environmental burden by avoiding land pollution
Improved company image to be law abiding.
Challenge
Strictly limited earthwork based on regulation.
Long distance communication up to 2 km without repeater.
Solution
Introduction of wireless pressure transmitters and temperature trasmitters.
Built large scale star network using high gain antenna based on Yokogawa plant-wide field wireless system.
Equipment List
EJX530B (Wireless Pressure Transmitter) x 33
YTA510 (Wireless Temperature Transmitter) x 17
YFGW710 (Field Wireless Integrated Gateway) x 10
High gain antenna (6 dBi, 9 dBi)
Remote antenna cable (3 m, 13 m)
Conclusion
The company became consistent with new law by monitoring oil leak and reducing environmental burden.
Facilities and personnel safety was improved by monitoring oil leakage.
Risk of land pollution was reduced. The company reputation was improved with enhanced environmental compliance.
The long range communication capability of Yokogawa's plant-wide field wireless system enabled this application.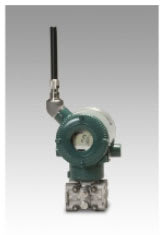 EJX series Wireless Pressure Transmitter
Yokogawa posee un caudal de experiencia en cada parte del negocio del petróleo y el gas, desde instalaciones en altamar y terrestres hasta ductos, terminales y operaciones en aguas profundas. Proveemos soluciones que mejoran la seguridad, garantizan una operación precisa y confiable y aumentan la eficiencia de la planta.

Leer Más

La industria de exploración, desarrollo y producción terrestre se enfrenta a exigencias cada vez más altas y mayores desafíos con entornos cada vez más difíciles y hostiles en las que debe funcionar.

A medida que las oportunidades de los recursos de gas natural no convencionales, en particular el gas de esquisto, están creciendo en América del Norte, la solución total de Yokogawa juega un papel importante al ayudar a los clientes a satisfacer los desafíos de reducir tanto el CAPEX como el OPEX, mientras que las tecnologías integradas mejoradas aumentan la producción. Nuestra experiencia global y local constituye la base de nuestras soluciones totales únicas para satisfacer las necesidades de esta industria. Con expertos en exploración, desarrollo y producción terrestre que trabajan en oficinas por todo el mundo, ofrecemos un soporte rápido y extenso para satisfacer las demandas de nuestros clientes.

Leer Más

El control de las tuberías y la instrumentación adecuada puede hacer una gran diferencia en términos de desempeño y rentabilidad. Yokogawa ha dedicado tecnología que pueda optimizar el desempeño de todos los elementos de una solución de tuberías, incluyendo compresores, bombas, válvulas y almacenamiento intermedio e instalaciones de distribución.

Leer Más
Productos y Soluciones Relacionadas
×
¿Tiene Dudas?
Contacte a un Experto de Yokogawa y conozca como podemos ayudarle a resolver sus retos.