The EJA110E is a high-performance differential pressure transmitter used to measure liquid, gas, or steam pressure. Featuring Yokogawa DPharp sensor technology, the EJA110E delivers measurements accurately, quickly, and reliably.
EJA-E series models in their standard configuration, with the exception of the Fieldbus, PROFIBUS and Low Power types, are certified as complying with SIL 2 safety requirements.
Accuracy: ±0.055% of Span
Stability: ±0.1% of URL per 10 years
Response Time: 90 msec
What Are the Benefits of Differential Pressure Transmitters?
The EJA110E with DPharp digital sensor offers the performance needed to run your operations at peak performance. This ensures on-spec product, reduced waste, and improved yield, helping you increase profitability.
---
Digital Performance
Poor Performance = Lost Money
Other pressure sensor technologies require an analog to digital conversion before the signal can be processed, introducing additional errors. In Yokogawa's pressure transmitters, the DPharp sensor directly outputs a digital signal, eliminating the need for analog to digital conversion and improving performance.
---
Accuracy Under All Operating Conditions
Poor Performance = Lost Money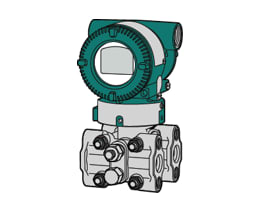 Fluctuations in static pressure and temperature cause errors in differential pressure measurement. Analog sensors can only measure DP and sensor temperature and therefore can only compensate for temperature effect.
Yokogawa's DPharp digital sensor measures the differential pressure (DP), static pressure (SP), and sensor temperature from a single sensor. Given these three pieces of process data, our differential pressure transmitters compensate the DP measurement for temperature effect and static pressure effect in real time. This compensation is referred to as Dynamic Compensation and improves DP measurement accuracy.
Learn more about Dynamic Compensation.
---
Stability under all operating conditions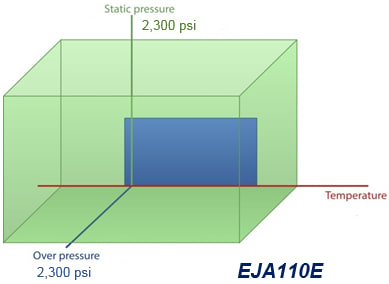 Poor Performance = Lost Money
What happens when a transmitter sensor is exposed to overpressure?
Overpressure events such as incorrect sequencing of a manifold during start-up or shutdown and process upsets can damage analog sensors, requiring the transmitter to be recalibrated - or even replaced - in order to return it to normal operations.
The simple, robust design of Yokogawa's DPharp pressure sensor makes it less susceptible to overpressure events. A mechanical system within the transmitter provides additional overpressure protection by equalizing the excessive pressure before it reaches the sensor. Once it returns to normal operating pressure, the transmitter returns to operation within the defined accuracy and stability specifications with no need for recalibration. The Yokogawa DPharp sensor has a more significant operational envelope compared to an analog sensor, allowing you to run your control loop at your desired set-point regardless of process conditions.
How to Reduce Total Cost of Ownership?
The EJA110E reduces total cost of ownership by having safety as standard, extending calibration intervals, and giving users the option to measure both differential and static pressure with one transmitter.
---
Safety as Standard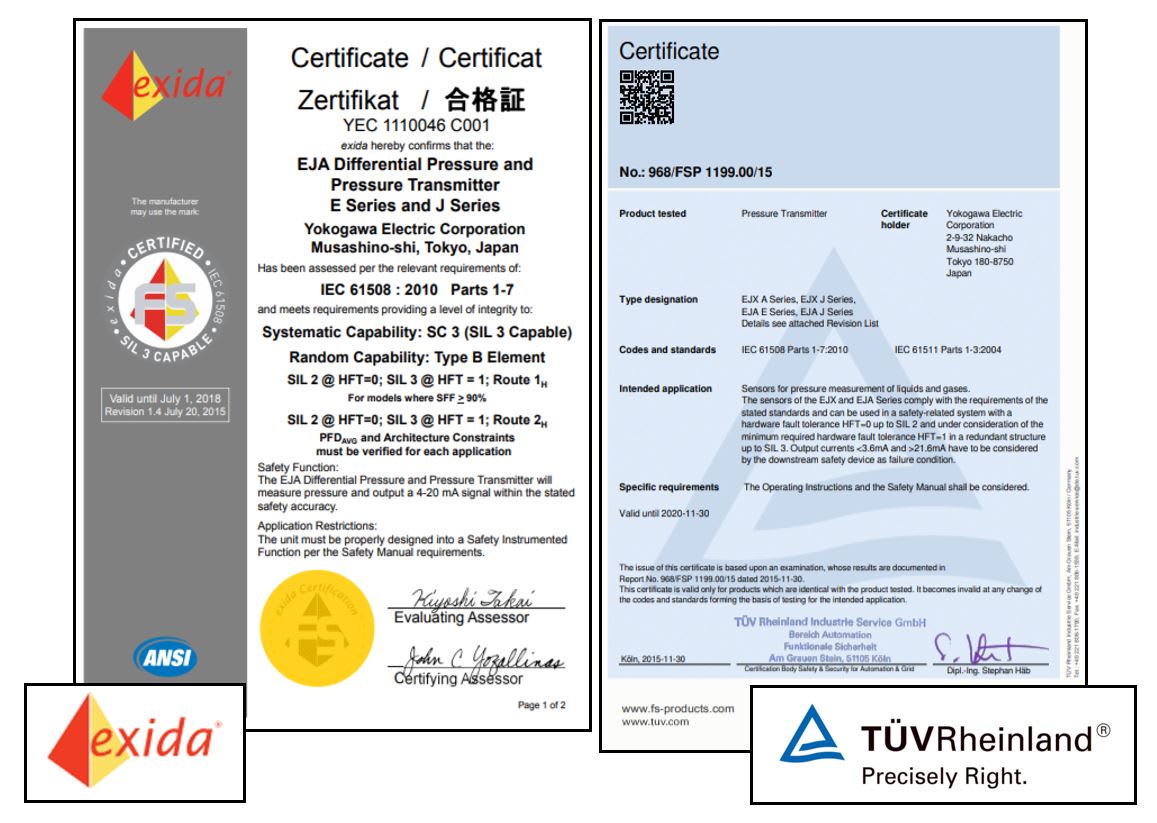 Inherently Safe = Reliability
At Yokogawa, safety is never an option. All Yokogawa pressure transmitters are designed and certified to IEC61508:2010 Parts 1 through 7 and IEC61511:2004 Parts 1 through 3 by Exida® and TÜV Rheinland®.
As standard, all Yokogawa transmitters are certified for single transmitter use in SIL 2 safety applications and dual transmitter use in SIL 3 safety applications. The same transmitter can be used for both process control and safety applications. Managing two separate transmitter models is no longer necessary, reducing spares inventory and simplifying daily operations.
---
Extended Calibration Check Intervals
Quicker Maintenance = Less Downtime
When devices are initially installed, they operate at peak performance, but what happens after they are running under various process conditions and poorly managed or maintained? Changing operating conditions can cause transmitters to drift to the point where they are no longer able to make accurate measurements for the process loop they are installed in, resulting in poor quality or an impact to product yields. This requires a calibration check interval to ensure you're operating within desired error limits.
Yokogawa EJA-E series pressure transmitters have the long-term stability of ±0.1% per 10 years under all operational conditions, reducing calibration frequencies. As you gain experience with these transmitters, the interval between calibration checks is extended. Long-term this can help reduce your maintenance cost by up to 34%. Spend your time where it is needed.
---
Multi-sensing in DP Applications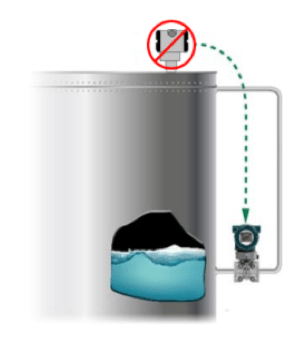 Other suppliers' transmitters use analog sensors, which require two separate transmitters for any application that needs both differential pressure (DP) and static pressure (SP) measurements.
Yokogawa's differential pressure transmitter features our multi-sensing DPharp sensor, which can measure both process variables (DP and SP) with a single transmitter, saving you the cost of a gauge pressure transmitter as well as the manifold, piping, wiring, I/O, construction and engineering man hours associated with it. With our DP transmitter, there are fewer devices to manage, maintain and calibrate, lowering overall lifecycle costs.
---
Standard Communication Protocol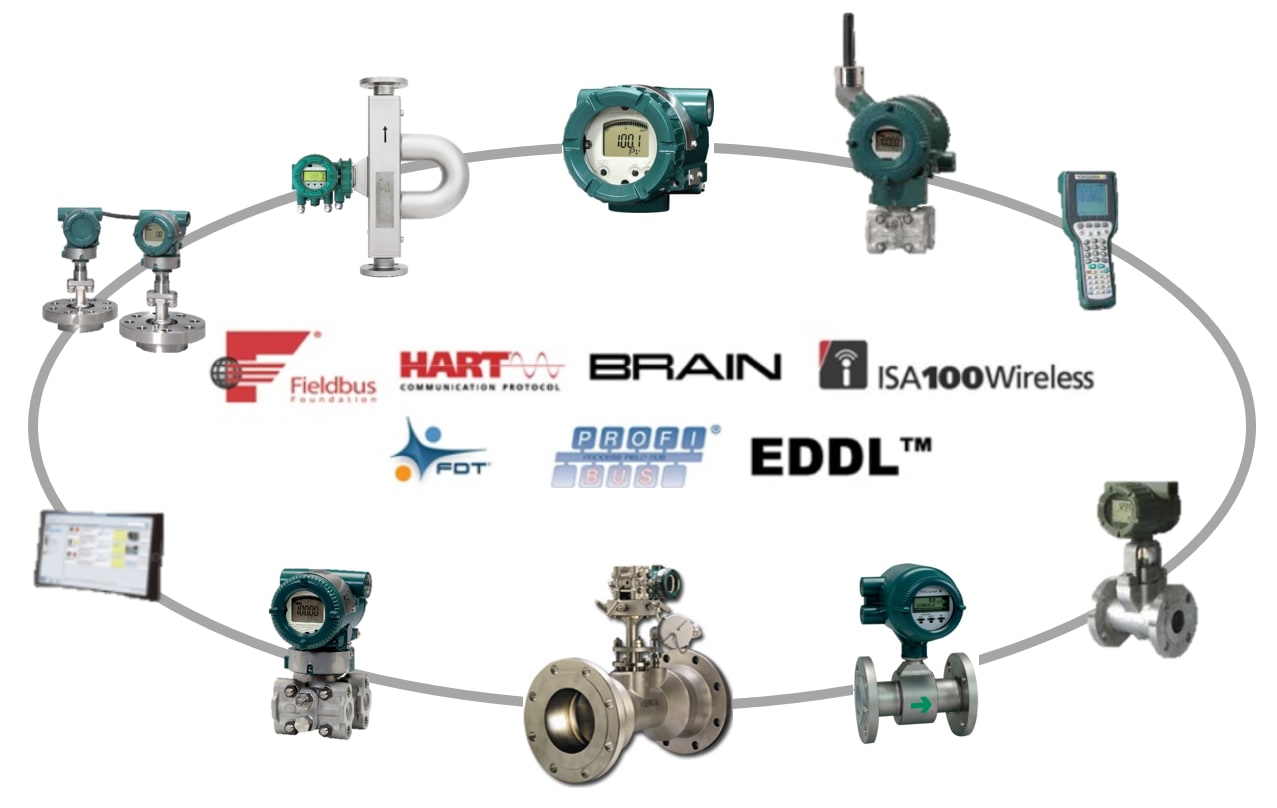 No Learning Curve = Smooth Change Over
Yokogawa transmitters support all industry standard field device communication protocols. Interoperability and interchangeability can be ensured. Use all the same tools and work procedures as before. Yokogawa transmitters are available with analog 4 to 20mA signal with either BRAIN® digital protocol or HART® digital protocol; Low Power analog 1 to 5 VDC with HART® digital protocol; or all digital FOUNDATION® Fieldbus or PROFIBUS® PA protocol.
---
International Certifications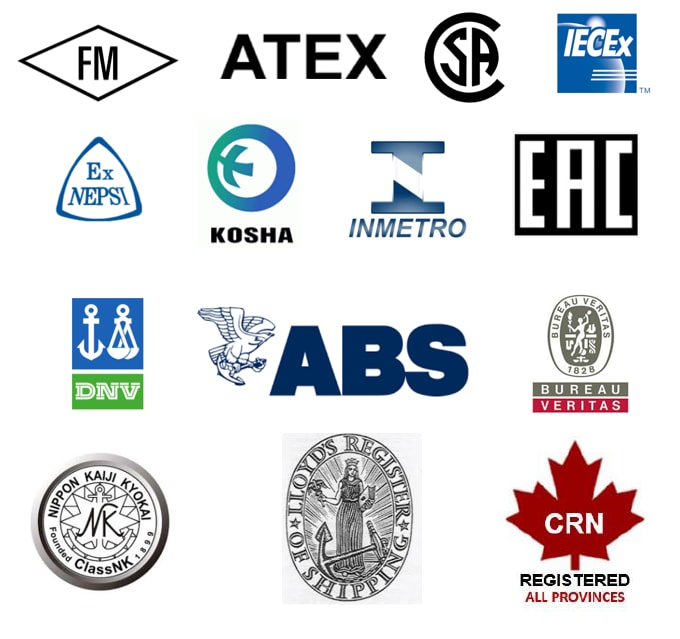 With the rapid globalization of markets, numerous international standards and approvals are becoming necessary. Yokogawa pressure transmitters have acquired various international certifications including FM, CSA, ATEX, IECEx, INMETRO, KOSHA, EAC, and NEPSI.
Agency Approvals
Marine Certificates
Country Registration

FM
CSA
ATEX
IECEx
INMETRO
KOSHA
EAC
NEPSI

ABS (American Bureau of Shipping)
Lloyd's Registry
Bureau Veritas
Det Norske Veritas
Nippon Kaiji Kyokai
Canadian CRN
---
Standard Industry Process Connections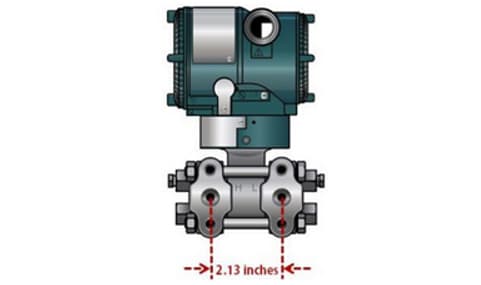 No learning Curve = Smooth Change Over
Yokogawa transmitter uses the industry standard IEC61518 process connection dimensions. This ensures you will not need proprietary manifolds or accessories that limit your design choices. The IEC61518 standard gives you the peace of mind that if you ever want to make a change in transmitter manufacturer, you can. Some competitors have proprietary process connections that do nothing more than lock you into buying their product as replacements.
---
Universal Mounting
Pressure transmitters on the market have several different flange configurations depending on the medium being measured (gas or liquid). This requires plants that process both mediums to maintain a stock of both types of configurations. Yokogawa's pressure transmitters offer a universal mount that can be configured to handle either gas or liquid; reducing your inventory of replacement transmitters.
The proven DPharp technology of the EJA110E increases plant availability with its advanced diagnostics, overpressure protection, and quicker resolution of maintenance issues through multiple communication options. Verified by independent third parties around the world, our transmitter provides superior reliability and performance.
---
Proven Technology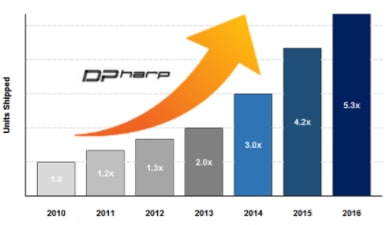 Less Downtime = Making Product
Starting with a clean sheet of paper, Yokogawa developed in the early 1990s a completely new pressure sensing technology - the DPharp sensor. Yokogawa made a large commitment of resources and money in its development. That dedication paid off, and by late 2016, there are over 11 million installed Yokogawa transmitters and calibrators worldwide using this technology. The DPharp sensor is a proven technology.
---
Diagnostics
Good Diagnostics = Fewer Surprises
Unlike traditional analog sensors, which are passive, the DPharp sensor is an active digital sensor. This means it is inherently safe and constantly supplying a signal even if there has been no change in process pressure. If the signal is lost, the transmitter's self-diagnostics will alert you if there is an issue.
In addition, the transmitter features Back-check Technology (BCT) that reverse checks all calculations in real-time. These proven-over-time features improved reliability, resulting in fewer trips to the field and better process availability.
---
Rugged Construction
Harsh environments can reduce the life of your instrumentation, causing maintenance issues and plant downtime. Yokogawa's ruggedly constructed pressure transmitters feature a four-bolt pressure retaining design, Teflon® coated 316L stainless steel flange gasket, and a dual seal certified to ANSI/ISA 12.27.01. These design features extend the life of your transmitter, increasing plant availability.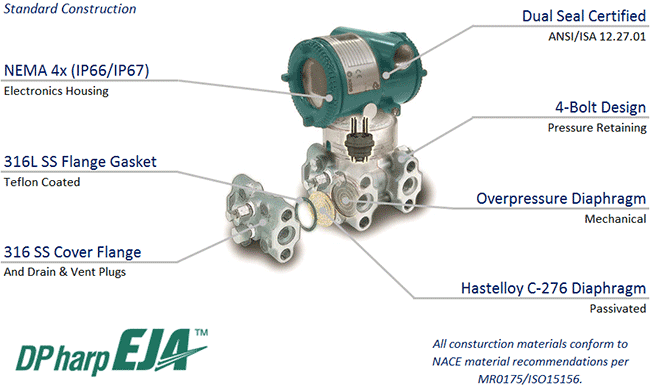 ---
Overpressure Protection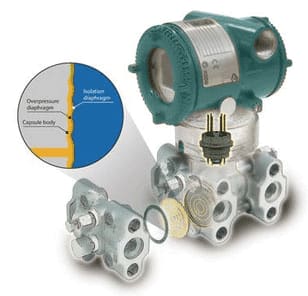 Ruggedness = Reliability
During improper manifold sequencing, startup and shutdown conditions, or process upsets, overpressure can occur. The simple, robust design of Yokogawa's DPharp pressure sensor makes it less susceptible to overpressure events. A mechanical system within the transmitter provides additional overpressure protection by equalizing the excessive pressure before it reaches the sensor. Once stable process conditions return, these features enable the transmitter to return to normal operation within the published specifications.
---
Independent Third Party Verification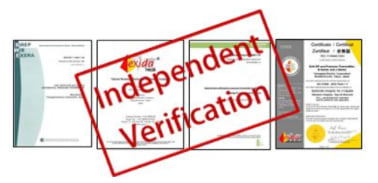 Less Downtime = Making Product
The Yokogawa EJA-E pressure transmitter series' performance and reliability have been verified by independent third parties from around the world. From Safety System SIL rating to general performance evaluations, the EJA-E series has met or surpassed every test that it has been given.
---
Multiple Communication Options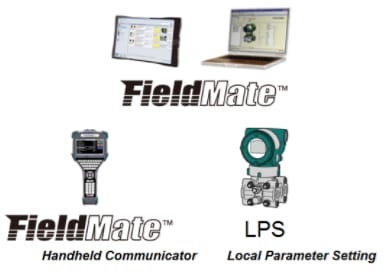 Quicker Maintenance = Less Downtime
Save Time, Save Money. Yokogawa offers the FieldMate / LPS platform to help you communicate and track your pressure transmitters. FieldMate is a Windows-based communication suite that is installed on a standard PC, laptop, or tablet computer. It can assist you in managing your entire instrument inventory. FieldMate HHC is a traditional hand-held communicator that allows you to communicate with transmitters in the field. If you forget your HHC, the Local Parameter Setting (LPS) feature of your Yokogawa transmitter allows you to update nine parameters without the HHC.
---
Local Indicator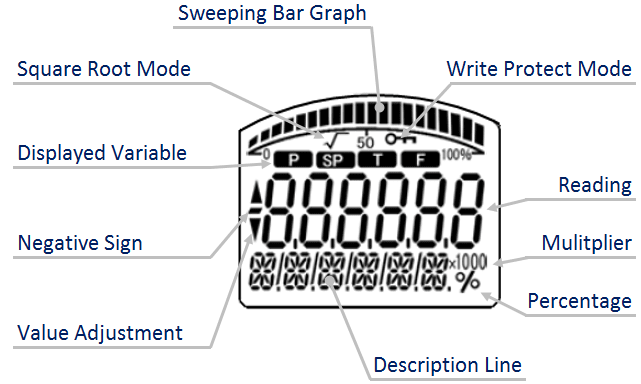 More Information = Found Money
Easy to read indicator provides all the information you need. The indicator can display any of the variables measured (DP, SP, Capsule temperature); alarm codes with short text; and a sweeping bar graph to give a graphical representation of the process. Fully programmable, the indicator is customizable for your needs. Unlike other suppliers' transmitters, the indicator is not driven off the 4 to 20mA analog signal, but, exist as a separate circuit allowing the display to operate independently from the output signal.
---
EJA110E Physical Overview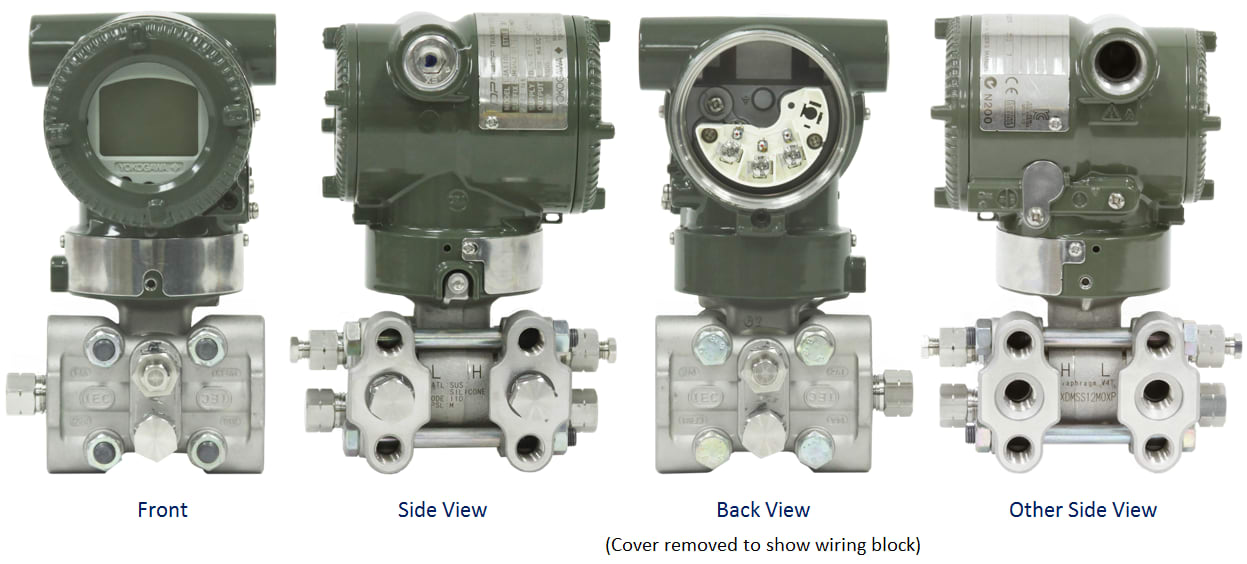 EJA110E Specification Overview
Measurement Types
Primary Variable
Differential Pressure (DP)
Secondary Variable
Static Pressure (SP)
Reference Accuracy
Primary Variable
±0.055% of Span
Secondary Variable
±0.5% of Span available
Response Time
Primary Variable
90 msec
Secondary Variable
360 msec
Long Term Stability
Primary Variable
±0.1% of URL per 10 years
Over-pressure Effect
Primary Variable
±0.03% of URL
Rangeability
Primary Variable
100:1
EJA110E Capsule Overview
Minimum Span to Maximum Span

EJA110E Capsule Details





Note: Graphics not to Scale.
Overview:
The Semiconductor industry uses ultrapure water to rinse away contaminants from the silicon wafers after each layer of the fabrication process. To ensure effective rinsing after each step could require thousands of gallons of water. If the water has even the slightest impurities, the semiconductors can potentially be contaminated, leading to scrap waste and loss of weeks of production. Many industries use reverse osmosis (RO) technology in the water purification process. The importance of pure water can include public safety, product quality, and reliability of production equipment. An RO system functions by creating a differential pressure across an array of filters. Pressure is applied to the feed water side of the system to force water through a semi-permeable membrane. The membrane blocks contaminants to allow permeate water to pass through.
Industries:
Overview:
Download this eBook and learn:
The basic physics of pressure
Different types of pressure sensors
Features of pressure transmitters
Pressure transmitters communications standards
Key characteristics of pressure
Common types of diaphragm seals
Overview:
Overcome Temperature Challenges. Correct common conditions for better level measurement.
Industries:
Overview:
Discover the safety features built-in to the Yokogawa digital pressure sensors (DPharp).
Overview:
Every Yokogawa pressure transmitter is designed from the ground up with safety in mind.
At the heart of this philosophy is the inherently safe DPharp sensor.
All Yokogawa pressure transmitters come with safety certification as standard and at no extra cost.
Overview:
Yokogawa's transmitters can be easily programmed to output and display volume of irregularly shaped tanks with its signal characterizer function.
Overview:
The Yokogawa family of pressure transmitters features a unique digital pressure sensor called DPharp to provide the most stable and accurate pressure measurement offered today.
Overview:
Calibration frequency is determined by factoring the real-world performance of a device against the required measurement threshold. Yokogawa's superior performance delivers increased performance in real-world conditions.
Overview:
The response time of a transmitter is key to safe and accurate process control.
Yokogawa's DPharp pressure transmitter family features the fastest response time available on the market today.
Overview:
By using open standards and enabling technologies, the multi-sensing and advanced diagnostic capabilities in DPharp intelligent devices can be effectively utilized.
Overview:
There are many types of pressure transmitter mounting configurations for new and replacement installations.
Using the DPharp universal mount flanges and universal mounting bracket, almost any installation can be achieved.
Overview:
The unique design of the DPharp sensor allows for measuring differential pressure and static pressure at the same time.
Overview:
Yokogawa's unique capsule design equalizes overpressure within the capsule before it can reach the measurement sensor.
Overview:
The rich display of DPharp transmitters makes installation, commissioning and operation easy.
Overview:
How much do you know about pressure transmitters? Are you accurately, quickly and reliably measuring pressure? Ultimately, the drive of any good pressure transmitter is to get an accurate, reliable pressure measurement to the data user quickly. This video gives you the answers to your basic questions about pressure and pressure transmitters.
Overview:
Is it true that 4-20 mA HART will be phased out in the near future? Is a transducer equal to a transmitter? Tune in to hear the debunking of these myths.
Looking for more information on our people, technology and solutions?
Contact Us