OpreX Agile Project Execution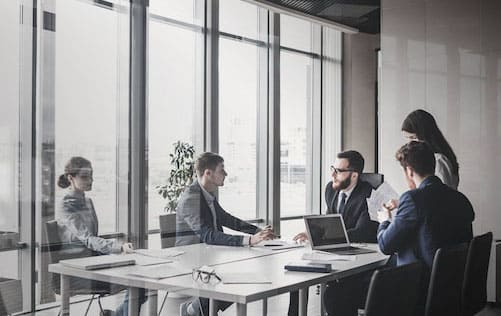 Realize CAPEX and OPEX Efficiencies with OpreX Agile Project Execution
OpreX Agile Project Execution (APEX) merges innovative project execution processes with enabling hardware and software technologies in order to remove automation from the critical path in a greenfield plant project.
APEX improves time management, minimizes project expenses, reduces risks in project execution and delivery, and ultimately maximizes the value of the automation system throughout the plant lifecycle.
APEX Benefits
Using APEX, automation project teams have realized savings including up to:
APEX Project Implementation
Predictable, Reliable, High Quality Project Execution
Deterministic cost and schedule
Scope clarity in terms of deliverables and services

Change Management
Minimized impact of late changes
Standardization instead of customization
Cost and Schedule Reductions
Improved engineering efficiency
Automated commissioning
Optimized lifecycle costs
Flawless Start-up
Replication - design once, deploy often
Fit for purpose, high quality products and services
APEX Tackles the Key Challenges in Automation Projects

In all projects, the primary challenges are:
Pressure to freeze the design early to meet the schedule
Requirement for an integrated Factory Acceptance Test (FAT) with all components
Automation commissioning activities are on the critical path
Time between delivery and hand over is a lost opportunity for managing changes as the process design matures
The overriding challenge is the late availability of high quality design information, which results in multiple submissions of low quality information in order to meet contractual milestones.
APEX Project Execution Model
APEX focuses on risk management in order to improve capital efficiency.
Eliminating all dependencies between application software engineering and hardware engineering allows flexible binding virtually any time during the project.
Not only does this enable risk management, it substantially increases the project team's productivity.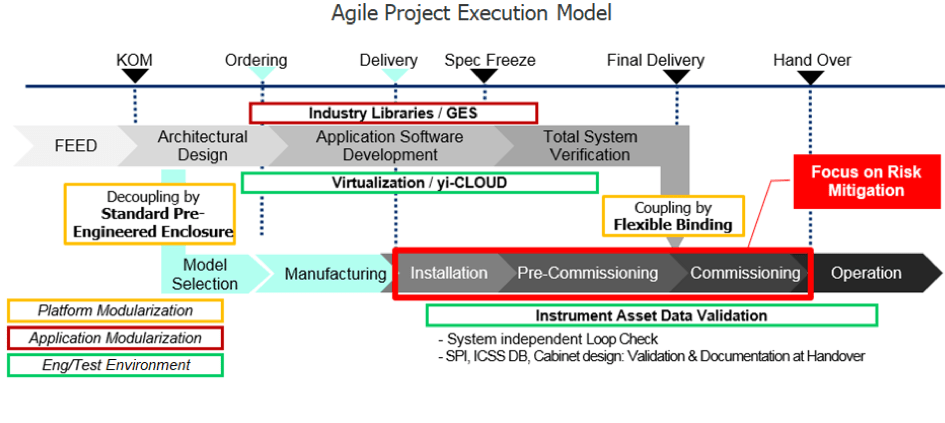 APEX-Enabling Technologies
Cloud-based Project Engineering
Network I/O (N-IO) with Flexible Binding
Pre-engineered Smart Enclosures
System Virtualization
Automated Commissioning
Cloud-based Project Engineering
Yokogawa's yi-Cloud is a collaborative, global virtual engineering environment that enables reductions in project scheduling, hardware costs and travel expenses.
Global Engineering Standards (GES) provide best practices in all aspects of project management. Project engineers have at their disposal a Process Application Library that deploys standard applications in place of custom software that require multiple coding/testing/modification iterations.
Network I/O (N-IO) with Flexible Binding
N-IO greatly streamlines project execution by completely decoupling application engineering from field wiring and hardware installation.
Universal I/O modules at the edge eliminate marshalling and reduce wiring by up to 80%.
Cabinet delivery, skid integration, and wiring termination can be done anytime during the project.
Last-minute changes result in nearly zero project delays. With project decoupling, no factory acceptance test (FAT) is required.
Pre-engineered Smart Enclosures
Yokogawa's standard enclosures for Servers, Controllers, Safety Instrumented System (SIS), I/O, and Networking Components eliminate the costs and risks that are associated with customized engineering.
By considerably simplifying the drawing and documentation work, pre-engineered smart enclosures allow the project team to reduce these efforts up to 90%.
System Virtualization
A virtualized environment greatly simplifies the deployment of hardware and software.
Users realize considerable CAPEX savings plus OPEX benefits such as higher reliability, improved version management and system lifecycle extension.
Automated Commissioning
CENTUM VP technology and APEX have come together to automate the processes of verification, binding, configuration, testing, and documentation for multiple field devices.
Compared to traditional methodology, project teams can realize reductions of up to 80% in documentation, 90% in wiring design work, and 95%+ in commissioning time.
Overview:
Exapilot automates comlex and non-routine decoking process of NCUs.
Operator workload has been drastically reduced.
Industries:
Overview:
Agile Project Execution is YOKOGAWA's methodology to execute all projects in a cost efficient way by removing waste.
With the release of the new CENTUM VP R6, a solution platform that exceeds the capabilities of conventional production control systems, customers can take full advantage of the new features like Network-IO providing decoupling of hardware and software and the new Automation Design Suite.
Overview:
yi-MAC stands for YOKOGAWA Innovative Main Automation Contractor:
Full control of scope and schedule across packages
Realization of customer expectation
Single point of responsibility
Providing fully integrated solutions
Overview:
Network-IO can help reduce projects by decreasing the amount of time needed to implement the physical part of the process control system. A system with configurable I/O allows flexible "binding," in which the soft- ware configuration of the system can be loaded into the physical system at a late stage in the project.
Overview:
Process automation in oil refineries is undergoing major changes, driven by customers frustrated by what they consider to be slow and incremental advances from the main automation original equipment manufacturers (OEMs) in the industry. ExxonMobil has become a de facto industry representative and is driving vendors like Yokogawa and others to reevaluate how large-scale automation projects are implemented.
Industries:
Overview:
The legacy model of automation project execution is linear and rigid, defined by milestones that depend on the completion of previous phases. Little parallel work is typically possible, and late changes in data or re-work cannot be easily accommodated.

The Agile Project Execution model allows field signals to be configured by software at any phase of the project. These universal IO channels can even be software-configured as soon as they are wired without requiring a completed system, adding significant flexibility to the project schedule and, most importantly, reducing the risk in your plan and investment.

This webinar will explain how you can take advantage of Agile Project Execution through Yokogawa's Network IO technology and FieldMate Validator.
Looking for more information on our people, technology and solutions?
Contact Us