The Problem
Poor alarm management is one of the leading causes of downtime and has contributed to some of the worst recorded industrial accidents.
Changes to alarm limits through lack of alarm management can potentially lead to safety failures, lost production and equipment damage. Engineering time can also be lost due to poor or incorrect record keeping.
The Solution
Exaquantum/AMD (hereafter known as 'AMD') is Yokogawa's Master Alarm Database solution. Based on ANSI/ISA-18.2-2009 and EEMUA 191, performance monitoring AMD assists managers and supervisors in monitoring, assessing and auditing the behaviour of alarm setpoints as part of an alarm documentation and rationalization program.
Alarm Master Security Software and Services/AMD Monitoring Software
Service Description
Yokogawa Deliverables
Alarm & Event Analysis
✓ Report of current state of Alarm
✓ Statistics of Alarm & Events
✓ Statistics of manual interventions
✓ Top 5 Bad actors for Alarms
Alarm Philosophy
✓ Alarm Philosophy document compliant with ISA 18.2 standards
Fundamental Nuisance Alarm Reduction
✓ Report of the Nuisance alarms in the plant
✓ Root cause for the Nuisance alarms
✓ Countermeasures to prevent alarming for the Nuisance alarms
✓ Report containing the before and after improvements from this service
ISA 18.2/EEMUA#191 based Alarm System Design
(Consultation & Training)
✓ Report of the current Alarm state and the gaps in design compared to standards
✓ Support in the design of the new Alarm system as per standards
✓ Training on conducting Documentation & Rationalization exercise
ISA 18.2/EEMUA#191 based Alarm System Design
(Software & Training)
✓ Installation, commissioning and training of Exaquantum\AMD to establish Alarm Master design database
Operation State based Alarm Management
(Consultation & Training)
✓ Report of the current state of Alarm set points for various operation conditions in the plant
✓ Design of the new Dynamic Alarm Management
Operation State based Alarm Management
(Software & Training)
✓ Installation, Commissioning and training of AAASuite/Exapilot for Dynamic Alarm Management
Alarm Monitoring & Improvisation
(Consultation)
✓ Report of current state of Alarm
✓ Statistics of Alarm & Events
✓ Statistics of Manual Interventions
✓ Areas of improvisation based on current state of Alarms
Alarm Monitoring & Improvisation
(Software & Training)
✓ Installation, Commissioning and training of Exaquantum\ARA for Alarm monitoring and reporting
Standardizes Alarm configurations to reduce errors
Improves employee efficiency by providing web access to information held in one central database
Confidence is enhanced by ensuring all changes are correct and consistent
Regulatory compliance is supported by the availability of a detailed audit trail
Low engineering configuration time required due to the ability to import the configuration from files, DCS(s), CAMS for HIS(s) and other systems
Lower insurance premiums
Supports the ISA-18.2 Alarm Rationalization objectives for Management of Change
Management of Change through version control and audit history
Notification of alarm setpoint changes to ensure approved setpoint values are enforced
Multiple valid alarm setpoints cater for mode changes
Storage and versioning of important alarm design and philosophy documents
Remote management of DCS setpoints and CAMS alarm attributes
Reports differences in configuration between Exaquantum/ AMD, DCS and CAMS
Quickly provide filtered alarm lists based on search criteria such as the rationalization status or alarm priority
Import and export of configurations enabling integration between disparate systems
Centralized repository to record all stakeholder requests and comments as an input to the Management of Change process
Custom alarm attributes cater for numerous system configurations
Process setpoints are supported
Custom alarm attributes which caters for numerous system configurations
Dashboard – key configuration and process displayed for quick diagnosis of problem areas
Operator suppression – lists tags that have operator suppression applied
Web based interface – enables easy access and maintenance by staff members throughout the organization globally
Support for multiple distributed ICSSs
Each alarm set-point can have a percentage deadband which is used during monitoring process to determine whether an enforcement should be raised
Over the last ten years there has been an increasing move to adopt the CCR (Central Control Room) operations concept largely due to staff rationalization and the need to improve decision making.
AMD has been designed to meet the requirement of providing secure support within single or geographically distributed facilities.
Alarm Management Support
Alarm management packages can struggle to meet the needs of a full alarm lifecycle. In particular, users often conduct their Alarm Objective Analysis (AOA) process on a greenfield site well before the control system configuration has begun.
Typically many specialists are involved during the AOA process, both internal and external consultants such as Yokogawa VPS engineers. This is the key period when a large amount of information is created but, due to the lack of tools, much of this information is lost or buried in different documentation stores.
AMD fully supports the Management of Change (MOC) process by providing a number of features to store information into a centralized location and reduce the effort required to conduct each MOC cycle.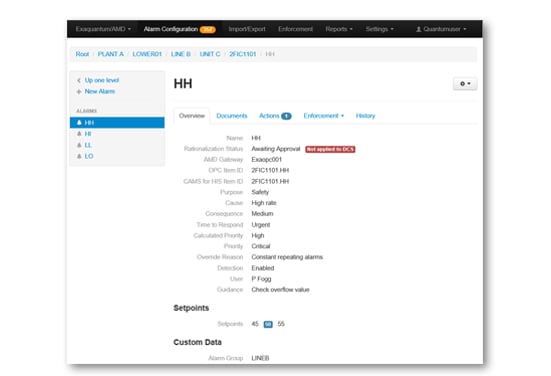 The Plant Hierachy and Security
Alarm setpoints and tag assignments are stored within a hierarchical structure that is totally configurable to reflect one or more production plants (DCSs).
Access permissions may be assigned for different hierarchy levels to provide or restrict access to an area of the hierarchy based on user roles.
Documents can also be associated with any level.

Multiple Setpoints and the Master Setpoint
A setpoint is a value that has been approved for each alarm limit (such as HH, H, L and LL). This setpoint value represents the alarm limit, which if exceeded, will cause an alarm to be raised. For each alarm in AMD, multiple setpoints can be configured providing the ability to cater for varying plant operations and modes. One of the setpoints will be designated as the 'master' setpoint which is the value that is written to the DCS if enforcement is required.

Alarm Rationalization Status
Each alarm configured in AMD has a 'Rationalization Status' property. This is used primarily during the AOA or Alarm Rationalization process to track the progress of alarm updates.
The Alarm Rationalization statuses are displayed on the AMD Dashboard to provide users with an overall display of the AMD process status.

Alarm Versions
Alarms in AMD can be modified and the changes saved numerous times before being versioned. After theses saved changes have been reviewed they can either be committed resulting in a new alarm version or discarded resulting in the alarm returning to its previous 'committed' state. AMD keeps a versioned record of all committed alarm changes. These Alarm Versions can be viewed in an 'Audit' report on demand or scheduled for emailing.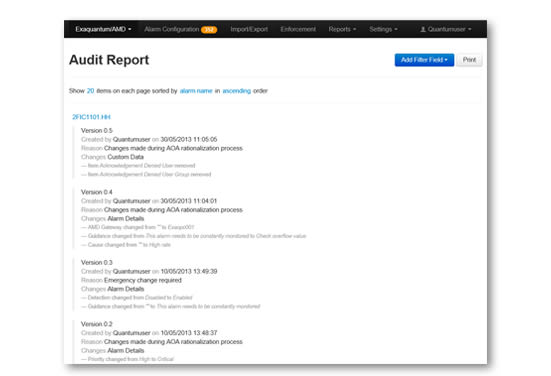 Once an action has been created, other users can add their comments.
Alarm Actions
AMD provides a mechanism to record requests or tasks against individual alarms. These are created as a way to record the outstanding actions for an alarm, such as required alarm modifications, additions or deletions.
Multiple actions can be created per alarm limit and multiple comments can be made for each action. These actions can then be used during the MOC review process to decide what actions need to be taken for each alarm.
AMD also provides (either on demand or via a scheduled email) an 'Alarm Actions' report, which displays a summary of alarms actions and comments.

System Audit
The Cross Reference Report allows an audit to be performed that will list any inconsistencies with the alarm information held in AMD when compared to the information held in the DCS(s) and CAMS for HIS(s) (if present).
This report should be examined on a regular basis to locate and reconcile discrepancies.

Enforcements
AMD constantly monitors the DCS(s) events for changes to the alarm setpoints. Each DCS setpoint change is compared with the alarm setpoint(s) held in AMD. If a matching setpoint value exists in AMD then no enforcement action will be raised.
AMD can be configured to alert a preconfigured set of users if the DCS changed setpoint value is unauthorized, i.e. AMD does not contain a matching setpoint. AMD users can then review the alarm setpoint change and choose to either ignore the change or 'enforce' the authorized AMD setpoint value back to the DCS.
Enforcement and notification settings can be configured for each level in the plant hierarchy. Different areas of a plant may therefore be assigned to different user groups, and have different enforcement and notification settings.
AMD also provides an 'Enforcement' report on demand or scheduled for emailing.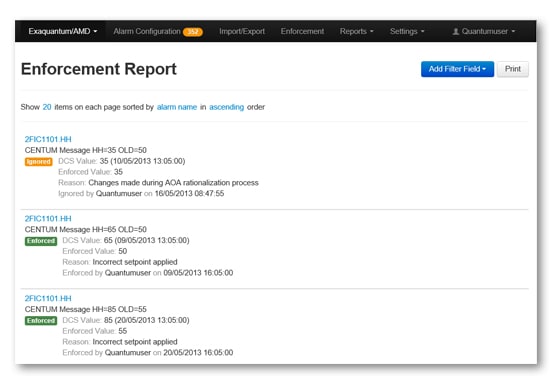 Versioning is provided so that any changes to a document results in a new version with an associated reason for the change.
Document Management
AMD provides the facility to upload and store multiple documents against each plant hierarchy level. This allows documents detailing alarm philosophies to be uploaded to higher levels in the hierarchy while alarm definitions can be uploaded to an alarm.
The previous document version can be accessed from the document history allowing past document versions to be accessed.

Import and Export
AMD provides a mechanism for importing and exporting alarm configuration data. Alarm setpoint values and attributes can be imported from, or exported to, AMD files, DCS and CAMS for HIS systems. Importing and exporting AMD files can be used as a quick way to make bulk modifications to the alarm configuration and to integrate disparate systems.

DCS and CAMS for HIS Integration
When installed on a Yokogawa DCS site, the DCS is the primary source for the alarm setpoint values. The DCS can also provide other function block values such as the MV and SV into AMD.
Yokogawa CAMS for HIS can provide AMD with the plant hierarchy and the alarm attributes such as the priority, severity, consequence, etc.
AMD can be either installed at a site that has no pre-existing control system or an existing site where one or more control systems are operational.
Greenfield Site
At a Greenfield site, AMD can be used to create the initial alarm configuration during the alarm philosophy and design phase. When the DCS and CAMS for HIS (if provided) systems are installed, the AMD master Alarm setpoints can then be downloaded to the control system(s) and the Alarm attributes downloaded to CAMS for HIS(s) making the configuration simple, fast and error free.
Existing DCS(s)
At a site where one or more DCSs are present, AMD can be used to obtain the alarm setpoints from each DCS.
The plant hierarchy and alarm attributes can be provided by CAMS for HIS (if operational) or from an imported file.
The DCS team may choose to conduct a review of these settings once a DCS has been configured to decide if any changes are required.
Non-Yokogawa Systems
AMD has been designed to interface with 3rd party control systems and their implementation of CAMS (if present). Please contact your local Yokogawa office for assistance.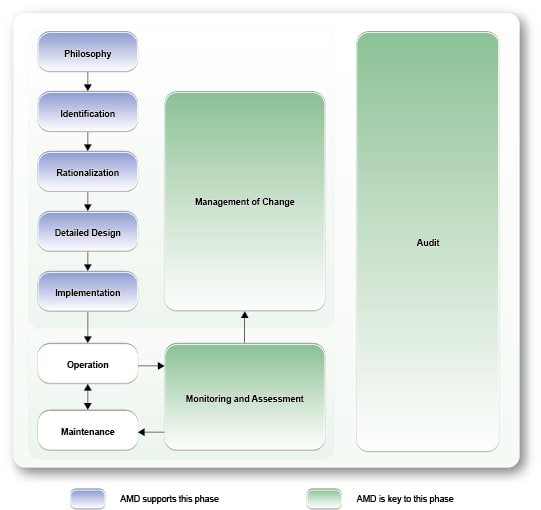 Document Management
Alarm Rationalization Status
Import and Export of alarm details
DCS and CAMS for HIS Integration
Creation and Management of Alarms details
AMD Capabilities for Supported Phases
AMD Capabilities for Key Phases
Multiple Setpoints and the Master Setpoint
Enforcement of setpoint values
Alarm Versions
System Audit
Document Management
DCS and CAMS for HIS Integration
Alarm Actions
Overview:
Alarm management is not just a project that has a start and end date; it's a continuous cycle. Once the alarm system has been reviewed and improvements have been identified, we must check that controls are in place to ensure the alarm system remains functional. The key is to ensure that the system is continuously monitored and any changes are fully documented. There are seven key steps for alarm management. Rationalization is one of those critical steps.
Overview:
Exaquantum/ARA is a comprehensive set of statistical reports and KPIs based upon ISA 18.2-2009 & EEMUA 191. Alarm and Events can be aggregated by hour, day, shift, week, month, quarter and year providing alarm rates, counts, peaks, floods, etc. Exaquantum/ARA can be used to reduce the number of unwanted and distracting alarms allowing operators to react faster to abnormal situations with the proper corrective action, resulting in a safer and more productive plant, reduced environmental risk, enhanced maintenance response; Reduction in the amount of equipment damage. This package is part of our Alarm Management suite that utilizes software tools, alarm rationalization processes, and alarm philosophy generation as part of the solution aimed at reducing operator stress, operator overload prevention, and providing KPI information to key stakeholders on demand and by emails facilitating efficient and timely decision making.
Overview:
Exaquantum is a comprehensive Plant Information Management System (PIMS) incorporating a data historian for real time and historical data, alarms, and events along with aggregations, role-based views and KPIs, graphical HMI, trends, reports, and integration with different systems. It provides a cetralized repository for users throughout the plant and is the foundation for most of Yokogawa's production, safety, and alarm optimization solutions and operator effectiveness solutions. Exaquantum can acquire data from all facets of a process and transform that data into easily usable, high-value actionable information that can be made avaialable across the enterprise.
Overview:
Exaquantum/SER is a unified sequence of events recorder solution that provides a plantwide integrated view of alarms, events and associated process data. It identfies, collects, and processes alarms, events and process data related to plant trips from systems throughout the plant (DCS, historians, PIMS, PLCs, process automataion controllers, SCADA systems, safety systems, etc.) and stores the created information in an open and portable database. It can be used to provide trip detection based upon specific plant conditions and provide a full log of all relevant process information in the crucial period before and after a plant event. Exaquantum/SER's plantwide integrated view can be used for peformance analysis and in aiding investigation teams in performing root cause analysis and problem identification. This solution assists in the elimination or reduction in the number of unexpected incidents and trips while increasing availability and production.
Looking for more information on our people, technology and solutions?
Contact Us