CSU-W1 Confocal Scanner
Improve efficiency with the CSU-W1 Confocal Scanner.
Providing 3 different configurations, 2 pinhole sizes, near infrared observation options, and an external light path, the unit is useful for a variety of applications, including automated experiments since all switching mechanisms are fully motorized. The FOV is 4x wider than other conventional industry models, providing users with Yokogawa's clearest and widest confocal field of view yet.
FOV is 4x wider than other conventional industry models
Capable of fully automated experiments
Multiple configurations
Selectable pinhole size
Wide
Widest FOV confocal! Provides 4 times wider FOV than the conventional model.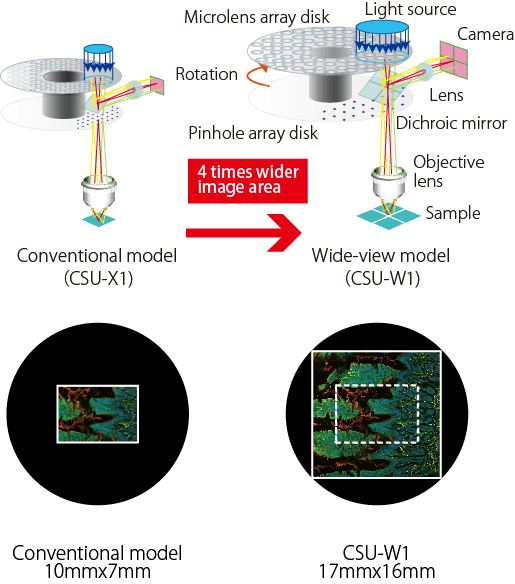 ---
Clear
Newly designed disk unit offers much improved image quality. Due to significantly reduced pinhole crosstalk, CSU-W1 enables clear observation much deeper into thick samples.
Conventional model
| | |
| --- | --- |
| XY MIP | XZ Slice |
| | |
CSU-W1
| | |
| --- | --- |
| XY MIP | XZ Slice |
| | |
Mouse ES cell colony
Fluorescent probe: H2B-EGFP(Excitation:488nm) mCherry-MBD-NLS(Excitation: 561nm)
Objective lens: 60x silicone
Z-sections/stack: 100um(0.4m/251slices)
By courtesy of Jun Ueda, Ph.D. and Kazuo Yamagata, Ph.D., Center for Genetic Analysis of Biological Responses, The Research Institute for Microbial Diseases, Osaka University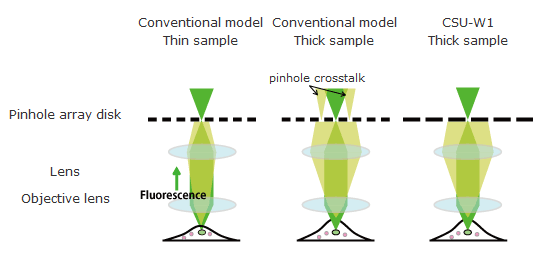 Flexible
Flexibly selectable functions to meet versatile applications.
High Confocality Pinhole (Optional Component)
In addition to our conventional 50um pinhole size, 25m pinhole size with higher confocality is available.
You can select either one or the both pinhole size, with easy-to-use motorized disk exchange mechanism.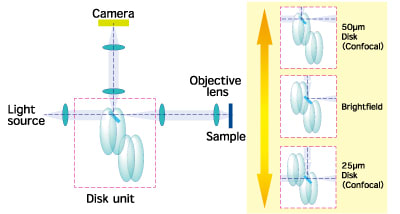 New Bright Field Through Path (Standard)
New mechanism to move the disks out of the light path allows much easier projection of confocal and non-confocal images such as phase contrast.
Simultaneous Dual Color Imaging Mechanisms
(T2 and T3 Models)
CSU-W1 offers single camera split-view model, in addition to the dual camera model which are much improved from those for the CSU-X1. Thanks to the wide FOV, even the split-view offers 2 times wider image area than with older model. By using various dichroic mirrors, it is possible to select various dye-combinations for dual-color imaging*1 with both the two camera model and split-view model.
CSU-W1 offers selection from a total of three basic configurations, two pinhole sizes, options for near infrared observation and an external light path which is useful for versatile applications such as photo bleaching, while bright field light path is now a standard feature. All switching mechanisms in the CSU-W1 are fully motorized and thus ready for automated experiments.
Basic Configurations
CSU-W1 provides a total of three basic configurations for multi- color imaging; 1) Sequential imaging with one camera and a filter wheel, 2) Simultaneous two-color imaging with two cameras, and 3) Split-view two color imaging with one camera shared by 2 optical paths. All features are upgradable after installation.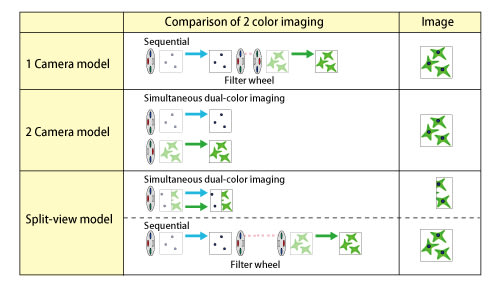 Filter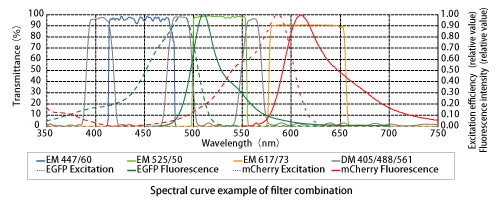 Option
SoRa disk
Optical resolution has been improved by approximately 1.4x using a super-resolution technique based on spinning-disk confocal technology. Furthermore, a final resolution approximately twice that of the optical limit is realized through deconvolution.
Upgrading from the CSU-W1:CSU-W1 SoRa
Uniformizer
Most suitable option for CSU-W1 illumination uniformity. Uniform and efficient illumination of the entire wide field of view.
About Uniformizer:More info
Near Infrared (NIR) Port
NIR port provides up to 785nm excitation capability to allow less-invasive deep imaging. The NIR laser is introduced via a dedicated optical fiber in the same way as visible lasers. It is possible to combine NIR and visible lasers within the CSU-W1 unit to allow simultaneous excitation.
External Light Path
External light path provides the direct path bypassing the disk s to microscope. Versatile applications such as photo activation are available by introducing an external light scanner through this port.
Lens Switcher
Newly designed motorized lens switcher between 2 relay lenses i s useful for fitting CSU-W1 image size with various camera types, and also for easy magnification change without exchanging objective lenses.
Variable Aperture
Variable aperture to change laser illumination area, and thus the imaging area by the CSU-W1, is useful to minimize laser damages in the specimen.
Selectable Option
Option
1 Camera model
2 Camera model
Split-view model
NIR port
×
External light path
×
Variable aperture
×
N/A
Camera port lens
Selectable from
0.83x, 1x
Selectable from
0.83x, 1x
(1 Camera)
Selectable from
0.83x, 1x
(2 Camera)
Selectable from
0.83x, 1x
Additional lens
to lens switcher
Selectable from 0.83x, 1x, 2x
N/A
2 Camera model, 1 Camera model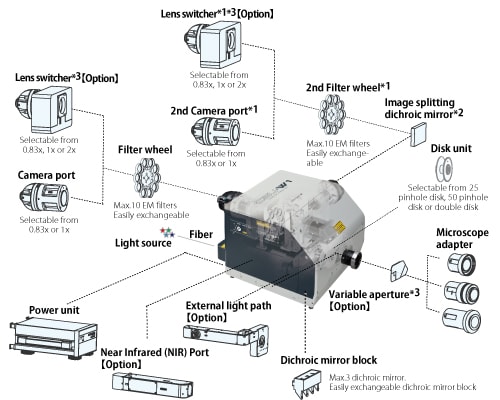 Split-View Model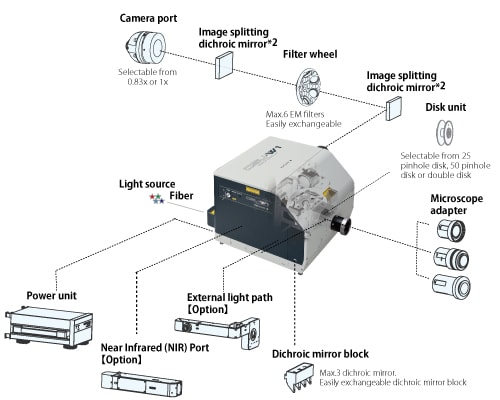 *1 2 Camera model  *2 2 Camera model and Split-view model
*3 1 Camera model and 2 Camera model  *4 Under development
External Dimensions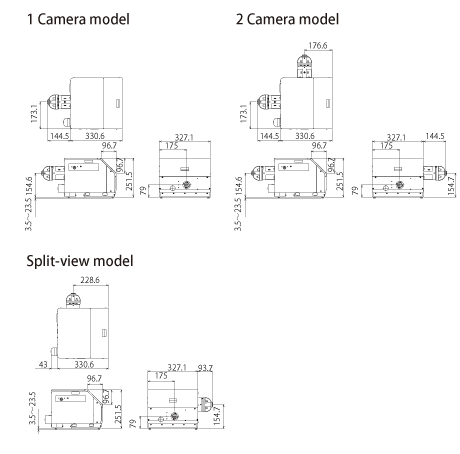 Microscope-Setup


Zeiss Axio Observer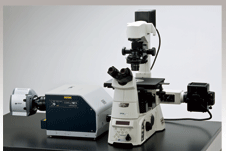 Nikon ECLIPSE Ti

Olympus IX83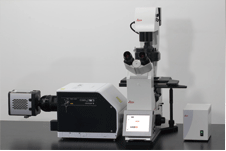 Leica DMi8
General Specifications
Model
1 camera model (T1)
2 camera model (T2)
Split-view model(T3)
Confocal scanning method
Microlens-enhanced Nipkow disk scanning
Spinning speed
1,500rpm - 4,000rpm Max200fps
External synchronization
Scan-speed synchronization through pulse signals Input/output : TTL level 300Hz up to 800Hz
Disk unit
Selectable up to 2 disks from 50um
(for high magnification)
and 25um(for low magnification)
Motorized switching
Bright field
Motorized exchange between confocal and brightfield
Effective FOV
17×16mm
Excitation wavelength
405nm-785nm
Laser introduction
Yokogawa's standard fiber*1 VIS Laser port (405-647nm)
【Option】NIR Laser port (685-785nm)
Observation wavelength
420nm-850nm
Dichroic mirror switching
Motorized 3CH (Dichroic mirror block can be exchanged)
Emission filter wheel
10-position filter wheel
Filter sizeφ25mm
Switching speed*2 : 100msec max.(Standard mode) 40msec max.(High speed mode)
6-position filter wheel
Filter sizeφ25mm
Switching speed*2 : 100msec max.
External control
RS-232C (CSU-X1 command upper compatible)
Microscope mount
Yokogawa original
Camera adaptor
C mount 1x (Variable magnification: 0.83x )
Light introduction port
【Option】Photo breach etc
Operating environment
15-30oC、20-75%RH No condensation
Power consumption
Input : 100-240 VAC ±10% 50-60Hz 250VAmax
External dimension
Main unit
327.1(W)x
251.5(D)x
475.1(H)mm
471.6(W)x
251.5(D)x
475.1(H)mm
420.8(W)x
251.5(D)x
373.6(H)mm
Power unit
225.4(W)x 151.9 (D)x 378.3(H)mm
Weight
Main unit
17kg
20.5kg
18kg
Power unit
4.5kg
Attachable microscope
Olympus IX series, Nikon ECLIPSE Ti , Zeiss Axio Observer, Leica DMI series*3
*1 Each CSU-W1 head is optimized with its fiber at factory. Please inquire about fiber exchange if necessary.
*2 Adjacent position.
*3 Some microscopes/options could limit the FOV of CSU-W1 or connection with CSU-W1, please inquire.
Overview:
First annual Yokogawa CSU Spinning Disk Image Competition at MBL 2023
Overview:
List of Selected Publications : CSU-W1
Overview:
To investigate interactive dynamics of the intracellular structures and organelles in the stomatal movement through live imaging technique, a CSU system was used to capture 3-dimensional images (XYZN) and time-laps images (XYT) of guard cells.
Overview:
YOKOGAWA proprietary Spinning Disk technology enables fast real-time confocal imaging for applications such as high-speed 3D and long-term live cell imaging. These quantifiable imaging analysis are essential tools for modern precision drug discovery.

Overview:
Fast, gentle, and clear - live-cell imaging. Yokogawa's unique scanning method minimizes damage to living cells and organisms and even can capture faint/fast life phenomena.
More than 2,500+ units scanning units sold worldwide. This fast, reliable, and accurate technology has been leading cutting-edge research and supporting researchers around the world for more than two decades.
More information: https://www.yokogawa.com/us/solutions/products-platforms/life-science/spinning-disk-confocal/
#confocal #microlens #microscope #CSU #Yokogawa #livecell
Overview:
Over past 20 years, YOKOGAWA proprietary Spinning Disk Confocal technology has been widely used as an indispensable imaging tool among top researchers. The technology enables faster live-cell observation with clearer and less photo-bleaching imaging.
Overview:
In the last few decades, the pharmaceutical industry has transformed people's lives. However, the development of new drugs is becoming increasingly difficult and a paradigm shift in the drug discovery workflow is required to reduce attrition and transform conventional drug screening assays into translatable analytical techniques for the analysis of drugs in complex environments, both in-vitro and ex-vivo. The ability to visualize unlabelled compounds inside the cell at physiological dosages can offer valuable insight into the compound behavior both on and off-target.
SiLC-MS is a semi-automated methodology that allows the collection of intracellular contents using a modified CQ1 imaging system developed by Yokowaga. The instrument is equipped with a confocal microscope that allows bright field imaging as well as fluorescence imaging with 4 lasers (405, 488, 561, and 640 nm). Sampling is performed using the tips developed by Professor Masujima (1-4).
In this study, we show the applicability of the SiLC-MS technology to drug discovery, as it is crucial to identify compound and its metabolites when incubated in a mammalian cell at a therapeutic dose. We report on the validation studies performed using the SiLC-MS platform, in these validation studies we assess the ability to distinguish different cell types based on their metabolomic fingerprint, furthermore, we have also evaluated if this assay was sensitive enough to detect drugs intracellularly.
Presenter: Carla Newman, Scientific Leader (Celluar Imaging and Dynamics), GSK
Overview:
This webinar highlights Yokogawa's High Content Solutions, the benchtop confocal CellVoyager CQ1, and CellVoyager CV8000. Utilizing Yokogawa's dual-wide microlens spinning disk confocal technology, these automated HCA systems provide remarkable image quality while increasing your output. This frees up time to complete other research activities. Also, recent additions to the CSU-W1 confocal upgrade is discussed. The SoRa, a super-resolution solution, and the Uniformizer, an image flattening device. Both of which can be added to the lightpath of your CSU-W1-enhanced microscope.
Agenda:
Introduction to Yokogawa
SoRa for CSU-W1 super-resolution with confocal
Two high content instruments from Yokogawa: The CQ1 and the CV8000
Presenter:
Dan J. Collins, Applications Scientist, Yokogawa Life Science
Press Release

Dec 3, 2020

- Supporting drug development research through the use of HCA and three-dimensional culture models -

Press Release

Jun 5, 2020
Looking for more information on our people, technology and solutions?
Contact Us