Sushi Sensor - IIoT Wireless Monitoring Sensor
A range of advanced wireless measurement and diagnostic technologies ideal for process refinement and control.
The rigorous demands of field operations require equally rigorous solutions. Yokogawa's line of Sushi Sensors offers field-proven technologies capable of handling the toughest conditions or application challenges, helping users maximize efficiency, pinpoint possible equipment issues more accurately, and decrease downtime - increasing profitability.
XS530 Wireless Liquid/Gas Pressure Monitoring
Withstands harshest plant environments
Monitors gas and liquid gauge pressures quickly and easily

See More

XS550
Monitors temperature and humidity quickly and easily
Capable of withstanding the harshest plant environments

See More

XS770A wireless vibration sensor
Easy surface temperature and vibration monitoring
Anticipate equipment issues before they affect bottom line

See More
Why Use Sushi Sensors?
Achieve total Plant Asset Management (PAM) with Condition Based Maintenance (CBM) to drive productivity with reliable and resilient wireless solutions for industrial loT.
Monitoring and maintaining diverse equipment in the field is an essential part of day-to-day plant operation. From the acquisition and quantification of measurement data to data storage systems, everything must configure seamlessly to ensure accuracy and reliability.
With Yokogawa's line of Sushi Sensors, users have can easily solve such networking and connectivity issues. The compact, lightweight, battery-powered sensors are waterproof, dustproof, and explosionproof, making them the ideal choice for hazardous areas. They also meet LoRaWAN standards, enabling long-distance communication of up to 1 km so users can identify equipment conditions via cloud trend monitoring from anywhere in the plant.
What's a Sushi Sensor?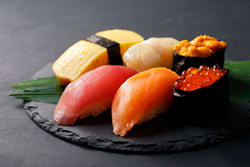 Named after sushi, a hand-pressed traditional Japanese food that combines rice with various toppings, Yokogawa's Sushi Sensors are industrial loT wireless solutions.
Sushi is easy to eat. A Sushi Sensor is easily installed.
Professionals prepare sushi. A Sushi Sensor is a robust, finely-tuned product.
Sushi has a variety of numerous toppings. The Sushi Sensor has a variety of uses (pressure, temperature, and vibration) with new technologies constantly in development.
Overview:
Wireless sensors and the network can reduce expenses
Industries:
Overview:
Low-power, wide-area industrial temperature and pressure sensors enhance monitoring capabilities, leading to clearer understanding of maintenance needs and improved decision making.
Overview:
Industrial artificial intelligence/machine learning (AI/ML) software and long-range sensors predict maintenance requirements across entire enterprises, increasing productivity and profits.
Overview:
The measurement, collection and utilization of equipment data by the Industrial IoT (IIoT) wireless solution "Sushi Sensor" contributes to efficient equipment maintenance and open a new road to a Smart Factory.
Looking for more information on our people, technology and solutions?
Contact Us