Notice: This product was discontinued on Apr 1, 2018. See this replacement product:
ROTAMASS is the integral and remote type Coriolis Mass and Density Flow Meter. Both types have highly refined digital signal processing electronics, so that accurate and stable mass flow measurement is achieved.

The ROTAMASS Coriolis Meter employs a flame-proof type converter case suitable for use in the hazardous area together with its intrinsically safety type detector.

Elite Coriolis Flow Meter ROTAMASS's signal processing, housing protection and its detector's special decoupling system against external loads and vibrations, realize high performance in real applications.
Coriolis Mass Flow Measuring Principle
The Coriolis Effect refers to a function of inertia that affects oscillation in tubes. Coriolis meters use tubes to detect fluctuations of frequencies in the Coriolis force in order to measure mass and density flow.
Coriolis versus Thermal Mass Flow for Gases and Liquids
Thermal and Coriolis gas mass flowmeters are both direct means of measuring gas.
Custody transfer approved Coriolis mass flowmeters are very accurate, even at low flow rates, and are able to measure mixtures including fluids transitioning between liquid and gas states. They require minimal maintenance.
Thermal mass flow meters work differently, tracking the transfer and dispersion of heat to measure mass. These tend to be low-cost and can measure very low-density gas, but thermal mass flow meters can also be less accurate.
The RotaMASS 3 Series mass flow meter features a heavy wall, seamless, dual tube design uniquely decoupled from any process vibration or pipeline stress guaranteeing reliability and output stability. Nine different detectors enable customization of the meter for the best combination of mass flow range, pressure drop, and accuracy at the lowest possible cost. The versatile RotaMASS can be used in the most difficult applications from cryogenics to molten liquids as well as sanitary applications and aggressive chemicals. With its multi-measurement and multi-parameter capability, the RotaMASS is essentially a process control station. The state of the art converter provides a wealth of features including remote configuration via HART, multiple languages, advanced diagnostics, infrared programming and a four-line display for easy setup and operation.
Field transmitter for nearly all fluids
Refined digital signal processing enables accurate and stable measurement
High accuracy and high stability over a wide range
A special detector coupling system makes the device highly independent from external loads or vibrations
Wide temperature range -200 deg C to 350 deg C
1: Revolutionary box-in-box design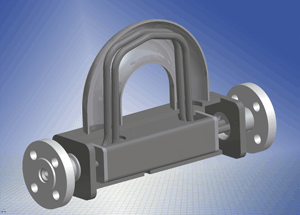 Complete decoupling from vibration and stress
Rugged reliability
Immune to vibration
Stable output in the most demanding applications
Install anywhere versatility
The ROTAMASS advantage
Simple, patented box-in-box design mechanically decouples measurement tubes from process vibration and mechanical stress
The benefits to you
High performance assured in real world applications
High reliability and output stability
The ability to mount ROTAMASS where you need it most, even directly on pumps and engines
Easy to install even when piping is slightly misaligned
2: Superior drainability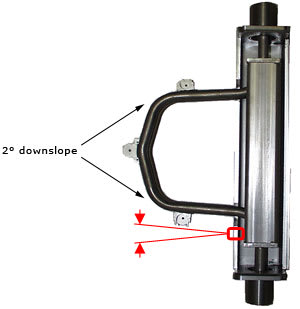 Keeps maintenance to a minimum and maximizes uptime
Simple self-draining design
The ROTAMASS advantage
Simple flow-path: no flat sections or 90˚ angles that can trap process fluids, sediments, and gas bubbles in measurement tubes
No need to shut down process to clean tubes
The benefits to you
No stalling or dropouts/increased uptime
Excellent zero point stability and improved accuracy
Lower maintenance costs
3: Durable heavy-wall construction
Stable performance whatever the application
Rated for high line pressures
Highly resistant to corrosion and abrasion
Stable output assured in all process conditions
The ROTAMASS advantage
Thick, seamless measurement tubes rated for process pressures up to 280 bar (4000 psi)
Higher resistance to corrosion and mechanical abrasion
The 150 Hz excitation frequency possible with the thicker tube avoids interference from process vibration in the 40-60 Hz range and prevents problems such as liquid separation and damage to complex / cellular structures that can happen at frequencies about 500 Hz.
The benefits to you
Increased safety
The ability to measure a wider range of process fluids, even aggressive chemicals, under all kinds of operating conditions
Longer lifetime and lower maintenance costs
Minimal pressure effects, for greater accuracy
Greater ease of installation and improved stability of output
4: Lighter and smaller
Easy, low-cost and flexible installation
Lightweight design
Small footprint
The ROTAMASS advantage
The lightest product in its class - does not require special installation equipment or expensive additional supports
The most compact coriolis mass flow meter on the market
The benefits to you
Reduced installation cost and time
The ability to install ROTAMASS where you need it most
5: Advanced diagnostics
State of the art detection of entrained gas and corrosion
Utilizes the latest digital signal processing technologies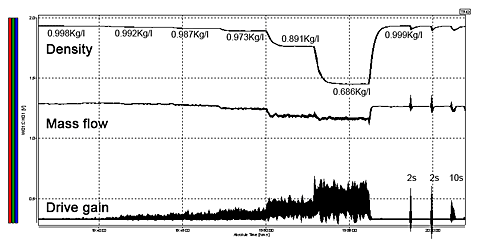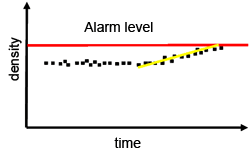 The ROTAMASS advantage
Mass flow output stays steady and true with high levels of entrained gas
Slug flow (large gas bubble) causes a sudden and prolonged shift in density and drive gain. Mass flow output stays steady and true.
Automatic corrosion detection
A long-term fluid density error triggers a corrosion alarm when the fluid density reaches a predefined level
The benefits to you
Accuracy that you can depend on in the most critical custody transfer applications
Early detection of piping failures and optimum scheduling of maintenance operations
Refined digital signal processing enables accurate and stable measurement
Simple flow path means self-draining, food capable and simple to clean
High accuracy and high stability over a wide range
Accurate density measurement, up to +/- 1 g/l
Two analog outputs, 2 pulse outputs or status-out and one status-in as standard I/O
Available in Explosion Proof versions
Wide temperature range -200 deg C to 350 deg C
Microprocessor-based multifunction capability
EEPROM protects parameter settings and totalized values
During power failure of any duration
High visibly LCD display
HART communication function
Intrinsically safe outputs as an option
Several tube materials available
EN or ANSI flanges as standard
Other process connections on request
Fast, Simple, and Accurate ROTAMASS Coriolis Flow Meter with Modbus Interface
ROTAMASS expands communication capabilities
The successful ROTAMASS 3 expands its communication capability with the widely used Modbus interface.
Modbus communications via an RS-485 connection will be available in both Modbus RTU and ASCII transmission modes. The fast and simple Modbus communication at up to 57 kbit/s enables access to all relevant process measurements including - but not limited to - mass/flow, density and temperature. All measurement variables are included as readable address registers. In addition to the Modbus communication, the standard I/O interfaces such as 4-20 mA, pulse/frequency and status in/out are still available for control and/or monitoring purposes.
The ideal solution for multivariable measurement providing simple and fast access of all process data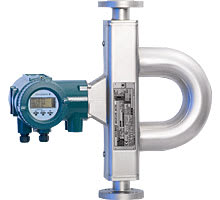 ASCII and RTU, 1200..57000 bps over RS485
Point to Point and Multidrop Network
Full ability to program meter measurement configuration
All measurement variables available as readable address registers
Simultaneous configuration via HART or Indicator possible
Additional Outputs available

4-20 mA
Pulse/Frequency
Status In/Out

Free Modbus Communication Tool
ROTAMASS LR - the world's smallest dual bent tube Coriolis mass flow meter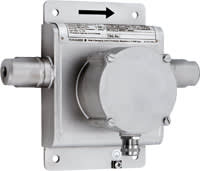 The new ROTAMASS LR continues the tradition of the proven dual bent tube and self-draining design and extends Yokogawa's ROTAMASS Low Flow Line for gas and liquid flow measurement in an extraordinary manner.
Key features are:
Dual bent tube design in perfect balance for optimum decoupling of the core measuring element and independent performance from installation conditions
Robust and all stainless steel housing with highest rupture pressure of ≥ 65bar in low flow Coriolis market
Unique inline temperature measurement for unaltered mass flow and density measurement
Most precise measurement by insulating from unsteady process environment conditions
Overview:
A power plant in the Northeast was under pressure to meet State EPA requirements of reporting fuel consumption (used for emissions monitoring). The issue was digging a costly trench from the pump house to the control room building in order to run fiber optic cable that delivers a flow meter signal to the plant's historian where reports could be generated. The cost would be $20,000.00 alone to dig the trench.
Overview:
Flow measurement of high pressure hydraulic fluid to servos to monitor leaks can translate to huge savings. However, measuring these fluids can be difficult due to the high pressures involved and entrained air, moisture and contamination.
Overview:
Molten sulfur, bitumen, pitch, paint resins and liquid toffee are just a few of the fluids transported at high temperature. Their fluid properties change wildly with small variations in temperature, which presents a problem for most metering technologies, while the coriolis flow meter is perfect for such measurements.
Overview:
Flow Measurement of diesel fuel is a relatively basic flow meter application. However, measuring net fuel consumption on a 2.2 megawatt diesel generator is uniquely complex. The diesel engine requires a supply fuel line (fuel from the tank to the engine) and a return fuel line (fuel from the engine back to the tank).
Overview:
Fossil fuels have long been used as a heat source in power generation. Coal is one of the more common fuels, but environmental concerns have led to a great deal of time, effort and money being spent on the reduction of pollutants resulting from the use of coal.
Overview:
Necessary oil is a family owned oil re-processor with a presence in the states of Tennessee, Virginia, North Carolina, South Carolina, West Virginia, Kentucky, Indiana, Ohio, and Pennsylvania. A fleet of trucks pick up used oil and discarded coolant from oil change shops and industrial users.
Overview:
The Coriolis flow meter has many features such as direct measurement of mass flow and measurement of fluid density, which other flow meters do not support. Therefore, since being introduced for practical use in the late 1970s, its market has rapidly expanded in many industries such as oil, chemicals, and foods.
Industries:
Overview:
Thanks to a two year upgrade project, Foster's Yatala brewery is now one of the country's most efficient integrated brewing and packaging operations. More than 1,100 measurement and control devices from instrument manufacturer Yokogawa Australia will help keep it that way.
Industries:
Overview:
ROTAMASS is the integral and remote type Coriolis Mass Flow Meter. Both types have highly refined digital signal processing electronics, so that accurate and stable mass flow measurement is achieved.
It is the most technologically advanced mass flow meter yet. By combining the superior design of the application specific flow sensor and transmitters with the Total Insight philosophy and functionality, the flexibility of the ROTAMASS to adapt to changing requirements guarantees performance throughout the lifecycle of the process measurement.
Press Release

Oct 20, 2014

Press Release

Oct 30, 2012
Looking for more information on our people, technology and solutions?
Contact Us