Providing reliable turbidity and chlorine measurements in Water Treatment Plants since 1959
No.1 Process analyzer supplier to Japanese market*
"Reduce initial cost with reliable products"
"Want to monitor status from remote place"
Many of our customers face these challenges - Yokogawa Turbidity and Chlorine Analyzers resolve them.
The FLXA402T offers multiple connection possibilities, eliminating the need for multiple analyzers and providing greater flexibility. This four-wire analyzer includes a color HMI and an easy touchscreen operation with a simple menu structure in 8 languages for simple and efficient setup and configuration.
With its modular design, the FLXA402T analyzer offers a range of measurement choices with the respective sensor module, including turbidity, chlorine, pH, Conductivity, and 4-20mA input. Dual sensor measurements save your install space and offer additional functionalities, such as pH compensation for the Chlorine analyzer.
*Based on a Yokogawa survey in 2019
About OpreX
OpreX is the comprehensive brand for Yokogawa's industrial automation (IA) and control business and stands for excellence in the related technology and solutions. It consists of categories and families under each category. This product belongs to the OpreX Analyzers family that is aligned under the OpreX Measurement category.
FLXA402T Features
Support up to 2 sensors
FLXA402T has a modular structure and can insert up to 2 sensor modules. You can choose the Turbidity module or Chlorine module as a 1st module, and Turbidity module, Chlorine module, pH module, or conductivity module is available as a 2nd module.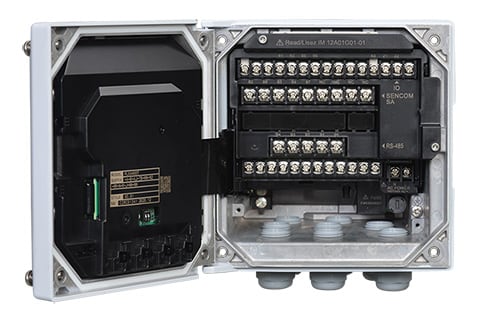 Expert Guide: Clear Touch Panel Display for Improved Operability
The FLEXA™ series analyzer provides improved operability with intuitive touchscreen operation, featuring a clear display and user-friendly indication with eight languages*. Sensor status and estimated maintenance time notification improve efficiency. The interactive screen is housed in a robust aluminum die-cast housing. ​​​

*8 languages: English, Chinese, Korean, German, French, Spanish, Portuguese, Japanese

Advanced Flexibility: Modular Design for Increased Scalability
The FLEXA™ series analyzer features a modular design with replaceable sensor modules, enabling the construction of various of systems. FLXA402T allows for the connection of up to two possible sensors resulting in a reduction in CAPEX and OPEX.
Preparing for the Future
Industrial automation is moving toward SMART products, with sensors changing from analog to digital SMART. This transition can affect plant operations and take time to implement fully.
In addition to being a high-performance standalone analyzer, the FLXA402T is also a component of the Yokogawa SENCOM4.0 Platform, SMART sensor systems give you more insight because they possess in-depth knowledge of their health status for predictive asset management and sensor condition to ease troubleshooting.
With the SENCOM4.0 Platform, upgrading to the next generation SMART product is easy and can be done at any time with little impact on operations.
Data Mobility
SD card or Ethernet for easy data transfer and remote service, allowing for more in-depth process analysis.
Application
Turbidity of tap water, sewage, river water and water used in general processes
The Chlorine Analyzers intended for measurements in the water distribution network, at pumping stations, water delivery points, schools, and public facilities.
System Configuration
Turbidity and Chlorine 2 in 1 system configuration
The first module can be connected the Chlorine sensor unit or the Turbidity detector unit, and the second module can be connected the Chlorine sensor unit, Turbidity detector unit , pH sensor or conductivity sensor. For example, Chlorine sensor unit and Turbidity detector unit can be controled by one Liquid Analyzer.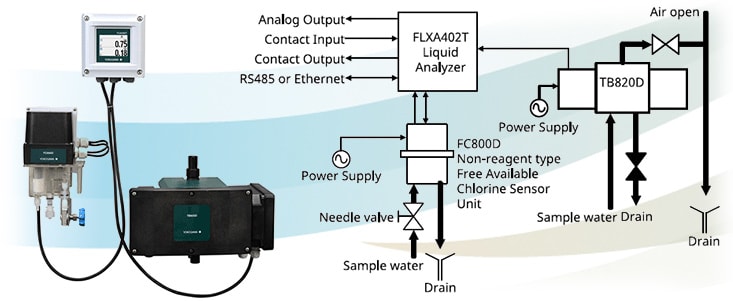 Turbidity Measurement
Easy to clean cell structure, Automatic wash system, Long life time light source
Right Angle Scattered Light Turbidity Detector TB820D
The TB820D is SENCOM4.0 family and can connect to FLXA402T. Thanks to smart unit equipped detector, TB820D gives you more insight in ordinary operation.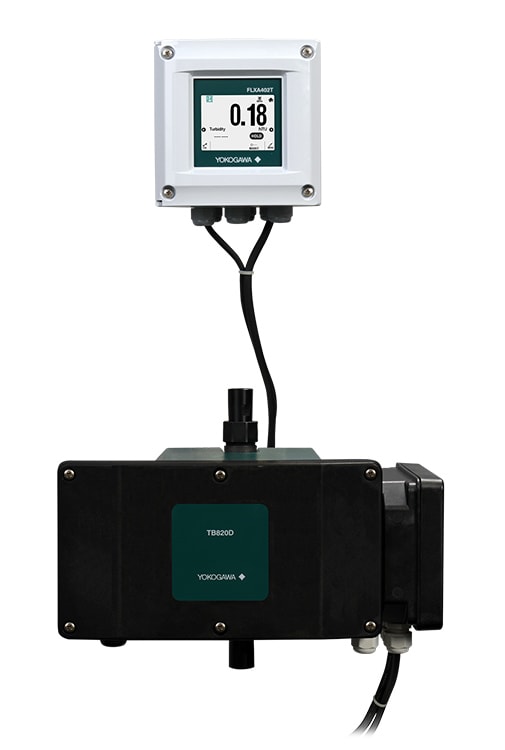 Chlorine Measurement
Minimize chlorine injection, remote maintenance and reduce maintenance time
Non-reagent Type Free Available Chlorine Sensor Unit FC800D
The FC800D is SENCOM4.0 family and can connect to FLXA402T. Thanks to smart unit equipped behind of electrode unit, FC800D gives you more insight in ordinary operation.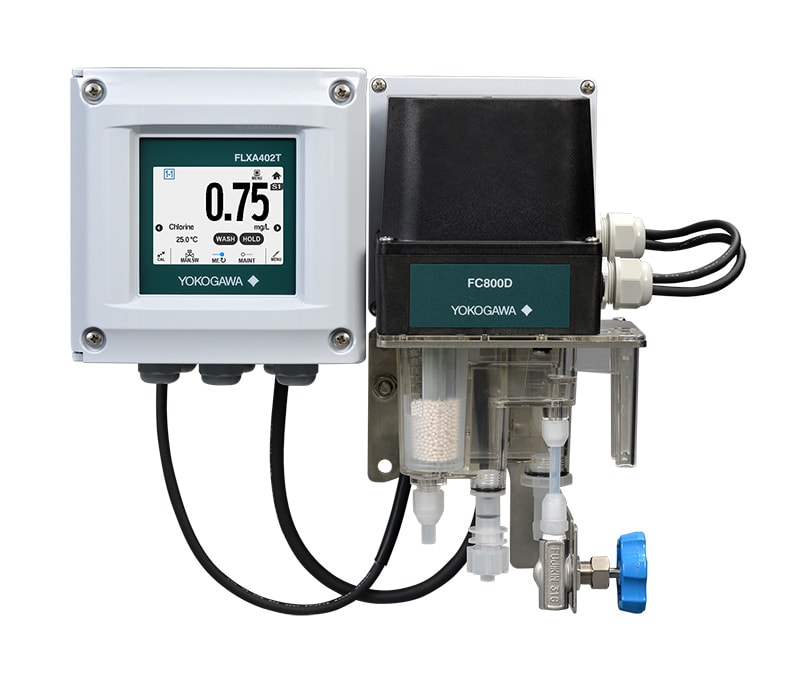 pH and Conductivity Measurement
You can find the best pH and Conductivity solution for your process
YOKOGAWA's pH and Conductivity sensors are highly reliable and very unique. You can select the most valuable sensor.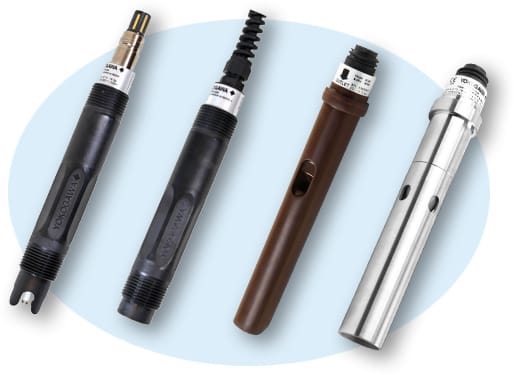 Looking for more information on our people, technology and solutions?
Contact Us