Stable level measurement improves brewing by increasing production throughput while avoiding the risk of overfill.
Application
In the brewing process, few things are as important as producing a consistent product. Characteristics such as clarity, bitterness (or non-bitterness), and aroma are qualities consumers expect in their favorite brews.
Time and temperature are essential factors that affect the characteristics of any beer. By changing the time that mash and wort spend at various temperatures, brewers can adjust the desired characteristics to bring out the best in their creations.
Whirlpooling is a key element to achieving these results. Whirlpooling allows brewers to rapidly cool their boiled wort and remove solids in the same step. By controlling the temperature and amount of solids, brewers can craft complex flavors and characteristics that allow each line of beer to stand out from the rest.
Challenges
By its very nature, whirlpooling presents a unique set of challenges to brewing process control. Temperature swings as much as 30 degrees are common. They can adversely impact the level measurement instrumentation used to control the amount of wort to be added at this stage. Fluctuations in the level measurement can lead to overfilling the vessel, risking potential leaks, which create safety issues for the facility and workforce as well as a potential food safety issue.
To avoid the risk of overfill, the brewer can lower the target setpoint for filling the whirlpool vessels. However, this reduced risk also results in lower production volumes. That is ultimately not a sustainable choice as the increased demand for their beverages has required brewers to increase production targets rather than reduce them.
Solution
To increase the production rate, North American brewers can turn to Yokogawa's EJA565E Hygienic and Sanitary pressure and level transmitter. The EJA565E's active temperature compensation allows the transmitter to provide a stable level measurement, even with the rapidly changing wort temperatures in the whirlpool process.
With less fluctuation in the level measurement, brewers can confidently increase their setpoints without fear of overfilling their vessels.
The EJA565E also has a comprehensive collection of process connections that meet 3-A Sanitary Standards. They allow breweries to easily replace existing transmitters without the need to modify tank connections. The local operator interface with easy pushbutton configuration can simplify transmitter setup and reduce the time required to restart the brewing process.
Overall, the EJA565E presents an ideal solution to improve production throughput in a convenient and easy-to-use package. Breweries can expect an excellent return on investment.
Key Advantages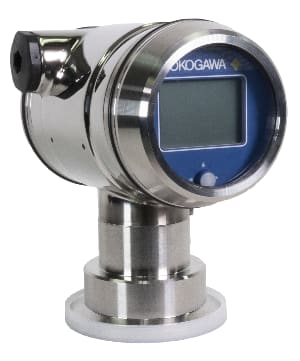 • Active temperature compensation reduces level measurement fluctuation allowing for increased vessel utilization and ultimately increased production.
• Reducing the risk of tank overflows reduces process downtime, environmental contamination incidents, and safety compliance issues.
• A comprehensive selection of sanitary connections and easy pushbutton display simplify installation and configuration.
EJA565E Hygienic and Sanitary Level Transmitter
The food and beverage industry must produce safe, high-quality foods and beverages for consumers. In addition to quality control, the manufacturing processes include many challenges such as managing ingredients, improving efficiency and handling global environmental issues. Yokogawa leverages its decades of technological expertise to help customers build and operate the ideal factory.

See More
Related Products & Solutions
×
Have Questions?
Contact a Yokogawa Expert to learn how we can help you solve your challenges.