The RAGN is a glass tube variable area meter designed for continuous flow measurement of liquids and gases, featuring a borosilicate glass metering tube with a brightly colored, easy-to-read scale. Actual flow is indicated by the top of the float and can be directly read from the scale on the metering tube.
Ideal for aggressive applications, the RAGN comes standard with in-line 316 stainless steel fittings and optional stainless steel, titanium, PTFE or PVDF floats. In addition, connection fittings can be chosen from either NPT thread or flanged connections.
Simple, Non-Complex Design
Its complete stainless steel design gives the RAGN a higher corrosion resistance and no magnetic interferences with Reed switches.
Meets High Safety Standards
All RAGN rotameters are equipped with a turnable splinter shield and all materials conform to international standards. For SIL applications, RAGN rotameters have been assessed in accordance with SIL1 level on the basis of the IEC61508:2010. In addition, FMEDA reports are available to support SIL applications.
Maintenance Saving
With common applications and normal operating conditions, the RAGN is considered maintenance-free. In addition, many components are replaceable, allowing for in-field maintenance or service to be done without having to replace the meter, which reduces shutdown time.
Energy Efficient
Rotameters require little to no external power, greatly reducing a plant's carbon footprint while lowering installation costs. The design of the rotameter reduces pressure loss, providing a more accurate flow rate measurement.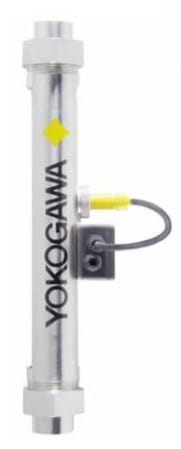 Other Features & Options
Optional limit switches with connection box to alert operator of system errors
Bistable inductive ring sensor, magnetic limit switch options
Percentage scale or dual scale options
Optional valves
Power supply for limit switches available
Custom designed upon request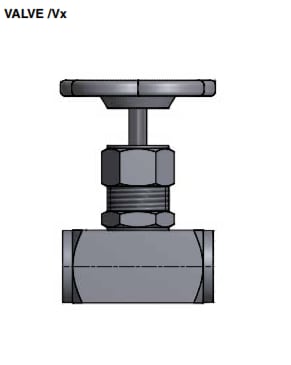 What is a Variable Area Flow Meter?
Variable area flow transmitters/ variable meters are a versatile yet simple type of differential pressure flow meter. These devices can maintain a more constant pressure drop while measuring liquid, steam, and gas flow.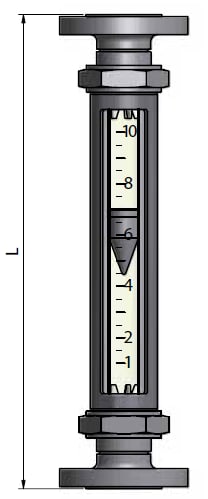 | Process Connection Diameter ØD | Dimension L in mm/inches | Process Connection Flanged L in mm/inches |
| --- | --- | --- |
| 1/2" | 375 / 14.7 | 475 / 18.7 |
| 3/4" | 375 / 14.7 | 475 / 18.7 |
| 1" | 375 / 14.7 | 475 / 18.7 |
| 1 1/2" | 375 / 14.7 | 475 / 18.7 |
| 2" | 375 / 14.7 | 475 / 18.7 |
| 2 1/2" | 375 / 14.7 | 475 / 18.7 |
Process Connection
Material: Stainless Steel
Metering Tube
Length: 300 mm / 11.81"
Material: Borosilicate (Duran 50)
Float Material
for liquid: Stainless Steel
for gas: PTFE
Permitted Operating Conditions
Max. 16 bar / 232 PSIG
Max. 100°C / 212°F
Measuring Span
10:1
Measuring Accuracy
Acc. Directive VDI/VDE
3513, sheet 2
1.6% (qG=50%)
Part
Standard
Optional
Threads NPT
AISI 316L
PTFE
Flange 150#
AISI 316L
**
Housing
AISI 316L
**
Nut
AISI 316L
**
Stoppers
PFA
PVDF, AISI 316L,
Measuring Tube
Borosilicate Glass
**
Float
Titanium, PVDF,PTFE
AISI 316
***
Gaskets
Buna
Viton, EPDM Synthetic
Yokogawa can size and build a metal or glass Rotameter for your specific application. Whether it is a gas or liquid, extremely hot or cold for any industry you may be in. Please fill out as much information as you can on the form below and we will quickly contact you and assist with getting you the Rotameter best suited to your application.
To receive a quote, click on the link below and complete the questionnaire in the message field.
Overview:
The Variable Area Flowmeter is one of the oldest and mature principles in flow measurement with its simple design: a float rises inside a conically shaped glass tube as the flow increases and its position on a scale can be read off as the flow rate.In the 1990s, Yokogawa strengthened its focus on flowmeters through cooperation with and the eventual acquisition of the German flowmeter manufacturer ROTA. In so doing Yokogawa gained access to 100 years of flowmeter expertise and completed its flowmeter portfolio by adding the Rotameter (variable area) and Rotamass (Coriolis) product lines.
Looking for more information on our people, technology and solutions?
Contact Us