The RAKD is a small metal variable area flow meter, offering the smallest measurable flow ranges in the market and ideal for use in turbulent, opaque, or aggressive fluids and in high pressure applications. It features a light-guided float design to reduce pressure loss and bouncing in gas applications to deliver reliable flow rate measurements. RAKD rotameters can be fitted with a fine control valve and designed with horizontal process connections.
Unique, Robust Design
The RAKD has an all stainless steel housing for use under the harshest industrial conditions and is also available with a fine control valve. Its light floats result in low pressure loss and stable float movement (reduced float bouncing), and guided floats improve flow indication stability, providing reliable measurements.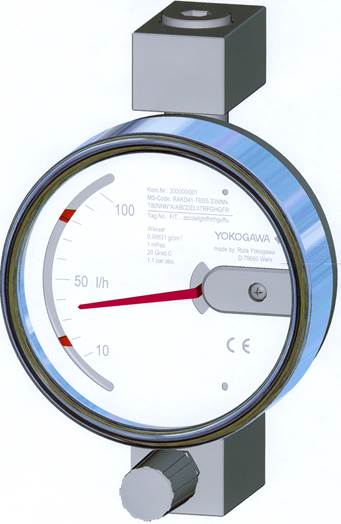 Easy to Install & Maintenance Free
RAKD rotameters are independent of the electrical power supply when operated as mechanical pointer instruments and also available with electrical output signal.
High Level of Safety
Optional fail-safe limit switches make the RAKD suitable for SIL2 safety applications. In addition, FMEDA reports are available to support SIL applications.
Optional Electric Transmitter
With an electric transmitter, the RAKD can produce a linearized signal output due to a µP controlled transmitter. By using a fast connection technique (QUICKON), easy cabling without opening of the housing is possible. Other features of the electric transmitter include:
Additional inductive limit switch and/or pulse output can be combined
Additional tuner with display (service box) can be connected to perform various configurations
Indicator
The indicator features a stainless steel enclosure well-accepted by industrial standardized design, providing enhanced corrosion resistance. Additional features of the indicator include:
Easy enclosure opening by bayonet catch without additional tools
Enclosure tightness of protection class IP 66/67
For Pipe Sizes
DN 15 to DN 150 (1/2" – 6")
Process Connections
Flange, threaded or Triclamp
Measuring Range
Water 20°C: 0,1 l/h to 250 l/h
Air 20°C 1 bar abs.: 4 l/h to 8000 l/h
Wetted Parts Material
1.4571 (AISI 316Ti) Hastelloy, Monel and Titanium on request
Process Temperature
-25°C to + 250°C
Process Pressure
100 bar, higher pressures on request
Ambient Temperature
-25°C to 100°C
Accuracy acc. VDE/VDI 3513-2 (qG =50%)
4 %
Ex-approvals
ATEX, NEPSI, FM, CSA
Signal Outputs
Analog 4-20mA, pulse output
Power Supply
24 V DC 2-wire
Degree of Protection
IP66/IP67
Suitable for Applications acc. IEC 61508
and Machinery Directive ISO 13849
Yes
Additional Features
Limit switches for low/high alarms
Fine control valves
Pressure controller
Easy installation with Quickon connector
Overview:
With the increased interest in green energy and renewable fuel sources, Biodiesel has emerged as a viable alternative to standard petroleum based diesel and home heating oil. It has zero CO2 emissions and can be created from waste vegetable oil or rendered animal fat. The number of Biodiesel processing plants has grown to over 2500 in the US alone.
Overview:
One of the most widely used methods of monitoring / controlling liquid level in a tank is the use of Bubble Tubes with Pressure or Differential Pressure Transmitters. A small but uninterrupted flow of air or inert gas is forced down through a dip tube which extends to near the bottom of the tank. The back pressure of the introduced gas is a function of the liquid level or head in the tank. The pressure transmitter takes the back pressure and converts it to an analog signal that is sent to the control room. The plant operator will then be able to monitor the exact level in the tank.
Overview:
One of the major prohibitive factors for expanding solar power in the market place is the high cost. The primary cost drivers in solar cell marketing are materials and manufacturing processes. Most solar cells in use today use silicon as the semiconductor that enables the photoelectric effect within the solar cell. Silicon is abundant but also expensive and in high demand as the solar and electronics industries compete for global supplies. There is now a cost effective process in use to extract the pure silicon needed for solar cells using less energy and reduced cost. This process is called the Fluidized Bed Reactor.
Overview:
The Variable Area Flowmeter is one of the oldest and mature principles in flow measurement with its simple design: a float rises inside a conically shaped glass tube as the flow increases and its position on a scale can be read off as the flow rate.In the 1990s, Yokogawa strengthened its focus on flowmeters through cooperation with and the eventual acquisition of the German flowmeter manufacturer ROTA. In so doing Yokogawa gained access to 100 years of flowmeter expertise and completed its flowmeter portfolio by adding the Rotameter (variable area) and Rotamass (Coriolis) product lines.
Looking for more information on our people, technology and solutions?
Contact Us