The EJX-A series is Yokogawa's premium performance line of DPharp transmitters. Released is 2004, it offers the performance and stability needed in demanding applications. The EJX-A series performance makes it the thoroughbred of the DPharp family of pressure transmitters.
The EJX210A is the flange-mount Liquid Level Transmitter in the series.
The EJX210A features include:
± 0.075% Accuracy
± 0.1% Stability per 1 year
120 ms Response Time
Exida and TUV SIL2 / SIL3 Certified
LPS (Local Parameter Setting)
Signal Characterizer for the 4 to 20 mA output
Explore how the EJX210A can help you Boost your bottom line.
Plants run better with Yokogawa liquid level transmitters.
At it's heart, Yokogawa's Liquid Level Transmitter with DPharp digital sensor offers the performance and device intelligence needed to get greater insight into your process.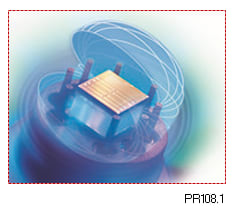 Digital Performance
Yokogawa's DPharp digital sensor offers twice the performance and stability of the competitor's analog sensors. The DPharp uses the latest in IC Chip-style design and manufacturing technology. Analog sensors are based on older design technology. Although analog sensors are good, the modern DPharp sensor out performs them.
Poor Performance = Lost Money
More Information
Yokogawa's DPharp sensor can supply you greater insight into your process. One transmitter can supply your control system with Tank Level (Primary Variable), Blanket Pressure (Secondary Variable), and Sensor Temperature (Third Variable) - no need for multiple devices.
More Information = Found Money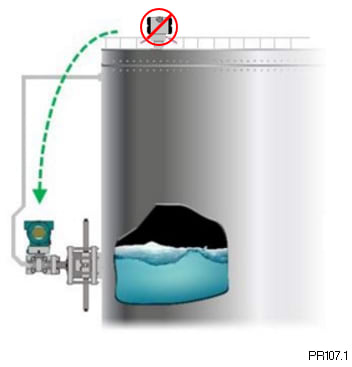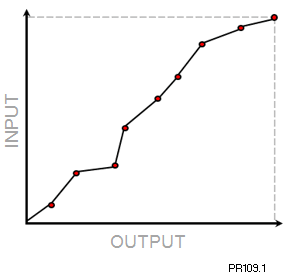 Signal Characterization
Signal characterization is a versatile function available on all Yokogawa pressure transmitters. The function is used to compensate the analog 4 to 20 mA output signal for non-linear applications. Such applications include tank strapping or flow measurements; but, it can be used in any application where the relationship between the pressure input and the desired output signal are known. This feature can use up to 10-points.
Greater Flexibility = Found Money
Yokogawa liquid level transmitters help plants run longer.
Yokogawa's DPharp Inherently Safe Design, Proven Technology, and Rugged Construction allow users to run their plants safer and with less downtime.
Rugged Construction
Ruggedly constructed liquid level transmitter can help your plant reduce failures. Yokogawa's liquid level transmitters have construction features that are designed to allow it to outlive your plant. Four-bolt pressure retaining design, Teflon coated 316L stainless steel flange gasket, and dual seal certified to ANSI/ISA 12.27.01 - all design features to extend the life of the transmitter.
Less Downtime = Making Product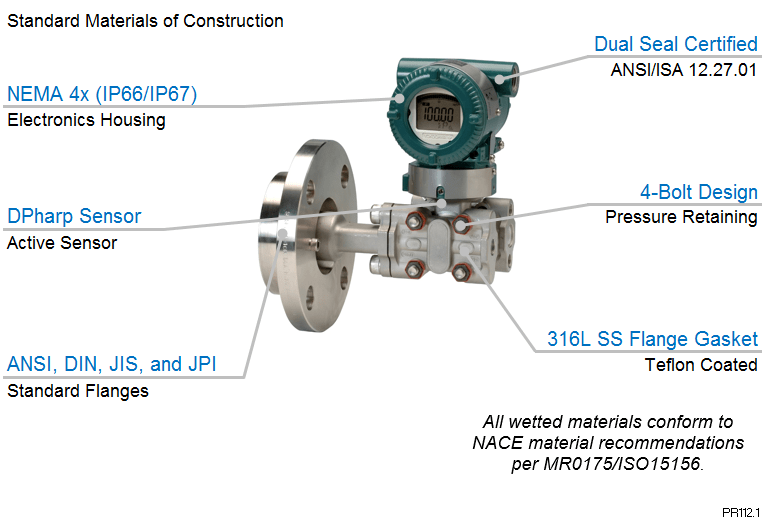 Proven Technology
Starting with a clean sheet of paper, Yokogawa developed in the early 1990s a completely new pressure sensing technology - the DPharp sensor. Yokogawa made a large commitment of resources and money in its development. That dedication paid off and by late 2015, there are over 9 million installed Yokogawa transmitters and calibrators worldwide using this technology. The DPharp sensor is a proven technology.
Less Downtime = Making Product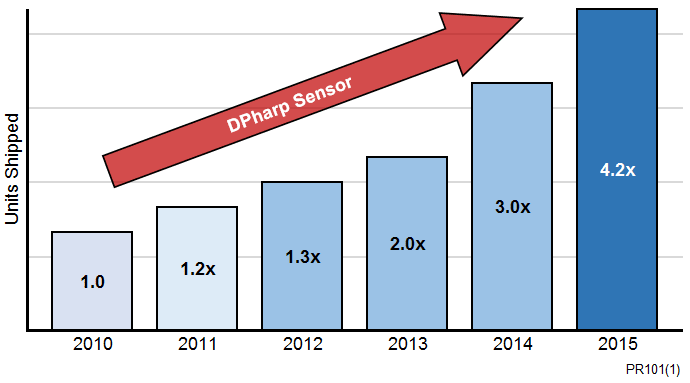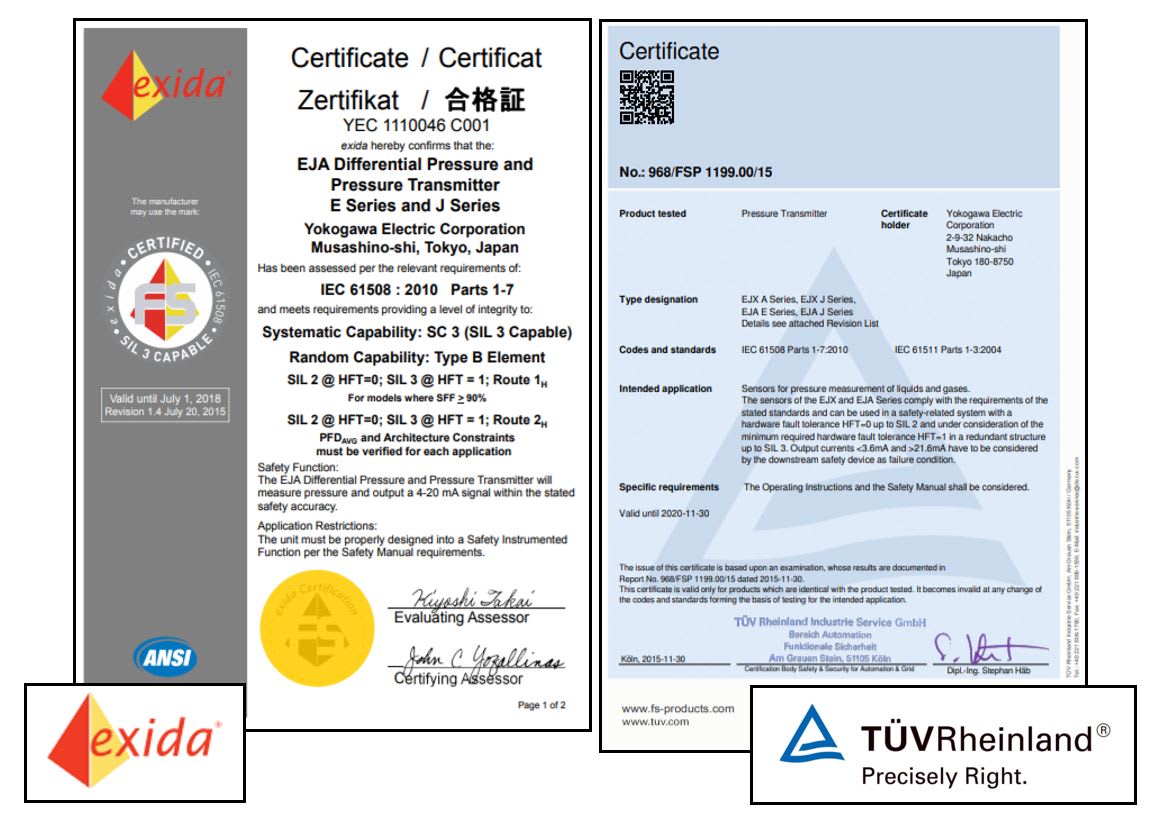 Inherently Safe
All Yokogawa EJX-A series pressure transmitter are designed and certified to IEC61508:2010 Parts 1 through 7 and IEC61511:2004 Parts 1 through 3. They are certified for single transmitter use in SIL 2 rated safety applications and dual transmitter use in SIL 3 rated safety applications with no special option required. With Yokogawa EJX-A transmitters, no longer will you have to maintain two separate inventories - one for production applications and one for safety applications. How much will that save your company? The certificates are available under the "Download" tab above.
Inherently Safe = Reliability
For Yokogawa, safety should never be an option.
Routine maintenance is easier with Yokogawa liquid level transmitters.
Efficient and effective maintenance through Extended Calibration Check Intervals, Standard Communication Protocols, and Multiple communication Options.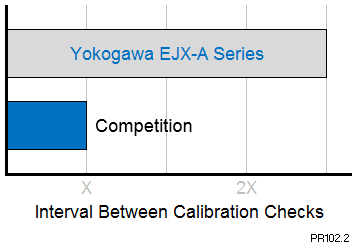 Extended Calibration Check Intervals
Yokogawa EJX-A series pressure transmitters have a long-term stability of ±0.1% per 7 years under all operational conditions. As you gain experience with these transmitters, you will be able to extend the time between calibration checks. Long-term this can help reduce your maintenance cost by up to 33%. Spend your time where it is needed.
Quicker Maintenance = Less Downtime
Standard Communication Protocols
Yokogawa transmitters support all industry standard field device communication protocols. Interoperability and interchangeability can be ensured. Use all the same tools and work procedures as before. Yokogawa transmitters are available with analog 4 to 20mA signal with either BRAIN® digital protocol or HART® digital protocol; Low Power analog 1 to 5 VDC with HART® digital protocol; or all digital FOUNDATION® Fieldbus or PROFIBUS® PA protocol.
No Learning Curve = Smooth Change Over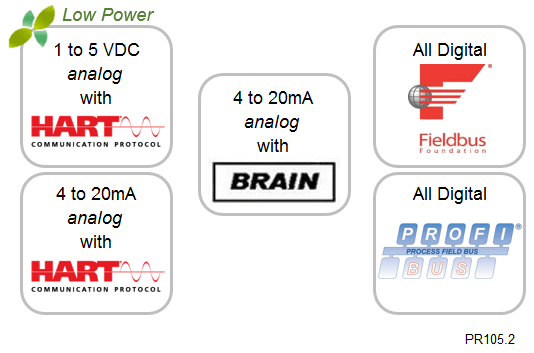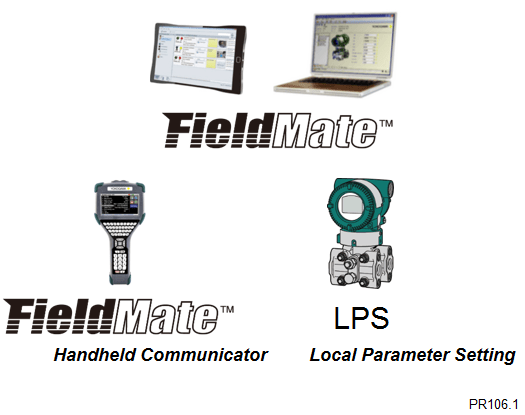 Multiple Communication Options
Save Time, Save Money. Yokogawa offers the FieldMate / LPS platform to help you communicate and track your pressure transmitters. FieldMate is a Windows based communication suite that can be loaded onto a standard PC, laptop, or tablet computer. It can assist you in managing your entire instrument inventory. FieldMate HHC is a traditional hand-held communicator that allows you to communicate with transmitters in the field. If you forget your HHC, the LPSfeature of your Yokogawa transmitter allows you to update 9 parameter without the HHC.
Quicker Maintenance = Less Downtime
EJX210A Overview
Measurement Types
Primary Variable
Liquid Level (Differential Pressure)
Secondary Variable
Static Pressure
Reference Accuracy
Primary Variable
±0.075% of Span
Secondary Variable
±0.2% of Span
Response Time
Primary Variable
90 msec
Secondary Variable
360 msec
Long Term Stability
Primary Variable
±0.1% of URL per 12 months (DP)
Rangeability
Primary Variable
100:1
Specification Conformance
EJX-A Series
±3σ
WPC008.a
EJX210A Process Connections
Process connection Type
Size
Extension
Flange
Flush Type
3-inch
2-inch
1-½-inch
N/A
JIS 10K, 20K
ANSI 150#, 300#
JPI Class 150, 300
DIN PN10/16, 25/40
Extended Type
4-inch
3-inch
2-inch
4-inch
6-inch
JIS 10K, 20K
ANSI 150#, 300#
JPI Class 150, 300
DIN PN10/16, 25/40
EJX210A PC.a
EJX210A Capsule Ranges


Graphics not to scale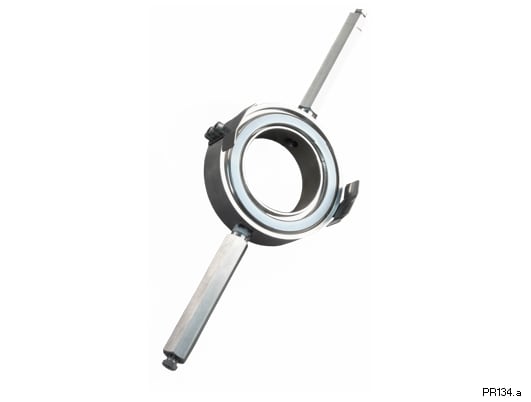 Flushing Ring
A flushing ring a round device that is place between the diaphragm seal and the process connection. The device has two 1/4-inch ports that can be used to run a flushing solution across the face the seal to clean it. If you need a different size port, Yokogawa also offers Flushing Rings supplied by a global partner WIKA.
Communicators
Yokogawa manufactures a communicator for your needs. Yokogawa communicators are available for BRAIN Protocol, HART Protocol, FOUNDATION Fieldbus, PROFIBUS PA, ISA100, or Modbus. All out communicators are compatible with Yokogawa products as well as other products on the market.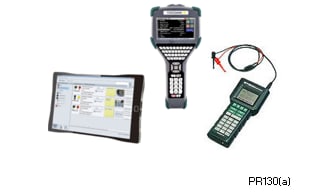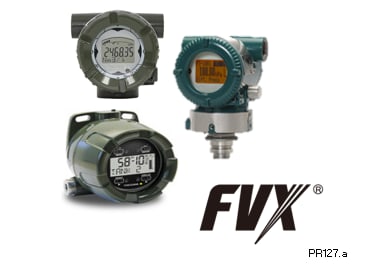 Remote Indicators
Yokogawa offers a range of loop powered and FOUNDATION Fieldbus remote indicators that can be used to locally monitor data from field instruments installed in difficult to access locations.
Overview:
In today's tightening orange juice market, facilities must improve efficiency to deliver high-quality products. With that goal in mind, a leading U.S. juice and citrus processor uses or sells each part of the orange. Nothing goes to waste. In the drive to improve efficiency, the juice and citrus products producer needed a reliable partner to help determine ways to reduce maintenance costs and deliver high returns. The producer selected Yokogawa products such as the EJAC80E Diaphragm Seal System with DPharp sensor technology for level control and monitoring, ADMAG AXG magnetic flow meters (magmeters) for flow measurement, and FLXA402 analyzers for pH and conductivity monitoring.
Industries:
Overview:
Discover the safety features built-in to the Yokogawa digital pressure sensors (DPharp).
Overview:
Is it true that 4-20 mA HART will be phased out in the near future? Is a transducer equal to a transmitter? Tune in to hear the debunking of these myths.
Looking for more information on our people, technology and solutions?
Contact Us