Industry: Food and Beverage
Products: pH Process Liquid Analyzer

Reduce Unplanned Outages and Increase the Reliability of pH Measurements
Wastewater is any source of used water, whether from a residence or industrial facility. Nature has the fantastic ability to manage small amounts of wastewater/water runoff. Nonetheless, the environment can quickly become overwhelmed if used water from processes is released without treatment.

Although used water characteristics differ from source to source, the target result is the same. Treatment plants reduce pollutants in wastewater to ensure the effluent will have minimal to no impact on the environment into which it is discharged.
Introduction
In dairy applications, the wastewater treatment plant influent water quality can vary significantly; therefore, reliable measurement is essential in order to determine how to best process it. The wastewater is treated by adjusting pH value and adding chemicals that cause de-emulsification, precipitation, coagulation, and flocculation. The purpose of these processes is to remove or neutralize any cleaning agents and precipitate any solids and fats from the water stream.

Depending on plant size, the effluent will be discharged to a municipal wastewater treatment facility or released directly into a natural resource water supply. In either case, records of pH values must be maintained for EPA requirements.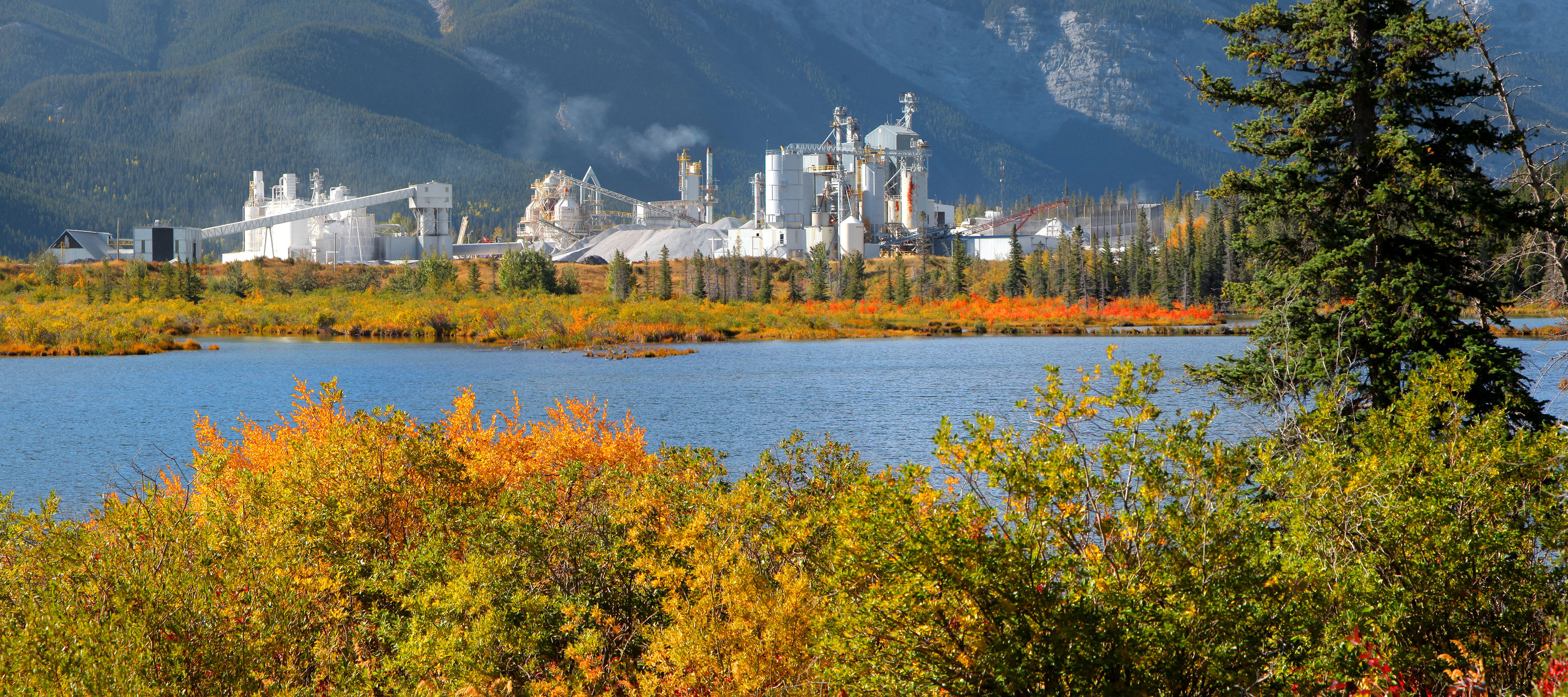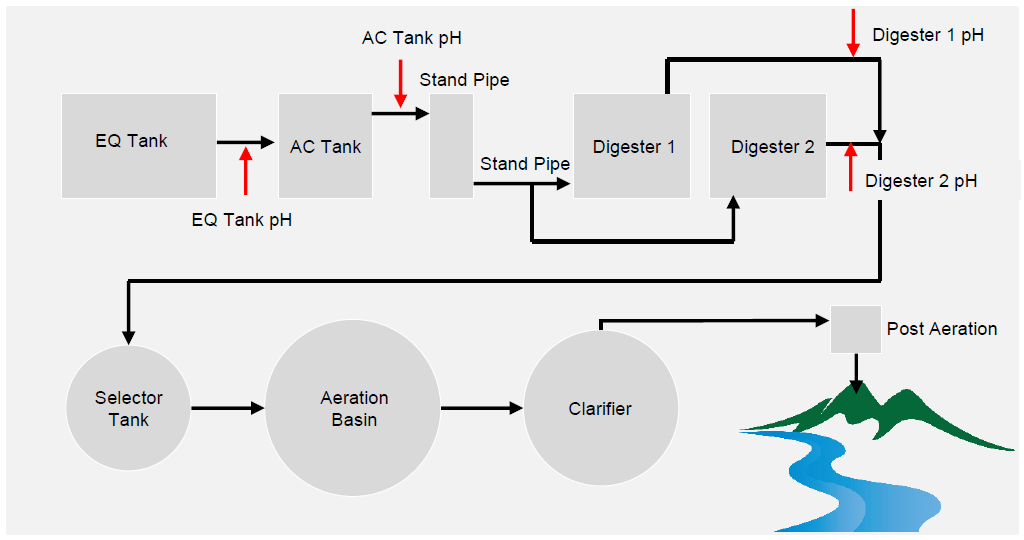 Figure 1. Typical flow diagram
Application Overview
The dairy industry involves processing raw milk into products such as milk, butter, cheese, and yogurt via chilling, pasteurization, and homogenization processes. The vast amounts of water used in these processes produce effluents containing dissolved sugars, proteins, fats, and possibly residues from additives. During the treatment process, various measurement parameters are monitored to ensure proper cleanup.

When the dairy process plant effluent enters the wastewater treatment facility, the water stream is considered the primary influent. The pH, ORP, and temperature of this water stream provide insight into its mixture's condition and how best to process it.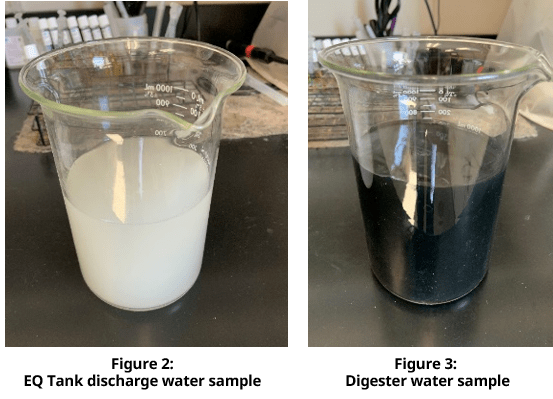 Figure 2 provides a visualization of the milky condition that is common for the initial water sample. Typical conditions of this stream are:
pH: 1.5-over 12 (normally about 4)
Temperature: 75-120 °F (normally 95°F)
BOD: about 3000 mg/L
TSS: about 500 mg/L
Oil and grease: about 400 mg/L
Digesters are used to reduce the total active biological material within the influent. Digestion can occur either with or without oxygen present; both methods are commonly used for wastewater treatment.
Figure 3 shows a visualization of the now black murky water sample. Typical conditions of this stream are:
pH: 6-8 (normally about 7)
Temperature: 95-100 °F (normally 97°F)
BOD: about 500 mg/L
TSS: about 500 mg/L
Oil and grease: about 100 mg/L
Installation
These measurements are commonly made on a side stream with reduced flows below 30 GPM to improve reading stability. After the pH measurement, the sample is either returned to the mainstream further down or back to the process beginning of the process.

Challenges
PH measurements can be troublesome due to the challenging conditions in the process. Dairy wastewater is a mixture of organic compounds, suspended solids, fats, and bacteria that can produce a film or coating on equipment in the process. This build-up affects the pH sensor by hindering the sensor's contact with the process. Periodic cleaning and calibration are required to keep the sensor reading correctly.

Key Benefits
Real-time diagnostics and sensor wellness​ information reduce unplanned outages and increase measurement integrity. Sensor wellness screens provide a quick snapshot of the sensor's overall condition, while the predictive maintenance feature estimates the time for the next calibration and for a sensor failure.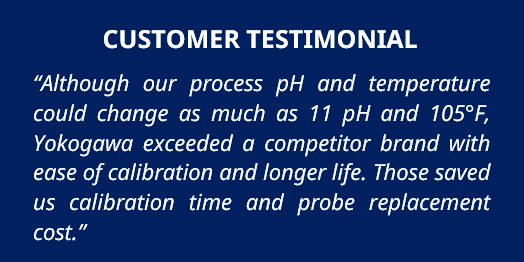 Product Recommendations
Process Liquid Analyzer:
2-wire 24 VDC Loop powered FLXA202
4-wire AC/DC FLXA402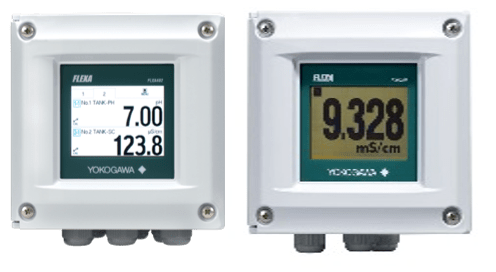 Sensor Selection:
Analog and Digital SMART sensors are available. Analog options allow users to interface with traditional systems. SENCOM™ technology allows sensors to transmit and receive data when connected to a transmitter/analyzer or any PC. The SMART digital sensor maintains its specific measurement and calibration data on an integrated chip. Since that is an integral part of the sensor, it provides an easy plug-and-play solution. The data management software optimizes the performance of sensors for enhanced reliability and process safety.

An all-in-one sensor combines the sensing, reference, and temperature elements needed to make an accurate pH measurement in a single body. The all-in-one style provides ease of cleaning, calibration and storage compared to traditional, three-sensor setups.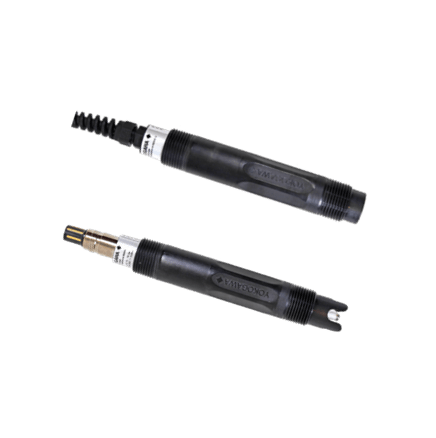 Figure 4. All-in-One pH/ORP (REDOX) Sensor FU20 and FU24
Option #1 Manual Cleaning:
The FU20 all-in-one wide body can be installed directly in the process via a the ¾ inch NPT connection or a submergible fitting. In this configuration, the sensor must be removed from the process for cleaning.
Option 2 Automatic Cleaning:
The FU20 all-in-one wide body can also be installed in the process via a submergible fitting along with a cleaning system. This allows for the sensor to be cleaned in-process with high-pressure water or diluted acid.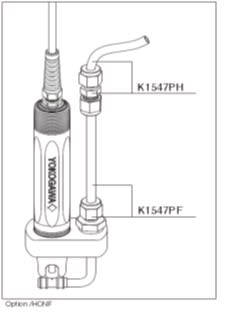 Figure 5. All-in-One pH/ORP (REDOX) Sensor FU20
Digital SMART Option:
The reusable smart adapter, SA11, offers the full measurement parameter functionality of analog sensors equipped with a Variopin connector and a Yokogawa ID chip. The SA11 automatically recognizes the installed sensor and prepares the appropriate configuration.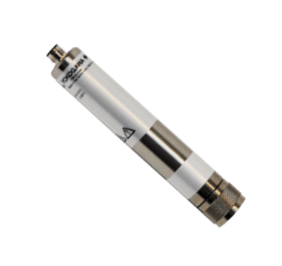 Figure 6. Digital SMART SENCOM™ Adapter, SA11
Note: For additional information on this application contact the local Yokogawa Process Liquid Analyzer Department.

The food and beverage industry must produce safe, high-quality foods and beverages for consumers. In addition to quality control, the manufacturing processes include many challenges such as managing ingredients, improving efficiency and handling global environmental issues. Yokogawa leverages its decades of technological expertise to help customers build and operate the ideal factory.

See More

Water resources are finite, and therefore contributing to a sustainable water cycle is one of the Sustainable Development Goals (SDGs). Yokogawa has been providing advanced digital control solutions for the stable supply of clean and safe water, wastewater treatment for protecting the water environment, water loss management, and optimization of plant operation for reducing CO2 emissions and running costs. Yokogawa works with you to increase your efficiency while ensuring compliance standards …. Smart measuring IA to IA.

See More

Yokogawa provides optimum solutions to improve the reliable operation of water treatment plants. These solutions include sophisticated technologies, unsurpassed product quality, and extensive application know-how throughout the lifecycle.

See More
Related Products & Solutions
×
Have Questions?
Contact a Yokogawa Expert to learn how we can help you solve your challenges.